Local, Fresh Finger Lakes Foods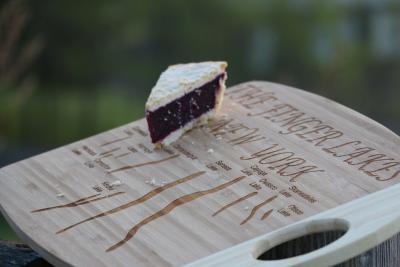 How do you define Finger Lakes cuisine? We say fresh, locally grown and delicious. Case in point is a homemade grape pie, a tradition that stretches back to the 1960's when the Naples Grape Festival started. Find these tasty iconic sweet treats at roadside stands and small shops in and around Naples and Canandaigua Lake. And, there's more must tastes in the Finger Lakes.
Speaking of roadside, can you find a chicken barbecue? Check for the signs all summer and fall and get a taste of the famous Cornell style chicken in a dinner - usually provided by a charity group. Alongside that - typically it's a side of salt potatoes - made famous at the Great New York State Fair.
Another tasty treat that's from our area? The trademarked Garbage Plate is a Rochester specialty that has migrated here. Chicken French is another dish that has made a home in the Finger Lakes. And, though they were invented in Buffalo, you sure can grab some really good chicken wings from these parts!
Back to the grapes - not only are they great for pies and wine, but also great jams and jellies, as you'll discover at Arbor Hill Grapery & Winery, featured on Food Finds for all their great grape products.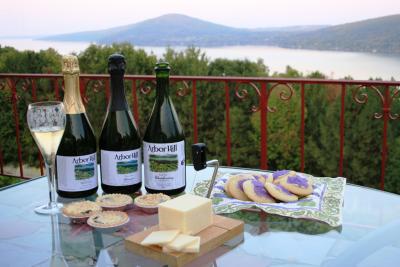 Native American tradition also has a place in our collective kitchen. A must-try/must-buy product is a bag of heirloom cornmeal and whole roasted corn kernels from the Iroquois White Corn Project, made by hand at Ganondagan State Historic Site.
Ontario County grows a lot of cabbage that ends up as sauerkraut, so that too is an important part of the Finger Lakes flavor profile. Phelps even has an annual Sauerkraut Festival to celebrate our heritage. Maple syrup, fruit juices and fresh apple ciders and other farm products also play an important role in the way we like to eat.
Thanks to the presence of the New York State Agricultural Experiment Station, Geneva's Technology Farm has become an incubator of exciting gourmet and health food products, from Cheribundi Tart Cherry Juice to Stony Brook WholeHeartedFoods expeller-pressed squash seed oils.
Look for these Finger Lakes specialties at local specialties at stores like our renowned Wegmans, restaurants, and farm stands throughout Ontario County.