City and Town of Geneva
| | |
| --- | --- |
| | I'm so excited that you found me so I can show you around Geneva! Are you having fun exploring our Activity Guide? I enjoyed putting it together for you! Let's have some more fun – explore this page to learn about Geneva, located on the northern shore of Seneca Lake. The city and town have deep roots in agriculture as well as research, innovation and higher education. Plus, don't miss Linden Street! |
---
Located on the northern end of Seneca Lake about an hour away from Rochester (to the west) and Syracuse (to the east), the city and town of Geneva have deep roots in farming and agriculture, which is reflected in the industries, institutions and businesses that thrive here.
View Spanish Version
Jump to:
The oldest, perhaps, is the New York State Agricultural Experiment Station, which was established in 1880 and later became part of Cornell University. From developing new varieties of fruits and vegetables to innovating new growing methods that boost production and conserve the environment, the Ag Station, as it is called, contributes a great deal to the state's food and agriculture industry.
Another notable farm business anchored in Geneva is Red Jacket Orchards, a third-generation family-owned fruit farm that is gaining a national reputation for its cold-pressed fruit juices and variety of summer fruits. Bejo Seeds, producer of a wide variety of conventional and organic vegetable seeds, runs a trial and research farm in Geneva as well. Other family farms in the town are centered around grapes for winemaking, fruits, vegetables, field crops, dairy and hops.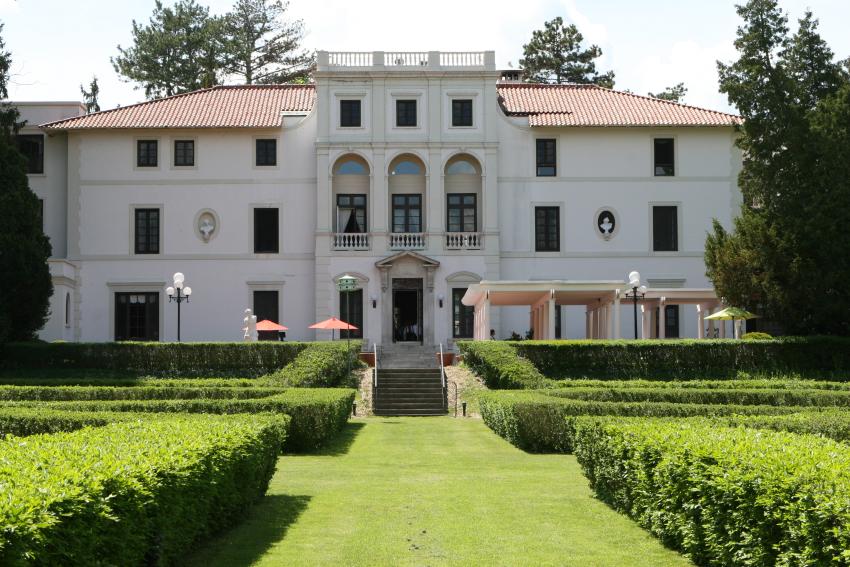 Geneva is also home to other notable institutions, including Hobart and William Smith Colleges, two private liberal arts colleges for men and women that share a campus and faculty; The Smith Opera House, a historic 1,400-seat theater that offers a full spectrum of live performances and arthouse movies; and two popular lakeside resorts: Geneva on the Lake, an Italianate-style villa that once served as a monastery, and Belhurst Castle, a Romanesque Revival-style mansion built in the late 1880s.
The area around Geneva was once a significant Seneca village known as Kanadaseaga. European-Americans began settling in the area in the late 18th century, and the village of Geneva was first incorporated in 1806.
Where the name came from is uncertain. Some theorize that Geneva takes its name from the Swiss city, others suggest may have been derived from the word Seneca.
In recent years, Geneva has blossomed into a culinary destination, offering a full spectrum of farm-to-table restaurants, wineries, craft microbreweries, specialty foods stores and farm markets. Downtown's Linden Street, which is closed to traffic on weekend nights in the warm weather, is a good place to orient yourself to Geneva's "uniquely urban" offerings.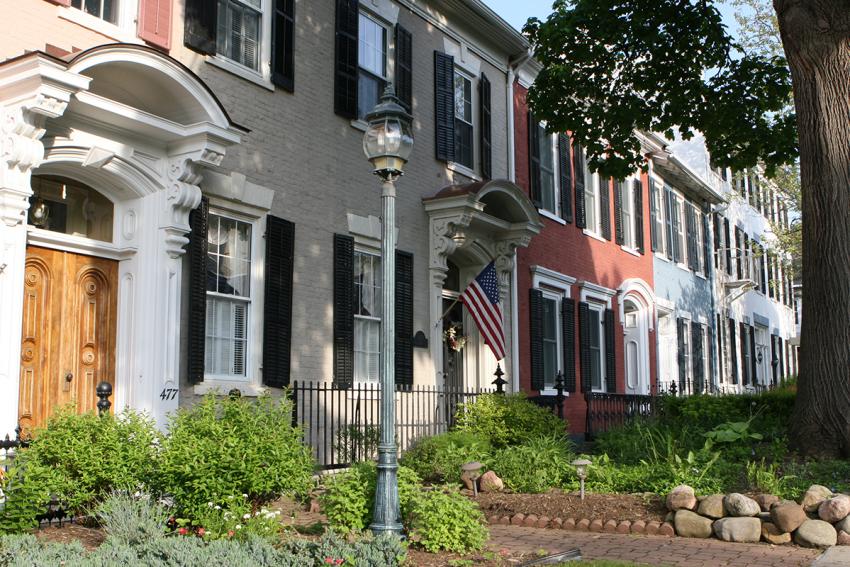 The rest of the city and the town also has much to offer. Historic architecture is everywhere, from the row houses along Main Street to the homes in the Founders Square neighborhood. If you want to get closer to the water, a 2.5-mile path for pedestrians and bicyclists stretches from the Ramada Geneva Lakefront east to Seneca Lake State Park, passing right by the Finger Lakes Welcome Center.
Seneca Lake, deepest of the Finger Lakes at about 617 feet at its deepest point and the second longest at about 38 miles, draws fishing and boating enthusiasts, and Geneva has marinas to offer rentals and access to the water. There are also public courses for golf enthusiasts. The large network of flat, rural roads with little traffic makes Geneva a mecca for bicyclists.
The Finger Lakes Times, headquartered in Geneva, covers local news and is published six days a week. 
In 2015, Geneva was named an All-America City, and for several years in a row, it's been on the Playful City USA list.
Geneva Fast Facts
History
The village of Geneva was first incorporated in 1806, then again in 1812 and 1871. It eventually became the city of Geneva. The town of Geneva, which surrounds the city, was originally part of the town of Seneca, but formally became its own entity in 1872.
Population
City of Geneva: 13,261 in the city of Geneva (2010 Census)
Town of Geneva: 3,291 (2010 Census)
Size
City of Geneva: 5.8 square miles (including 1.6 square miles of water)
Town of Geneva: 19.1 square miles
Location
With several miles of shoreline along Seneca Lake, the city and town of Geneva are in the southeastern corner of Ontario County. The intersection of Routes 5 and 20 and Route 14 are in the city.
Terrain
Geneva is mostly flat, sweeping farmland. The elevation climbs gradually as you head away from Seneca Lake.
Key Industries
Agriculture: From family-run farms devoted to fruits, vegetables, dairy and field crops, to research farms, the town of Geneva relies largely on agriculture.
Healthcare: Geneva General Hospital, run by Finger Lakes Health, is the largest employer.
Manufacturing: Zotos International manufactures professional hair care products; Guardian Glass makes float glass products; Vance Metal Fabricators makes large metal structure, including wine tanks for area wineries.
Food processing: Seneca Foods Corp. produces canned and bottled fruits and vegetables. The Technology Farm is an incubator for food and agriculture product development and innovation.
Higher education: Hobart and William Smith Colleges and Cornell's New York State Agricultural Experiment Station are based in Geneva. Finger Lakes Community College's Geneva Campus Center offers courses in EMT/paramedics, criminal justice, human services, and other programs. FLCC's  Viticulture and Wine Center is also in Geneva.
Education
Geneva City Schools serve students in the city and town of Geneva.
St. Francis - St. Stephen's School offers Catholic education.
Key Landmarks and Attractions
Belhurst Castle: Historic landmark on Seneca Lakes is a popular destination for weddings, honeymoons and romantic getaways. The grounds include the tasting room for Belhurst Winery, Isabella Spa, and Edgar's Restaurant.
Geneva On The Lake: Built in 1914 to resemble an Italian villa, this AAA Four Diamond resort offer gourmet dining, manicured gardens, boat access, and classic gardens. 
Kashong Conservation Area: 83 acres of nature trails, with picnic area and parking. Perfect for hiking, cross-country skiing, snowshoeing and dog walking (on leash). Located on Kashong Road.
Seneca Lake State Park: Swim, hike, bike, boat and picnic at this lakeside park, which includes a sprayground, disc golf course and two marinas. 
Smith Opera House: Built in 1894, The Smith is an architectural treasure that offers the perfect venue for taking in a live performance of music, dance, theater, film and other community events. The theater and its programming is run by the Smith Center for the Arts.
Hobart and William Smith Colleges: The Colleges, as they are known, are private liberal arts colleges with a scenic campus. 
New York State Agricultural Experiment Station: Part of Cornell University, the Ag Station conducts applied research to help build New York agriculture. The campus is in the city of Geneva while the research farms are located largely throughout the town of Geneva. 
Geneva Row Houses: Located along South Main Street, these historic row houses remind visitors of the architecture of Georgetown and Boston.
Key Events
Geneva Night Out: On the first Friday of the month, downtown merchants open their doors to artists, musicians and community groups for a celebration of art and culture. 
National Lake Trout Derby on Seneca Lake: Geneva is known as the "Lake Trout Capital of the World" because of its excellent fishing, and since 1964, the National  Lake Trout Derby has been bringing fishing sportsmen and sportswomen from across the United States and Canada on Memorial Day Weekend. 
Cruisin' Night Classic Car Show: On a Friday night in mid-July, the streets of downtown Geneva are closed to traffic while hundreds of proud vintage car owners show off their wheels. The event includes live music, food and drink. 
Rosé Soirée: Linden Street is closed to traffic and transformed into a wine garden dedicated to rosés. First Saturday night of June. 
Musselman Triathlon: Half tri and other races let you swim, bike and run your best. Triathlon Business International calls the Musselman the 'Best Small Event.' Takes place over a weekend in mid-July. 
Community Resources
City of Geneva including Chamber of Commerce and Business Improvement District: www.visitgenevany.com 
Town of Geneva: www.townofgeneva.com
Geneva Historical Society: www.genevahistoricalsociety.com
Seneca Lake Wine Trail: www.senecalakewine.com
Finger Lakes Times: www.fltimes.com