Village and Town of Naples
---
Nestled in Ontario County's southwest corner and surrounded by three neighboring counties to the east, south and west (Yates, Steuben and Livingston, respectively), the community of Naples, which includes the village of Naples and surrounding town of Naples, has a personality formed by several longstanding constants: great scenery, a keen appreciation of the arts and an obsession with grapes.
Jump to: 
Before Naples was Naples, it was called Middletown, as it was a convenient resting point for the trek between Bath and Canandaigua. And before that, it was Watkinsville, named for one of the original European settlers who came to the area in the 1790s from Massachusetts. And long before that, it was Nundawao, an old Seneca village at South Hill, near current-day Naples.

Naples was christened with its current name in 1808. One story says a visiting European count remarked on how the area reminded him of Naples, Italy, and the name stuck.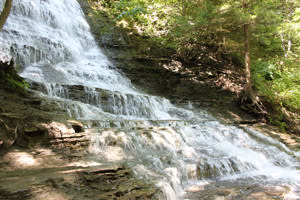 Today, Naples is a four-season nature lover's mecca. The steep hills, thick forests, trout-rich streams and hidden waterfalls surrounding this largely rural community draw hikers, mountain bikers, anglers, hunters, campers, bird watchers, skiers and snowshoers. Must-see places for nature lovers include Grimes Glen, a county park that leads visitors to waterfalls, and West Hill Preserve, where migrating birds flock in the spring.

Artists have a natural affinity for Naples's natural beauty. Just look at the folksy, iconic Finger Lakes landscapes of native son Darryl Abraham, or see sculptors, painters, furniture makers and others in their element at the Naples Open Studio Trail the first weekend of October.

The Bristol Valley Theater, a church-turned-playhouse, brings New York City talent to the Finger Lakes through its robust summer and fall season. The ever-eclectic Roots Café invites local musicians to play on a weekly basis.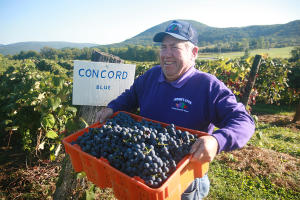 Commercial grape growing first took root in the Naples Valley more than 150 years ago. By the 1880s, Swiss immigrant John Jacob Widmer had established Widmer Wine Cellars, tying Naples's identity indelibly with grapes. Today, Hazlitt Red Cat Cellars has taken over the facility. Home bakers in Naples have also embraced grape culture, turning grape pies into a thriving cottage industry and beloved culinary icon. You can buy these pies at roadside stands and shops in and around town.

Naples celebrates its love of the grape in late September with the Naples Grape Festival, an event that draws tens of thousands each year. The village of Naples also pays homage to the fruit of the vine by painting all its fire hydrants purple.
Naples Fast Facts
History
The township that is now Naples was part of the Phelps-Gorham Purchase. The town of Naples was established in 1789 with the arrival of the first settlers from Massachusetts. The village was not incorporated until 1894.

Population
Village of Naples: 1,041 (2010 Census)
Town of Naples: 2,502 (2010 Census)
Size
Village of Naples: 1 square mile
Town of Naples: 39.5 square miles 
Location
The town of Naples is southwest of Canandaigua Lake, in the southwestern part of Ontario County. The village is in the town. Routes 21, 53 and 245 all come together in the village. The town of Naples is bordered by Livingston County to the west, Steuben County to the south and Yates County to the east. 
Terrain
Naples does not intersect with any of the Finger Lakes, but Naples Creek runs through the village on its way to Canandaigua Lake. The town is one of the hilliest sections of the Finger Lakes. 
Key Industries
Wineries: Inspire Moore Winery and Hazlitt's Red Cat Cellars are both in Naples.
Agriculture: Family-owned vineyards and other small farms are in the area. 
Manufacturing: Lake Country Woodworkers manufacturers commercial office furnishings.
Key Landmarks and Attractions
Grimes Glen County Park: The easy 1-mile creek walk leads visitors to some lovely waterfalls. Grimes Glen is the site where the oldest fossilized tree in New York was found.

Bristol Valley Theater: Big city talent performs plays and musicals from May to October.

Memorial Town Hall: Built in 1872, this Italianate-style building pays homage to Civil War veterans. Listed on the National Register of Historic Places.

Cumming Nature Center: 900-acre nature center has trails for hiking, snowshoeing and cross-country skiing.

High Tor Wildlife Management Area: Part of this 6,000-acre management area, ideal for hunting, fishing, bird-watching and other outdoor recreational activities.

Sutton Company: Maker of Sutton Spoons, this old-time store offers all the gear and tackle you need for fishing.

St. Januarius Catholic Church: Named after the patron saint of Naples, Italy, this church was designed by Rochester architect James Johnson and completed in 1966. The modern cast concrete walls have round openings filled with colored glass that cast the sanctuary with orbs of colorful light during daylight hours.

Hazlitt Red Cat Cellars: Located in the former Widmer Wine Cellars, this winery makes a variety of styles with hybrid and vinifera grapes. It also makes Cider Tree Hard Cider.

Inspire Moore Winery: This winery has a portrait of John Lennon in the tasting room.

West Hill Preserve: This 450-acre nature preserve at the south end of the Bristol Hills is a great place to see turkeys, hawks, deer, fox and turtles.

Hunt Hollow Ski Club: A private winter sports destination for members and invited guests.
Education
Naples Central School District serves students in the village and town of Naples as well as some outlying areas.
Key Events
Naples Creek Rainbow Trout Derby: On April 1, anglers of all ages take part in this legendary derby.

Naples Grape Festival: Lovers of grape pies and wine gather the last weekend of September for food, wine, arts and music.

Naples Open Studio Trail: Artists in the area open their studios on the first weekend in October.

Vintage, Vines & Valentines: A February celebration of winter, wine and love in downtown Naples.
Community Resources
Naples: http://www.naplesny.us/
Naples Valley Visitors Association: http://www.naplesvalleyny.com/