Victor, NY— The Rochester community's growing familiarity with Ganondagan's heirloom, nutritious Iroquois White Corn products has prompted Friends of Ganondagan to host a first-ever public Corn Cook-Off competition on Saturday, December 6, from 11 am–3 pm as part of its Holiday Open House. 
"This is such a terrific and fun way for our delicious corn to continue to create community," says Friends of Ganondagan Executive Director Meg Joseph. "There are unlimited ways to cook with our products, from appetizers to main courses to desserts, so we're really looking forward to seeing what will be entered!"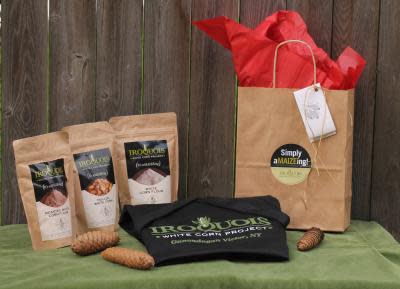 Any dish using at least one of Ganondagan's three Iroquois White Corn products (Hulled White Corn, Roasted White Corn Flour, or White Corn Flour) can be entered into the Corn Cook-Off. The dish should be fully cooked and serve eight for sampling and judging. Anyone interested in participating should register (there is no charge) by emailing:
whitecornproject@gmail.com
or calling 585-742-1361, and bring their dish at 11:00 am.  Prizes will be awarded as well as an opportunity for the winning recipe to be featured in an upcoming Friends of Ganondagan newsletter. Corn products can be purchased in advance online
www.ganondagan.org
or directly at the Ganondagan Farmhouse (call first).  There also are a few retail locations for advance product purchase: Hart's Local Grocers, select Wegmans stores, Lori's Natural Foods, Abundance Co-op, and Red Bird Market. 
The historic heirloom White Corn from the Friends' Iroquois White Corn Project is the same corn that sustained the Haudenosaunee (Six Nations) people for at least 1,400 years, including at the Seneca Town of Ganondagan itself. The Iroquois White Corn is a nutritious, low-glycemic index food that is non-GMO and gluten-free.
Open House attendees also will be able to browse and purchase corn products and merchandise as well as original artwork by Ganondagan State Historic Site Manager and artist Peter Jemison, and handcrafted artisan Mohawk baskets and Cornhusk dolls by Site Interpreters Tonia Galban-Loran and Ronnie Reitter, respectively.
###
CALENDAR:
WHAT: Iroquois White Corn Project "Corn Cook-Off" and Holiday Open House
WHEN: Saturday, December 6, 11:00 am – 3:00 pm
WHERE: Iroquois White Corn Project Farmhouse, 7191 County Rd 41 at School Rd.
ADMISSION: Free, but registration required for participation in Corn Cook-Off Competition. For more information and to register, email: whitecornproject@gmail.com or call (585) 742-1361. 
Amy Blum amyblumpr@gmail.com (585) 425-1864