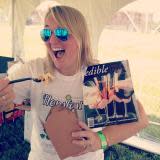 Julie Andzulis Instagrammed her way to winning vacations in Naples, New York, and Naples, Italy, as part of Finger Lakes Visitors Connection's #FLXperience Foodie Revolution Contest. Throughout the summer, participants used the #FLXperience hashtag to post their best Finger Lakes foodie experience photos to Instagram or the blog at www.FLXperience.com. Using the handle @sweetiepunk, the Canandaigua resident shared images of Cafe Sol, Nedloh Hopsfest, Naples Hotel and other destinations around the region. 
 
"I'm shocked that I won! I appreciated being involved in the #FLXperience campaign and chosen as the winner," Andzulis said. "I take photos all the time and am proud to represent the Finger Lakes. It's been a life-long dream to go to Italy."
Finger Lakes Visitors Connection is the official tourism promotion agency for Ontario County, New York. The organization collaborates with public and private partners to ensure a positive experience for all visitors and to increase the value of the tourism industry and its contributions to the economy of Ontario County — more specifically to create revenues, jobs and payroll growth to enhance economic development. For more information, please visit
www.visitfingerlakes.com
, call Finger Lakes Visitors Connection at 585-394-3915 or email
info@visitfingerlakes.com
.
AJ Shear, Finger Lakes Visitors Connection 585-394-3915 aj@visitfingerlakes.com