You have to be 21 to legally be served wine, beer or some other fine Finger Lakes libations.
But kids (and designated drivers) can still taste delicious non-alcoholic potables and enjoy other fun amusements at some Finger Lakes wineries and breweries, making a stop along the wine trails and beer trails a lot more family-friendly than you think. Here is how some of our wineries and breweries are welcoming younger visitors.
Arbor Hill Grapery: Red or white? How about a little bubbly?  Yes, you can be a kid and still get asked these questions, as Arbor Hill offers its own sparkling red and white grape juices. Tasters will experience Niagara, Ionia, Concord and Cayuga varieties. The tasting room and gourmet shop also sell gummy bears and grape twists made with Arbor Hill Concord grape juice. With all this extra energy, kids may want to explore the antique cars on sight. One of those cars, a convertible Ford Model T, matches the purple-grape juice in color! (Photo above shows Arbor Hill owner John Brahm conducting a grape juice tasting with a group of girls.)
Hazlitt's Red Cat Cellars: Kids are invited to show their artistic side with coloring books and crayons.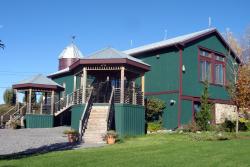 Heron Hill Tasting Room at Bristol: Heron Hill presses its own fruit for a special grape-apple blend of juice and grape iced tea. Crayons and coloring paper are always on hand, and for young artists who prefer the outdoors, chalk is available for the pavement. The yard around this rural tasting room is large, and perfect for kids who want to throw a Frisbee, play catch or just run around.
Naked Dove Brewing Company: Lollipops for all! Yes, Naked Dove is kid-friendly. It is also dog-friendly, as long as Rover is on a leash.
Nedloh Brewing Company: There's no way kids will get bored with Nedloh's selection of fun board games. Mom and Dad might be jealous when their offspring are enjoying the house-made lemon-ginger-honey soda and Saranac root beer. The Smokin' Jams on occasional Friday evenings invite families to enjoy live music and barbecue.