Warm weather calls for sizzling soirées, barbecue bashes, campfire celebrations—or pretty much any excuse to enjoy the great outdoors and good company. But whether it's a thoughtfully crafted occasion or spur-of-the-moment backyard hangout, the best parties are the ones that keep your guests entertained, happy and full.
Pulling together all of the things you'll need seems like a tall order with a long list of items to buy. But it doesn't have to be a chore! And to prove it, we've prepared a list of outdoor party and hosting essentials—all from one convenient store.
So where can you find all the cooking gear, summer-fare favorites and outdoor comfort items to keep your party going? Wegmans, of course—the grocery store mothership of the Finger Lakes and the pride and joy of Upstate New Yorkers. It's got everything you need to throw together a party in a cinch and enjoy it, too!
Cooking Gear Must-Haves
Outset Verde Series: BBQ Spatula
For flippin' good times, you need a spatula to depend on. This one is made from 100% sustainable materials, "savor-ing" the earth one burger at a time.
Outset Verde Series: BBQ Tongs
With the spatula in your left hand and these tongs in your right, you'll be showin' and servin' saucy skills from the grill.
Blue Rhino: Propane
This propane tank will bring the flames and make your grill master job easy.
Food Favorites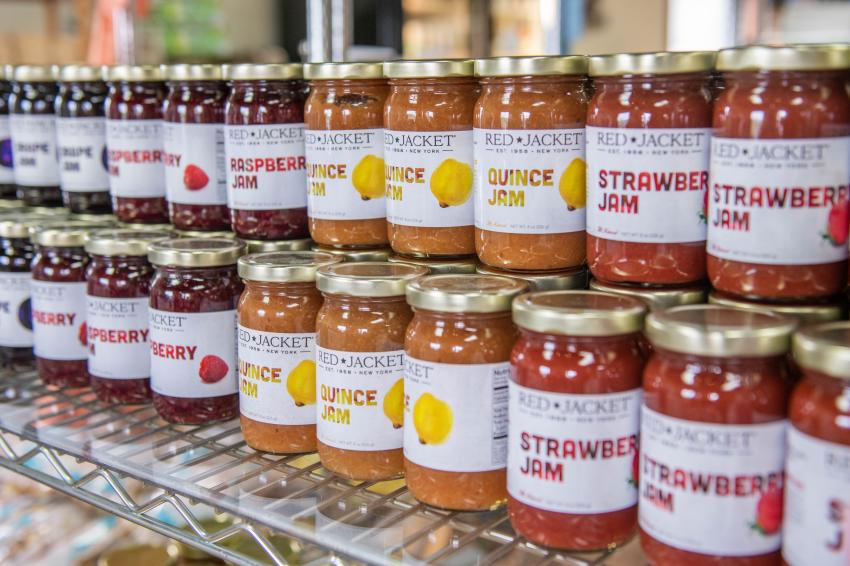 Red Jacket Orchards Jam
Three generations of homegrown experience make any jam from Red Jacket Orchards a pantry essential. Find your favorite at the farm store in Geneva, NY, or at your local Wegmans.
Artisan Meats Sausages (Chicken Supremo or Smoked Chorizo Sausage)
The staple of any summer sizzler. Make sure they're Artisan Meats Sausages, proudly made in Canandaigua!
Wegmans: Angus Beef Patties
The yin to a hot dog's yang, these juicy burgers are loaded with flavor. But don't let that stop you from piling on your go-to condiments to create a leaning tower of heaven.
MorningStar Farms: Veggie Burgers, Original Chik Patties, Vegan
Everybody gets to participate in the summer barbecue menu with these vegan veggie burgers, whether you have a dairy sensitivity or prefer a meatless option.
Wegmans: Hamburger Buns & Wegmans: Hot Dog Rolls
Buns—the soft, doughy means of delivery for savory hot dogs and mouthwatering hamburgers.
Yancey's Fancy®: Roasted Garlic Aged Cheddar Slices
Artisanal, locally made in the Finger Lakes and undeniably delicious, these Yancey's Fancy slices add a hint of sophistication and local flavor to any burger.
Fresh Produce from Local Farms
Keep your party fresh with summer produce from local farms throughout the Finger Lakes. Pay them a visit to learn about the families behind your favorite foods.
Drink Delights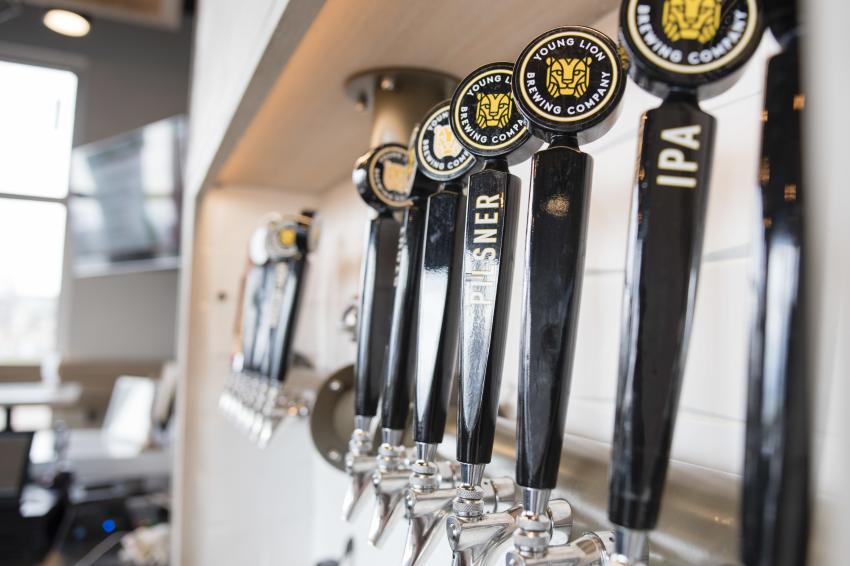 Young Lion: Light IPA
Hear the mighty roar that escapes when you crack open this light IPA from Young Lion Brewing Company, a local brewery in the heart of Canandaigua, NY.
Arbor Hill Healthy Purple
This isn't your average juice cleanse. The limited-edition nectar from Arbor Hill is packed with grapes that carry the highest levels of heart-healthy compounds and about 2-3 times more antioxidant levels than other fruits and vegetables tested by the U.S. Department of Agriculture.
Red Jacket Orchards Juice
Red Jacket Orchards has grown the beloved fruits of the Finger Lakes for more than 50 years. Taste the unfiltered, 100% natural deliciousness in Strawberry Apple, Raspberry Apple and Fuji Apple flavors.
Naked Dove: Berry Naked Black Raspberry
This beer is berry, berry good. The light blackberry aromas blended with a malted base create a natural fruit flavor without sacrificing the Naked Dove taste people know and love.
ReInvention
Take a refreshing sip of handcrafted glory from this local brewing master, which has cans ready to pick up at the Wegmans in Canandaigua!
Hosting Essentials
Eco-Friendly Dining Ware
These washable and renewable plates are your answer to effortless hosting while helping protect our planet. Check out the seasonal selections and matching cloth napkins at Wegmans to use as your new partyware or give to friends as a souvenir for their picnics back home. Everybody wins!
Wegmans: Hot -or- Cold Collapsible Box Cooler
This "chill-cubator" is perfect for grabbing and cracking open a cold one or keeping any food the right temperature before it hits the table.
Handi-Foil: Steam Table Pans, Full Size, 5 Pack
Order up and come and get 'em! Serve your dogs and burgers to the masses on these large foil pans. No cleanup required.
Outdoor Comfort Necessities
Everlasting Glow: Tea Lights, LED, 4 Pack
Keep your party "lit" long after the sun goes down by scattering these LED non-flame candles on anything with a flat surface.
Off! FamilyCare: Insect Repellent I, Smooth & Dry, Powder Dry Formula
This spray will make sure uninvited pests stay away from your guests.
Wegmans: Sport Broad Spectrum SPF 30 Sunscreen Lotion
The only lobster that should be at a party is the one you dip in butter. Protect yourself from next-day regret by slathering yourself with this sunscreen.
Duraflame: Fire Logs, 4 Hour
The Finger Lakes and bonfires go together like starry nights and gooey s'mores. Gather round and enjoy these fun-igniting fire logs.
Places to Pick for Your Next Picnic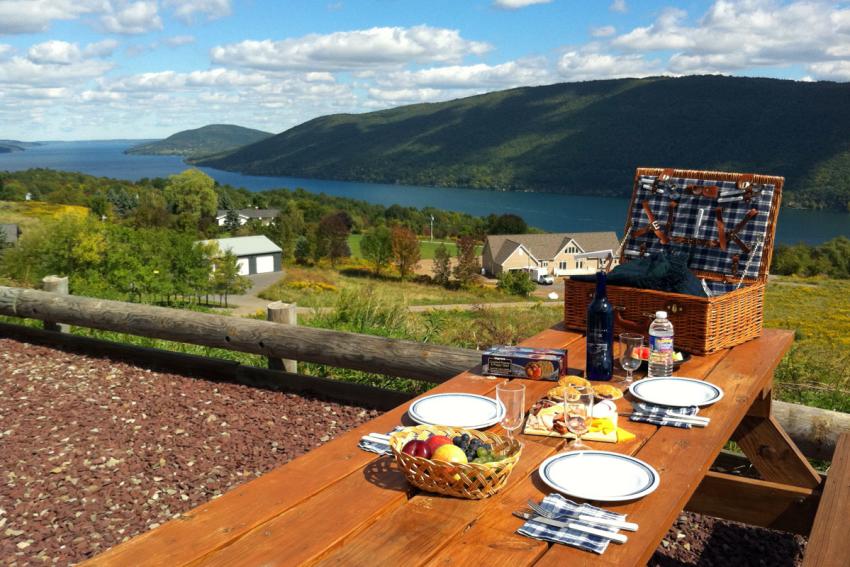 Ready to picnic or host a party in the great outdoors? We've done some extensive field research around the Finger Lakes and found the perfect spots to lay down a checkered blanket and take in some great food and scenery.
Entertaining out-of-town friends and family, or are you a Finger Lakes visitor yourself? We've provided you with the shopping list and spots to picnic, and now we're going to make your life even easier with this list of places to stay. Check out these fine Ontario Country accommodations.