Enjoy the Finger Lakes – Virtually!
Like many of you, we have taken on a brand-new practice: social distancing. But we are all adapting, and nothing can stop us from having fun and enjoying everyday life! We're thrilled you stopped by to learn more about the Finger Lakes and Ontario County.
But this public health crisis makes it inadvisable to travel to our area right now. We'll continue to keep you apprised of our destination once public health restrictions ease and life returns to normal here. In the meantime, check out the virtual adventures we've put together or visit our blog to spark your imagination for when we can be together again. We're looking forward to it! We'll see you soon!
---
Maps of the Finger Lakes
Sometimes a good map just wins out over a GPS. Whether you want to explore the Finger Lakes wineries by car, spend the day on a bicycle, take a hike in the woods or paddle on a kayak adventure, we have a map for that!
From Canadice to Canandaigua, from Victor to Geneva, or any place in between, we can help you find your bearings and direct you to where you want to go. We offer print maps at our office as well as various maps for driving, hiking, biking and paddling that can be downloaded on our website.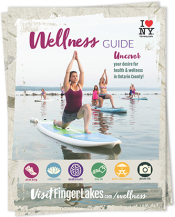 Wellness Map 
Our Finger Lakes Wellness Map give you many options to better care for yourself, physically, psychologically and spiritually. Traveling with wellness in mind allows you to return home from your trip feeling relaxed, rested and rejuvenated. We'll sure you'll uncover something wonderful here!
Download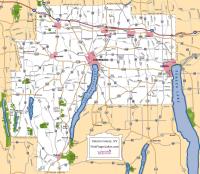 Ontario County Road Map
Drive the Finger Lakes! Ontario County features some of the most exciting views and attractions in the Finger Lakes Region. From unique museums and historic sites to world-class entertainment and family fun, the region has everything you're looking for in a great, driveable destination.  
Download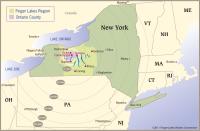 Driving Distances
The Finger Lakes Region is located within a five hour drive of most east coast metropolitan areas including New York City, Washington DC, Boston, Philadelphia, Toronto, Ottawa, Cleveland, and Hartford. This map will give you an idea of driving distances to Finger Lakes Visitors Connection, 19 Susan B. Anthony Lane, Canandaigua, NY 14424.  
Download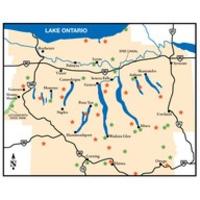 Explore Ontario County - Hiking and Biking Maps
These maps will take you on an adventurous tour through Ontario County on over 250 miles of hiking, biking, and water trails. Follow the link below for a full trail listing and to plan your outdoor adventure with the very best of resources.  
Download
C
anandaigua Lake Wine Trail Map
This wine trail is a boutique collection of unique wineries on the western edge of the Finger Lakes Wine Region in New York. You'll find spectacular scenery, fine wines at five wineries and two wine centers, along with restaurants and custom brewcrafters, hotels and B & Bs, attractions, shopping and golf. The Canandaigua Lake Wine Trail is small but mighty!  
Download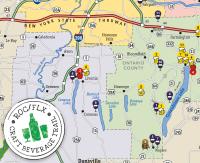 ROC/FLX Craft Beverage Trail Map
Finger Lakes and Rochester have a diverse selection of wineries, breweries, distilleries and cideries, plus we all share one common theme: we're serious about making an absolutely amazing product. With nearly 40 wineries, breweries, cideries and distilleries on the map, and more popping up every day, the Rochester/Finger Lakes craft beverage culture is in full force. So where can our wine, beers, ciders and spirits be tasted?
Follow the trail to our craft beverages and plan your visit today.
Download