Finger Lakes Maps
Sometimes a good map just wins out over a GPS as a go-to resource to maximize your time. Whether you want to explore Finger Lakes wineries by car, spend the day on a bicycle, take a hike in the woods or paddle on a kayak adventure, there is a map to get you where you want to go! Print maps are available at the Finger Lakes Visitors Connection office and a variety of online maps can be found on our website for driving, hiking, biking and paddling. 
---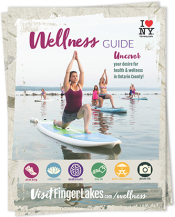 Wellness Map 
The Finger Lakes Wellness Map gives you a variety of options to care for yourself, physically, psychologically and spiritually and return home from your trip feeling relaxed, rested and rejuvenated.
Download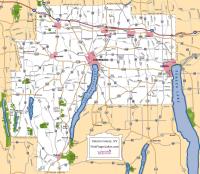 Ontario County Road Map
Ontario County features some of the most exciting views and attractions in the Finger Lakes Region. From unique museums and historic sites to world-class entertainment and family fun, the region is meant for a scenic driving vacation.
Download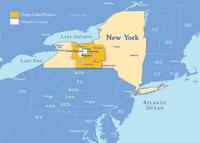 Driving Distances
The Finger Lakes Region is located within a five- hour drive of most east coast metropolitan areas including New York City, Washington DC, Boston, Philadelphia, Toronto, Ottawa, Cleveland, and Hartford. This map will give you an idea of driving distances to Finger Lakes Visitors Connection, 19 Susan B. Anthony Lane, Canandaigua, NY 14424.   
Download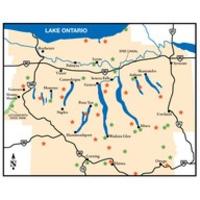 Explore Ontario County - Hiking and Biking Maps
These maps will take you on an adventurous tour through Ontario County on over 250 miles of hiking, biking, and water trails. Follow the link below for a full- trail listing and start planning your outdoor adventure..  
Download
C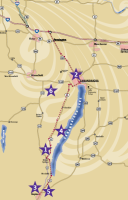 anandaigua Lake Wine Trail Map
A boutique collection of unique wineries on the western edge of the Finger Lakes Wine Region, the Canandaigua Wine Trail is small but outstanding. You will find spectacular scenery and fine wines, along with amazing restaurants and craft breweries, hotels and B & Bs, attractions, shopping and golf. 
Download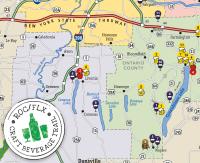 ROC/FLX Craft Beverage Trail Map
Finger Lakes and Rochester have a diverse selection of wineries, breweries, distilleries and cideries, that all share common theme: they are serious about making an absolutely amazing product. With nearly 40 wineries, breweries, cideries and distilleries on the map, and more popping up every day, the Rochester/Finger Lakes Craft Beverage Trail is an experience not to be missed.
Download