Finger Lakes history explore it itinerary
Day 1
Art, architecture, hand-crafted gifts and atmosphere galore are all part of soaking in the years of history and culture of the Finger Lakes.
Start your blast to the past in Canandaigua where you'll find the Granger Homestead and Carriage Museum. Built by Gideon Granger in the early 1800s, this Postmaster General aimed to create a homestead that would be "unrivaled in all the nation." Come learn the history of this remarkable family and of Canandaigua while touring the home and its vast collection of horse-drawn carriages. You can take a carriage ride as well.
Just a few blocks away, Sonnenberg Gardens and Mansion State Historic Park provides multiple delights. A 40-room Queen Anne-style mansion, built between 1885 - 1887 by New York City banker Frederick Ferris Thompson and wife Mary Clark Thompson, sits on top a hill overlooking nine formal gardens. Check out the stately rooms before you head outside to explore much of the signature floral design and landscaping originally created a century ago. Enjoy regional wines on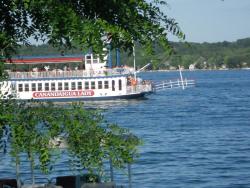 site at the Finger Lakes Wine Center!
Hop aboard the Canandaigua Lady for an afternoon lake cruise. You can't help but feel the history and nostalgia as the 19th century replica of a double-decker paddle wheel steamboat navigates down the shores of the lake. The afternoon narrated excursion cruise will teach you about steamboat-era history.
As the evening draws to a close stop in at Nolan's on Canandaigua Lake for a delicious meal. You can select from a menu that includes a variety choices including steaks, seafood and pasta. Drinks include Finger Lakes wines and locally crafted beers.
Finish your night at one of the recent hotels in Ontario County - The Lake House on Canandaigua and Hotel Canandaigua. Overlooking Canandaigua Lake, these luxury resorts offers comfortable, charming accommodations and breathtaking views of the lake.
Day 2
After a delicious breakfast head to Wizard of Clay Pottery in Bristol where you can watch skilled artists make hand-crafted Bristoleaf® pottery that reflects the natural beauty of the area.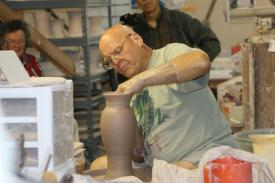 From there, immerse yourself in the region's Native American history, art and culture at Ganondagan State Historic Site in Victor. Tour a full-size replica of a 17th century Seneca Bark Longhouse, walk self-guided trails and learn about the Seneca and Haudenosaunee community that is still flourishing in the region centuries later inside Ganondagan's interactive Seneca Art & Culture Center.