Sonnenberg Gardens & Mansion Historic Park
One of the Finger Lakes' premier tourist destinations, Sonnenberg Gardens & Mansion State Historic Park in Canandaigua began as a summer home for New York City financier Frederick Ferris Thompson and his wife, Mary Clark Thompson.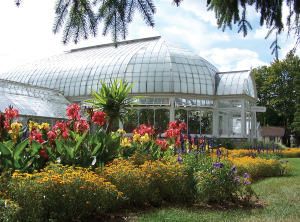 The 52-acre estate has nine themed gardens set around a 40-room Queen Anne mansion that was built in 1887. The grounds are wonderful for walking, but a tram shuttle is also available.
Highlights of a Sonnenberg visit include the Lord & Burnham greenhouse (one of the few remaining in the country), the rose garden, the Japanese garden, and the rock garden.
Sonnenberg is also home to the Finger Lakes Wine Center, where you can taste wines from 40 wineries.
Sonnenberg is a popular wedding destination. Artists and photographers are equally enchanted by Sonnenberg. If you're looking for a unique meeting venue, Sonnenberg can accommodate small groups too. But groups have found Sonnenberg to be a favorite on their itineraries.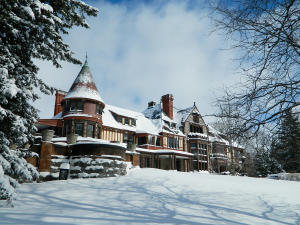 Special events throughout the season range from Arts in the Gardens and the Orchid Show to Mansion Mysteries and the Moonlight Stroll Music Series. There are also attractions and events for children.
Sonnenberg is open May through October. However, if you're here in December, be sure to attend the Christmas Gala Ball or visit on Community Day, when Sonnenberg is decorated for the holidays.