Women's Rights in Ontario County and the Finger Lakes
There is a saying that well-behaved women seldom make history. If this is true, then the Finger Lakes has a long history of misbehaving.
During the 19th century, the region was a hotbed of activism for women's rights and all forms of equal rights, and our history shows the region as a place where women made remarkable achievements. You can retrace the footsteps of some remarkable women and some remarkable events with a visit to these museums, parks and landmarks.
The native Seneca and Haudenosaunee (Iroquois) women who lived in the region long before European settlers arrived also played an important role in the evolution of women's rights. Jikonsaseh, known as the Mother of Nations, passed her title down through generations, and is credited for establishing the rights and responsibilities of male and female leadership role in the Iroquois Confederacy. While there is gender-distinct roles of leadership divided between men and women, women have equal responsibility in Haudenosaunee/Iroquois society. You can learn about the Seneca and Haudenosaunee people and their culture at Ganondagan State Historic Site.
Listed on the National Register of Historic Places, the 1816 Farmington Quaker Meetinghouse served as a crossroads for activism to promote equal rights for all, including women, Native Americans and African Americans. The building is under restoration, but events surrounding its historical importance take place in the area on a regular basis.
The Ontario County Courthouse in Canandaigua is the site of Susan B. Anthony's trial voting in the 1872 presidential election. The judge steered the jury to convict her without discussion, but she refused to pay the $100 fine. Today, visitors can see the courthouse and the statue of Lady Justice standing proudly on top.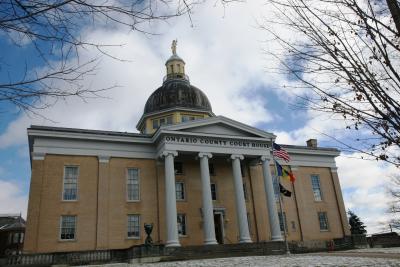 Sarah Hopkins Bradford (1818-1912) is another prominent figure in the history of women's rights. A famous children's book author who lived in Geneva, she was known for her "Sunday School" books that taught moral lessons to youngsters. In the late 1860s, when Harriet Tubman was struggling to keep her house in Auburn, her supporters came up with a plan to find a skilled writer to write Tubman's biography and give the proceeds to Tubman. Bradford became that biographer and formed a close friendship with Tubman. Bradford's Geneva home at 629 South Main Street is now the admission office for Hobart and William Smith Colleges.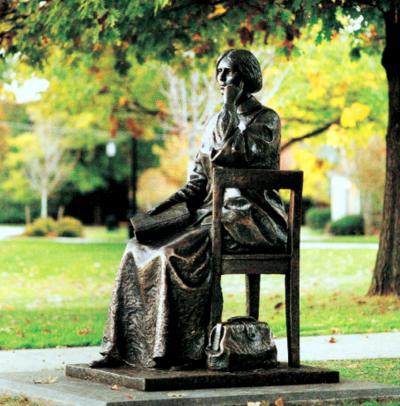 Elizabeth Blackwell (1821-1910) was another fixture of Geneva history, as the first woman in the United States to receive a medical degree. A bronze statue of Blackwell can be found on the campus of Hobart and William Smith Colleges.
The National Susan B. Anthony Museum & House in Rochester is where the famous suffragette and activist lived and worked for women's rights and human right for more than 40 years. 
In nearby Seneca Falls, the Women's Rights National Historic Park includes several historic venues that made the first Women's Rights Convention possible, from the home of organizer Elizabeth Cady Stanton to the site of the Wesleyan Chapel where the convention took place in 1848.
Also in Seneca Falls is the National Women's Hall of Fame, where women from past and present are honored for their achievements and contributions to society, be it through the arts and sciences, education and government, humanities and philanthropy or business and sports.
In Auburn, the Harriet Tubman Home is where the renowned Underground Railroad leader lived for many years, returning to the South many times to help others escape slavery as she had done in 1849.