Biking
What makes the Finger Lakes bicycling nirvana? It starts with our bike-friendly network of country roads with wide shoulders and little traffic, as well as a variety of off-road trails for mountain bikes. The excitement builds with an array of varying terrains, from rolling farmland to long, challenging hills. The reward is always exquisite scenery: vineyards, lakes, forests, farms, and small towns dotted with quaint homes and great places to stop for a bite to eat.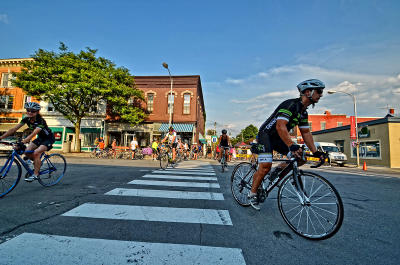 Ontario County is well-equipped to welcome cyclists, with three full-service shops Geneva Bicycle Center, Tom's Pro Bike and RV&E Bike & Skate that offer rentals, tune-ups and friendly advice on where to ride.
Many people love the challenge of riding around all the Finger Lakes. A lake to start with is Honeoye Lake, a fairly level, 18-mile ride. Experienced riders can take on the 80-mile bike loop around Seneca Lake. 
Prefer bike trails to riding to the roads? The trails at Harriet Hollister Spencer State Recreation Area offers easy to challenging rides to match any comfort level. There are also some spectacular views along the way!
Mountain bikers are also welcome at Ontario County Park at Gannett Hill, which rewards riders with an elevated view at 2,256 feet. More level trail riding can be found at the 23-mile long Ontario Pathways.