Water Sports & Beach Fun in the Finger Lakes
| | |
| --- | --- |
| | I'm so excited that you found me so I can share one of my favorite things about the Finger Lakes – the water activities! Are you having fun exploring our Activity Guide? I enjoyed putting it together for you! Let's have some more fun exploring all the ways to enjoy the water! There is boating, swimming, kayaking, stand-up paddle boarding, waterskiing, fishing, sailing, windsurfing… the list goes on and on! And don't forget the wake park and waterpark for even more fun! |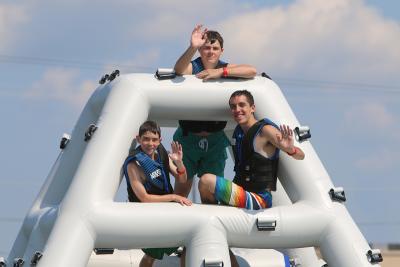 The Finger Lakes are made for fun - especially wet, splashy fun. On every visit take advantage of all the water activities: boat, swim, kayak, stand-up paddleboard, waterski, fish, sail, windsurf, and much more. Take it from us locals - you just have to get in that water. Want someone else to take you around? Hop on board the Canandaigua Lady for a tour of Canandaigua Lake or check out the Canandaigua Lake Water Trail to find where to put your canoe, kayak or paddleboard in the water.
Wakeboarding is the newest offering in the Finger Lakes. As part of the Bristol Mountain Adventure Capital, the Roseland Wakepark is the place to learn to waterski or wakeboard. They also have a kids splash area when you're ready for a break from all that activity.
Check out our "On the Water Guide" for detail on how to enjoy your days in Lake country.  You may not be able to pronounce all those Finger Lake names - Canandaigua, Honeoye, Skaneateles - but you can still enjoy the water.  Even in winter,  you can enjoy the water here. How? Walk on the water. Follow the lead of the locals for the frozen ice depth and then venture out for the simple thrill of it - or turn that frozen asset into your personal campground and drop a line for a bit of ice fishing!
Here's something different. You can "sleep on the water" with a Stivers' Marine overnight boat rental. You can cruise the canal by renting a Midlakes Navigation boat and tour through the locks. Rent a party boat or a motorboat and tow along some friends for a day of fun on the lakes. See our list of rental places here