Wine Tours in the Finger Lakes
Number one request for what to do in the Finger Lakes? Yep, that's right - how do I take a wine tour? Each winery and brewery has its own distinct personality, just like the passionate people who make the wines. Our recommendation is to plan your trip to visit as many as you can.
A visit always includes a wine tasting. But depending on the location, you might also be able to tour the vineyard or the facility where the beer and wine is actually made.
Want to hit the wine trails with your friends or family without the worry of who is going to drive? Here in the Finger Lakes, you have options.
Several companies like Crush Beer and Wine Tours or Finger Lakes Winery Tours offer transportation and planned or customized itineraries of the wineries and breweries in the Finger Lakes via limousine, sedan, tour bus or trolley.Ride in comfort and safety with professionals who can maximize your enjoyment. Some tours include guides who lead you through your tasting experience.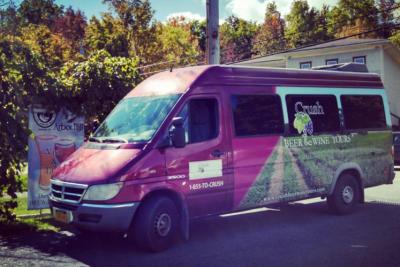 Wine trails are the recommended way to organize your tasting experience. These trails range from the small "Little Path Wine Trail" to the largest wine trail, the Seneca Lake Wine Trail. Use the New York Kitchen or the Finger Lakes Wine Center at Sonnenberg to start your tasting experience. Make sure you sign up for more information from the wineries.
You can save money by getting a passport like the Canandaigua Lake Wine Trail offers or you can find special events like Deck the Halls sponsored by the Seneca Lake Wine Trail.
Most Finger Lakes wineries are open year-round, though in winter some only keep tasting room hours on the weekend often with limited hours. Some say the slower months of January through April, when winery business is slower, is a great time to visit.
Winery operating hours vary, but generally they are noon to 5 p.m. Our best advice is call ahead to your wineries of choice (or use of the transportation companies) and confirm the details of your tours.