City and Town of Canandaigua
| | |
| --- | --- |
| | I'm so excited that you found me so I can tell you more about Canandaigua! Are you having fun exploring our Activity Guide? I enjoyed putting it together for you! Let's have some more fun! On this page you'll find loads to do in this lakefront community. You'll find swimming beaches, visitor attractions, an international cuisine scene that rivals big cities as well as beauty and charm! |
---
Located only 25 miles southeast of Rochester, the scenic community of Canandaigua is known as "The Chosen Spot," a Native American translation that holds true today as it is a unique place to visit and enjoy.   
Jump to:
The city of Canandaigua, which is the seat of Ontario County government, sits at the north end of Canandaigua Lake, and boasts an historic downtown corridor bustling with locally owned shops, art galleries, restaurants, and bed and breakfasts. It is surrounded by the town of Canandaigua, an area that remains true to its agricultural roots while also embracing light industry, a variety of residential neighborhoods, half a dozen parks and a small public airport, the only one in Ontario County.  
Of course, the city and town's shared jewel is Canandaigua Lake, a 16.5-mile long lake that draws kayakers, swimmers and boating and fishing enthusiasts, and anyone who appreciates spectacular lake views.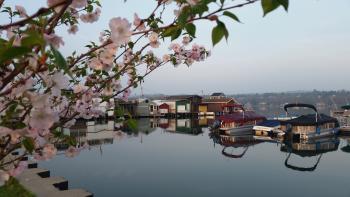 The city of Canandaigua was at one time a Seneca village populated by inhabitants who fled the nearby Seneca village of Ganondagan, which was destroyed by the French in 1687. Settlers of European background started moving into the region in the late 1780s following the Phelps & Gorham Purchase. The Treaty of Canandaigua was signed here in 1794, establishing clearer land boundaries and more peaceful relations between citizens of the new country and the six nations of the Iroquois Confederacy.  
Today, the city of Canandaigua is best known for its tourism assets, which include Sonnenberg Gardens & Mansion State Historic Site, the Granger Homestead & Carriage Museum, the New York Kitchen, the Canandaigua Lady (a replica of a 19th century double-decker paddle wheeler), Roseland Waterpark and Roseland Wake Park. The downtown business district is renowned for its picturesque architecture and friendly merchants who offer everything from gourmet foods, artisan crafts and jewelry and artwork to children's toys, women's fashions and comic books.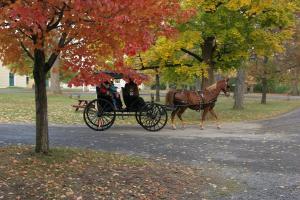 Neighborhoods flanking the east and west side of the city's Main Street are pedestrian-friendly, and provide residents with housing stock that ranges from beautifully restored Victorian homes to modern apartment complexes and urban lofts.  
Meanwhile the town of Canandaigua relies on agriculture as a viable part of its economy, from sizable crop farms and dairy farms to smaller farms growing hops, vegetables and other specialty crops. The Wegmans supermarket chain runs an organic farm here. Other businesses that have settled in the town include PACTIV, a packaging manufacturer, and Artisan Meats, a producer of fine sausages. 
With about 10 miles of lakeshore in its border, the town of Canandaigua enjoys the scenic benefits and recreation of Canandaigua Lake. Onanda Park has a swimming beach, boat launch and fishing area as well as providing cabins, hiking, and winter sledding. West Lake School House Park also offers swimming in Canandaigua Lake.  
For generations, the handsome cottages and summer homes along Canandaigua Lake have drawn locals and out-of-towners alike for rest and relaxation. The late Humphrey Bogart spent childhood summers on Canandaigua Lake, in a cottage near Seneca Point.  
The town of Canandaigua boasts several hamlets, including Cheshire, in the southwest quadrant. The Cheshire Union Gift Shop & Antique Center is housed in a historic schoolhouse.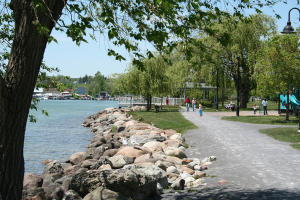 The Canandaigua community is served by the Daily Messenger newspaper, which publishes six days a week.  
Canandaigua Fast Facts 
History 
Canandaigua was settled in 1789 by settlers from eastern New York and New England, officially became a town in 1791, the same year that the Canandaigua Academy was founded. In 1815 the village of Canandaigua separated from the town and became its own entity. It became a city in 1913.  
 
Population 
City of Canandaigua: 10,545 (2010 Census) 
Town of Canandaigua: 10,020 (2010 Census) 
Size 
City of Canandaigua: 4.8 square miles (including .2 square miles of water) 
Town of Canandaigua: 62.5 square miles (including 5.7 square miles of water)  
Location 
Located at the northwest end of Canandaigua Lake in the central part of Ontario County, the city and town of Canandaigua have several main arterials. State Routes 5 and 20 runs east-west, while State Routes 21 and 332 run north-south. 
Terrain 
The city of Canandaigua slopes downhill towards Canandaigua Lake. The surrounding town is largely made up of gently rolling hills that become more rugged and steep as they approach the lake. 
Key Industries  
Government: Canandaigua is the seat of Ontario County government, and many government departments and offices are headquartered here.  
Healthcare: Canandaigua is home to two major healthcare facilities. The Canandaigua VA Medical Center http://www.canandaigua.va.gov/ provides inpatient and outpatient medical services to veterans on its historic city campus. F.F. Thompson Hospital http://www.thompsonhealth.com/ is a community hospital that is in the UR Medicine network.  
Agriculture: Dairy farms, field crops, specialty crops abound in the town of Canandaigua. Wegmans Food Markets also runs the Wegmans Organic Farm in Canandaigua.  
Banking: Canandaigua is the home of Canandaigua National Bank & Trust, a local, community-owned, full-service financial institution. 
Light manufacturing: PACTIV Corp. manufactures food service packaging and products. Ajay Glass is a glass subcontractor.  
Food processing: Artisan Meats makes hand-crafted sausages and charcuterie which are sold in area supermarkets and served at local restaurants. 
Wine: Canandaigua Wine Company, founded here in 1945, has a production facility in the city. In later years it joined forces with other companies to form Constellation Brands, the world's largest wine producer and distributor. Constellation Brands headquarters are based in nearby Victor, but the company has a warehouse and distribution facility in Canandaigua.  
Retail: There are many small, independently owned stores in Canandaigua, from art galleries to fashions to toys, most located along Main Street. The Route 331 commercial corridor is home to many large car dealerships and service businesses. 
Tourism: Canandaigua is home to full-service hotels, as well as many smaller hotels, motels, inn and bed and breakfasts. There are also many tourism attractions in the city and town, including Roseland Waterpark, Roseland Wake Park, Sonnenberg Gardens & Mansion State Historic Park and the New York Wine Kitchen. Canandaigua Sailboarding on Lakeshore Drive offers kayak and watercraft rentals and lessons.  
Education 
The Canandaigua City School District has twice received the Blue Ribbon School of Excellence Award. 
Key Landmarks & Attractions 
Sonnenberg Gardens & Mansion State Historic Park: One of the country's most extensively preserved estates from the Victorian era.  
Granger Homestead & Carriage House Museum: 1816 Federal-style mansion was the home for Gideon Granger, the country's first and longest serving postmaster general.  
Ontario County Courthouse: Susan B. Anthony was tried here in 1873 for voting in the 1872 presidential elections in Rochester.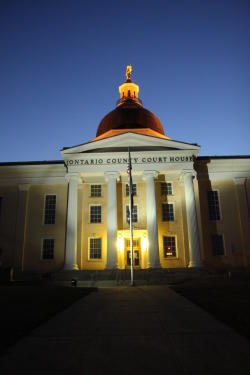 Ontario County Historical Society: Permanent and rotating exhibits are on display here. There is also an extensive research library. 
New York Kitchen: The center showcases foods, wines and other agricultural products from the entire state. It offers hands-on cooking classes and meeting space and has a full-service restaurant.  
Canandaigua Wine Trail: Along the 41-mile trail you will not only come across award-winning wineries, but also great restaurants, gourmet food shops and picnic venues. 
Squaw Island: Small island in Canandaigua Lake that is one of only two islands in the Finger Lakes, A protected area, it is off limits to people.  
City Pier: Historic boathouses, built in the mid-1900s to store boats and farm products in transit from Canandaigua Lake steamboats, line the pier and draw artists and photographers.  
Kershaw Park: Lakefront park features picnic area, beach area with bathhouse, walkways, public dock and small craft launch area.  
Roseland Waterpark: Aqua-themed park with slides, wave pools and more. 
Roseland Wake Park: The only wake board park of its kind in the Northeast.  
Onanda Park: Located on the western shores of Canandaigua Lake, this town park offers swimming, fishing, boating, hiking, cabins outdoor and a host of other recreational activities. 
West Lake School House Park: Small public swimming beach on West Lake Road.   
McJannett Park: This small roadside picnic rest stop features several picnic tables and a wonderful view of Canandaigua Lake. 
Richard P. Outhouse Memorial Park: This park has a walking trail, fitness centers for individuals with disabilities,  playground and a field for soccer, lacrosse and other activities.  
Leonard R. Pierce Memorial Park: Located in the hamlet of Cheshire, this park features a ball diamond, soccer field, sand volleyball court, swings, basketball backboard, and other playground equipment.
Canandaigua Airport (KIUA): This publicly owned airport is a great stop for private pilots. 
Key Events 
Canandaigua Treaty Day: Every November 11, Canandaigua hosts a walk and commemoration ceremony to celebrate the Treaty of Canandaigua, the federal treaty of 1794 that established "peace and friendship" between the Six Nations Confederacy and the U.S. government.  
Finger Lakes Riesling & Craft Beer Festival: Early August festival on Canandaigua waterfront celebrates the region's wine, beer and food. 
Canandaigua Art & Music Festival: Canandaigua's Main Street turns into a festival of live music, art, food and other activities in mid-July.  
Canandaigua LakeMusic Festival: Canandaigua's largest celebration of music performed by both local and nationally recognized musicians takes place for several days in mid-July.  
Festival of Trees at the Granger Homestead: Community groups decorate trees before the holidays inside the historic Granger residence.  
Christkindl Market: The grounds of the Granger Homestead turn into a holiday marketplace for crafts, arts and unique gifts every November.  
Finger Lakes Plein Air Competition & Festival: This juried show in early June draws in 40 artists from all over the country who set up their easels all over the area to paint wonderful landscapes and cityscapes.  
Community resources
City of Canandaigua: http://www.canandaiguanewyork.gov/  
Town of Canandaigua: http://www.townofcanandaigua.org/  
Canandaigua Chamber of Commerce: http://www.canandaiguachamber.com/  
Ontario County Historical Society: http://www.ochs.org/  
Canandaigua Lake Wine Trail: http://canandaiguawinetrail.com/  
Daily Messenger (newspaper): http://www.mpnnow.com/