With numerous freshwater lakes, wetlands and wooded areas, Ontario County has many places to see birds. Whether you're a casual birdwatcher or an avid birder, there's a spot nearby just waiting for you and your binoculars. 
Here are just a few of my favorites: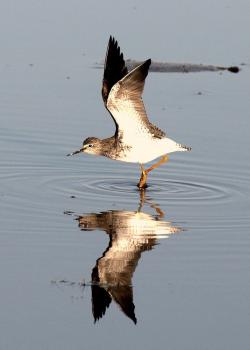 1.  Risser Road Swamp, Canandaigua
Between Canandaigua-Farmington Townline Road and Emerson Road is a swamp that straddles the road. Pull off to either side and you may encounter someone fishing on a lunch break, but if you go early or later in the day, you'll likely see a warbler or two, some woodpeckers and a whole lot of swallows. During migration, this spot that is fairly ignored by humans is not ignored by shorebirds like yellowlegs, sandpipers and wigeons. The swampy, shallow waters provide a great stopover habitat for visiting birds.
The yellowlegs is a common visitor to the Risser Road swamp. Photo by John Van Niel
2. MaryFrances Bluebird Haven, Victor
Victor has a lot to offer for every member of the family. For the birdwatcher, this town bird sanctuary was specifically created to preserve New York's state bird, the eastern bluebird. Trails take visitors through open field and wooded areas. You are likely to see some of our more common species, so this is a great spot to brush up on your identification skills.
3. City Pier, Canandaigua
Really, anywhere overlooking Canandaigua Lake is a fantastic place to view water birds and migrating snow geese. If your thing is dabbling and diving ducks, this is where you want to be. You won't find many songbirds, so don't expect too many pretty melodies, unless you like overhearing the karaoke at Jose and Willy's. As far as viewing waterfowl, nothing beats this scenic lake.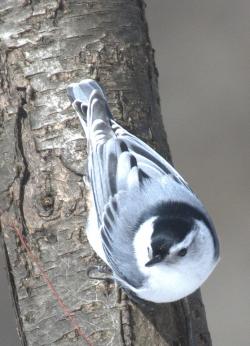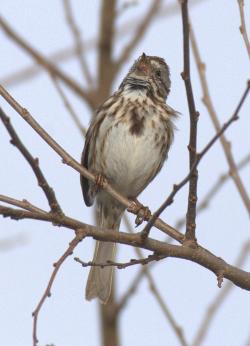 4. Cumming Nature Center, South Bristol

This 900-acre environmental education center is one of the best places in the county to see woodland birds. During migration, you're likely to spot all of the common warblers and even some of the harder-to-spot ones, like my favorite, the black-and-white warbler. This varied landscape is ideal for viewing birds that prefer the cover of a forest with branches to hop around on.

The song sparrow and nuthatch are among the woodland birds at Cumming Nature Center in South Bristol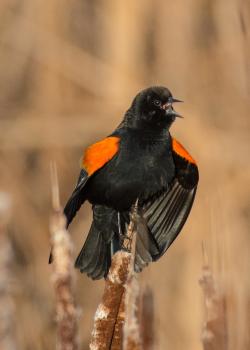 5. Sandy Bottom Park, Honeoye
Located at the northern end of Honeoye Lake, Sandy Bottom is a great place to go sit on the beach. Lakes are always great places to spot waterfowl, and Honeoye Lake is no exception, but walk away from the beach towels and lifeguard and you'll find a nature trail that leads you through a wetland. This is a great place to see migrating warblers in the spring and fall, as well as our beautiful resident species of songbirds.
Red-winged blackbirds & herons can be spotted in Sandy Bottom Park in Honeoye. Photos: John Van Niel