"This is bliss". 
Yes, those words actually came out of my boyfriend, Pete's, mouth during our day trip to Naples in the Finger Lakes on Saturday.  Despite the fact that we were driving past a road actually named Bliss at the time and he may have just been being smart, I reveled in the fact that the day actually did invoke a state of bliss: warm weather, a shining sun, and fresh lake air.  What more could you ask for?
Rewind.  What turned out to be a weekend of perfection started with a Friday night trip to the Rochester Lilac Festival.  While the lilacs seemed to have come and gone, the crowd, vendors, and music were still out in full bloom.  We followed up a night at Highland Park with an early morning at the famed Rochester Public Market, where we filled bags and bags of fresh vegetables, and picked up some herbs of our own to cultivate.  Our colorful summer salad upon arriving home made me a little less upset with my early morning alarm clock.

The fresh veggies fueled us for a long day of tastings as we headed to Naples to indulge in some new wines, beers, and brats.  First stop: Inspire Moore Winery.  A bright blue and purple building set in front of a picturesque backdrop, Inspire Moore has by far one of the best atmospheres of any winery I've been to (and, admittedly, I've visited quite a few).  Even better yet, wine is only one of the interesting things the family-owned operation has going for it.  The one-of-a-kind character and charm will have you coming back over and over again. 
While we explored the list of tastings, from Radiance to Harmony to Truth, our tasting expert, Michael, explained the food pairings he oftentimes offers with the wines.  Barbeque chicken?  Sounds great.  Mac and cheese shooters?  Yes, please!  We'll call ahead next time and bring a group!
After finishing our tasting and scoping out the ins-and-outs of the building with its unique architecture and vibrant colors, we headed up the road to Arbor Hill Grapery for the much-anticipated First Pour of its new brews at the recently-renovated Brew & Brats.  This wasn't without a quick stop into Brown Hound Bistro, where Trish and gang were gearing up for a busy night.  The patio was packed!
Upon arrival at Brew & Brats, Pete, my friend Jojo, and I headed to the bar, where Brew & Brats manager, Tom, was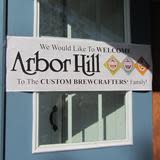 happily serving complimentary tastings of the three new brews.  Not long after we arrived, as the building continued filling up, John Brahm, winery owner and mastermind, took the time to personally introduce us to each brew before the official first pour. 
We started with the Frog's Hollow Pale Ale – a beer that will teach you that looks can be deceiving.  A relatively dark beer for its type, the Frog's Hollow brew was lighter on the palate than you would ever think from its color.  After the official First Pour and a collective room tasting of the pale ale, we swiftly moved along to the Turtle Crawl Porter.  Ladies and gents: if you are a coffee drinker, THIS is your beer!  Smooth, thick, and full of taste, with a perfectly balanced aroma of coffee beans.  A couple sips and my eyes were open!
Our final taste of the three brews was saved for the Gully Washer IPA.  The contest for the most hops was a true toss-up between the porter and the IPA, but the Gully Washer held its own as only an IPA can. 
All three beers went through a lengthy "research" process, conducted by Mr. Brahm himself, alongside Custom

Brewcrafters expert Mike.  Hat's off to both of them, as well as the entire tasting team behind the bar and circling the room on Saturday evening, for a job very well done.
Shortly after the complimentary tastings, we settled into the corner at a family reunion-sized table where we indulged in the second delight of the night: brats.  Pete chose the Bristol Springs brat, while Jojo and I turned on the heat with the Andouille.  "Fabulous Frank" serenaded the room as we continued to treat our stomachs.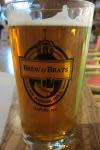 There's something for everyone at Arbor Hill – you have your pick from a wide portfolio of wines, three delicious and refreshing new brews, and a menu unique to the location.  Not only that, but the setting in which you can enjoy these three things is unlike any other.  Recently renovated with the addition of the "bandstand", Brew & Brats invokes the feeling of home in an atmosphere where you're surrounded by a diverse set of friends.  From the woodwork, to the infamous Naples diorama, to even the lamps, which John admits were "repurposed" from a recycling center, Mr. Brahm sure has chosen the right décor to complement his menu.
While we were sad to leave the jovial atmosphere and the crowd, the feeling was lessened as we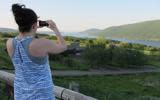 drove up County Road 12, where we pulled over to take pictures at the scenic overlook and enjoy the fresh lake air.
A beautiful night, great friends, and small town Naples with delightful surprises: bliss?  I'd say so.