The United States and the Haudenosaunee entered into a treaty of peace and friendship on November 11, 1794.
For the Haudenosaunee, this brought an end to the Revolutionary War and the hostilities that existed between them and American settlers. The Treaty demarcated the lands reserved to the Haudenosaunee (Six Nations) by the terms of the treaty.
The treaty also spells out how disagreements that may arise are to be addressed by the executive branch of the American Government. The treaty tests the words of the U.S. Constitution, which identifies treaties as the supreme law of the United States. The Canandaigua Treaty bears George Washington's signature and was ratified by the U.S. Senate in January 1795.
Every November 11, the Haudenosaunee (Seneca, Cayuga, Onondaga, Oneida, Mohawk and Tuscarora) commemorate this treaty in Canandaigua, NY, where the treaty was originally negotiated and signed.
This yearly commemoration is a time of rededication of this agreement, which was made to secure perpetual peace and friendship between the people of the United States of America and the Haudenosaunee. The commemoration helps ensure that the "chain of friendship" and agreements between our nations remain vibrant and in good, current working order.

Canandaigua Treaty of 1794 - The commemoration of the Canandaigua Treaty will take place on November 11 on the front lawn of the Ontario County Court House on Main Street in Canandaigua, New York. Please join us for a time of Peace and Friendship to commemorate a very important Treaty between the people of the United States of America and the Haudenosaunee (Iroquois) people.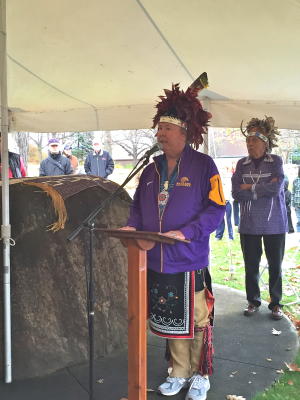 Schedule of events:
11 a.m.- 6 p.m.: Native American Arts & Craft Sale—Canandaigua Primary School Gymnasium
1:30 p.m.: Walk from W. Gibson Street to Main Street Courthouse
2 p.m.: Commemoration Ceremony—Front lawn of the Ontario County Courthouse
6 p.m.: Keynote Speakers—Canandaigua Primary School Auditorium
7 - 8:30 p.m. – Iroquois Social Dancing—Canandaigua Primary School Gymnasium
Admission is free and the event is open to the public.