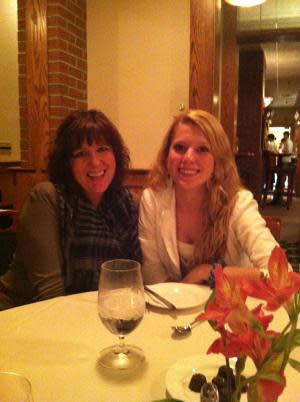 The Finger Lakes is a perfect place to celebrate special occasions and special people.  In May, I get to take up two days just to honor one of the most influential people in my life: my mom. Sometimes my mom's birthday and Mother's Day fall on the same day, but most of the time they are within the same week. During this time, I enjoy being able to show my appreciation for everything that she does for not only me, but my entire family.
A tradition in my family is that if it is your birthday, you get to make the decision about the family dinner on that day. This year my mother chose to eat at a restaurant in Clifton Springs called
Warfield's
. I had never eaten at this restaurant but have always wanted to. 
When we first arrived at Warfield's, I immediately noticed how elegant but comfortable it was. The lit candles on each table, green and brown color scheme, and wooden furniture made me feel right at home. Because we went on a Tuesday night, there were fewer people there and it was very quiet and relaxing. I could see right away why my mother is so fond of this restaurant. 
Being a picky eater, it is hard for me to eat at unfamiliar restaurants. My mom and I have different taste in food but I trusted her choice in the restaurant.  When I skimmed the menu, many of the options sounded amazing. I decided on the contemporary Caesar salad while my mom chose the prime Angus trio.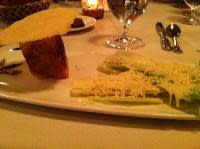 When our food arrived, we all admired the chef's presentation, then dug right in.  My Caesar salad consisted of longer romaine leaves with a garlic dressing poured over them, a block of brioche with creamy cheese in the middle, and a thin crisp of parmesan cheese. It was delicious.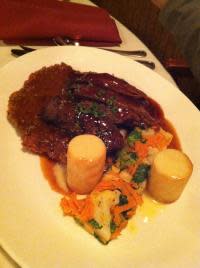 As I looked to my right, I saw my mother's meal which included beef hangers, sirloin, brisket, pressed vegetables, and potatoes in the shape of cylinders. It is a meal that I would not choose myself, but to see how much she was enjoying it made it that much better. My mom was excited for dinner, and I could tell that she was having a great time.
At the end of the day, the smile on my mother's face showed that her birthday was a success.  She loved the gifts she received, the dinner, and the time we all spent together.  Seeing her happiness made it a great day for me as well.
The amount of work my mom does is inspirational and cannot be appreciated within just two days out of the year. She has always been a big hero of mine, and I give her a ton of credit for all that she does for me. I am extremely thankful to have such a wonderful mother, hero, and above all, best friend. Warfield's, with its divine food, welcoming service, and historical building in the beautiful downtown Clifton Springs was the perfect place to spend such a special evening.