The Finger Lakes are home to many small, close-knit communities, the fabric of which is made from the people who inhabit them, yes, but also the smalls businesses that bring unique offerings to the area.  Here at the Finger Lakes Visitors Connection, we are so happy to celebrate those small businesses that attract our visitors, make this area a great place to live, and keep our communities thriving.  So, in honor of National Small Business Week - which is celebrating 50 years in 2013 - we'd like to highlight some of our Insiders' favorite small businesses!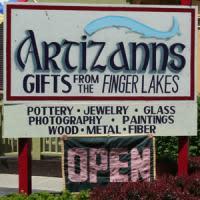 A small business of small businesses! That's what Artizanns Gallery and Gifts of the Finger Lakes is! Artizanns, located in downtown Naples, is one of my favorite places to take guests – or to buy gifts for guests – or to admire the artistic talent that thrives across the Finger Lakes region.
Yelp has rated Artizanns as Naples' number one shopping experience, commenting about the owner, Suzanne Farley, as a "sweet and informative hostess."  I've known Suzanne through a couple of different phases of her life as a businesswoman in Naples and Yelp is right – that welcome just reinforces that you've made the right decision to shop at this small business.
What to buy?  Well that's why I mentioned small businesses.  There are over 200 Finger Lakes artisans represented here. They create "everything imaginable (and unimaginable! ) from beautiful jewelry, pottery, hand-blown glass, photography,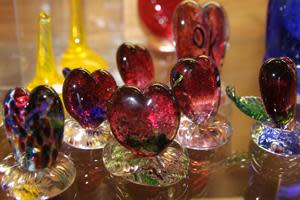 prints, original paintings, sculptures, fingerless gloves, functional and decorative wood, metal and ceramics, soaps/sundries, books/cd's/cards and a pantry full of culinary treats from the area". If you can't find something to give a friend – or decorate your own home with - I don't know where you can!
Another reason to love it?  Because there is also a price point for everybody!  Some of my gifts have ranged from $15 earrings or a glass blown heart for Valentines Day to a more expensive, multi-colored kaleidoscope from cut glass shaped into an airplane (shhhh… that one is on hold for my son and his fiancé, both of whom are pilots for United Airlines)!  This small business has served up art for me that now resides across this country, and in Sweden, France, Italy, Germany… and just up the lake in Canandaigua, NY.
There's one more thing that I have to mention about shopping local – and shopping small business. Suzanne is so integrated into her community and the people of her community that I feel like when I shop there that so much of her time, talent, and ROI goes back to the community itself. She pays it forward with her charity work – and her personal connection to the other businesses, events and more in Naples and the Finger Lakes.
Small business is the backbone of our tourism industry – and with quality businesses like Artizanns (representing hundreds of other quality businesses) and committed proprietors like Suzanne Farley – I never doubt why I live here and never shy away from saying, "you have to stop by Artizanns and take home a piece of the heart of the Finger Lakes".