Do you have a "crush" on the Finger Lakes? You will if you take advantage of one of the newest businesses in Ontario County. When you're finished with your tour, you'll wonder why you're not wearing a crown after being treated like royalty all day.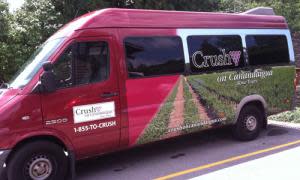 I say this with confidence because I was fortunate to be one of the people invited to participate on a maiden excursion with
Crush on Canandaigua
, a new touring company whose focus is catering to the whims of wine enthusiasts who visit or live in the Finger Lakes wine country. The idea for Crush on Canandaigua spun off from tours that owner Russell Russo and his wife, Mary, took with Crush on Niagara Wineries in the Niagara-on-the-Lake region. They were so impressed with the experience with sommelier and guide Andrew Brooks, that it spawned the idea that a similar experience was needed for visitors in the Finger Lakes. If our experience on that first tour is the norm, then absolutely, this service is a boon to our area and wine enthusiasts who visit.
There are several itineraries from which to choose, but because we were invited guests on this particular day, the itinerary was already set. It didn't matter because Russ, under the tutelage of his mentor, Brooks, had a memorable day planned for us.
Russ is willing to pick you up wherever you might be staying in the area, or at any other central location – for us, it was
Finger Lakes Gaming and Racetrack
in Farmington. From the moment the small bus doors open, you're treated like the world revolves around you.  (Now, seriously, who doesn't want to be treated that way once in a while?) The seating was comfortable and the temperature inside was perfect, even on a hot day like our tour day. After nestling into our seats, we were off, and Russ was on his game. Clearly he'd done his homework to prepare for these tours.
There were four wineries and a specialty lunch planned for our excursion. As the bus climbed the hill out of Canandaigua toward Route 21 and our first destination, Russ kicked into tour guide mode. He talked about the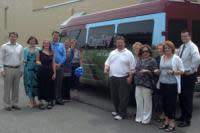 topography of the area and what makes it a great grape growing area. He also threw in history and eagerly listened to our stories to add to his repertoire. The route to Bristol winds along the hilltops above Canandaigua Lake, and the vistas are amazing, even for those of us who live in the area. I found myself sinking back into the soft seat and relaxing like I was on a vacation (even though really I was doing this for work). With his fun sense of humor, Russell managed to pull us all into a world where it was all about being wine connoisseurs and his guests for the day.  (He also pointed out that he doesn't like to do too much talking because he knows his guests also want to enjoy each other's company between stops. Gotta love a guy who's tuned in to his customers.)
The moment we stepped off the bus at
Arbor Hill Grapery
, we knew we were in for a treat not afforded most visitors. Russell had arranged for a special wine tasting in the wine cellar (not typically open to the public) and it was hosted by none other than owner and wine master John Brahm. In addition to tasting several wines, we learned about wine and cheese pairings. This was an unanticipated bonus, again upping the "we're special" ante. A visit to the gift shop for goodies was fun, and Russ was waiting in the wings so when a purchase was made, he was quick to step forward, mark it with the purchaser's name, then carry the packages to the bus, where he had a box designated for safekeeping of our treasures. 
When we were gathered again to move on to our next destination, we were offered snacks and drinks to enjoy on our way. Not a detail was left for chance or want. (Double bonus: he always knew where the restrooms were located at each stop!) We continued on to
Hazlitt's Red Cat Cellars
in Naples where, again, it was clear that we were not only expected but that we were receiving red carpet treatment. On to
Inspire Moore
and
Heron Hill Winery Tasting Room
and this royal treatment continued, including the lunch stop at
Roots Café
, adjacent to Inspire Moore Winery.  Russ was so accommodating, that he even let us stop at the
County Road 12 Scenic Overlook
in Bristol to take a group photo.  After all, this was a day to remember and we wanted photographic proof.
So, aren't you ready for royal treatment? I highly recommend gathering friends and booking one of these tours. What do you get? First, a chance for everyone in your party to kick back and relax, leaving the driving to someone else while you visit several wineries. Next, you get to feel like an "insider" at each of the winery stops because the staff will be waiting for YOU. And finally, if you select a trip with lunch included, you can expect an all-around dining experience, not just lunch. 
The summer and fall are great times to visit the wineries. Dust off your crown and pick up the phone.  I guarantee you, too, will end up with a Crush on the Finger Lakes.