There are few places more picture-perfect than the Finger Lakes in Autumn. Clear blue lakes encompassed by rolling hills bursting with reds, yellows and oranges, and expansive fields and farmlands of green are everywhere. The days may be getting shorter, but that doesn't mean there's a shortage of solo adventures, romantic escapes or family fun waiting for you in your backyard. So pack the car for a weekend getaway, and a backpack with hiking snacks and sunscreen. Here are some of my favorite ways to make sure you fall in love with Ontario County this season. 
Mountain Horse Farm
This gorgeous and unique farm is more than a place to stay. Mountain Horse Farm in Naples is owned by Suzanne and Rudd Vullers, and everything they do is focused on feeling great! This luxurious bed and breakfast, glampground (yes, glamping—glamorous camping), horse and farm sanctuary, and wellness retreat with an on-site spa is unlike anything you've experienced. There are six elegant rooms, all with either private or shared jacuzzies and two traditional Sioux tipis where you can be even closer to nature without compromising any comfort! Located on 33 pristine acres and surrounded by the Bristol hills and mountains exploding with color in the fall, it's the ultimate in a relaxation and wellness getaway. This is the spot if you're looking to spend a romantic weekend with your love, have some girl time or book a solo wellness retreat. Make sure to schedule the horse and cow experience—you'll be treated to an incredible and inspirational chance to spend time with their animals and reconnect with yourself and nature. The horse and cow experience is done on the ground, there is no riding and no experience is necessary. Pet them, brush them or just share their space. They may nuzzle you, lick you or just keep eating! 


Lazy Acre Alpacas 
Located in Bloomfield, this is a fan-favorite year-round. I've never met a person who hasn't enjoyed spending time at Lazy Acre Alpacas. Mark Gilbride is a first-generation farmer and papa to more than 60 alpacas—including two babies! The 180-acre farm has a gorgeous landscape and beautiful gardens where you can learn about the daily care of these gentle and docile animals. Get an inside look at the 150-year-old barns, see and feel what alpaca fleece is like, and get to spend time with the herd out in the pasture. You may even get lucky and get a kiss from one of them! His farm is the largest in the Finger Lakes area and is available for scheduled tours for individuals, couples, families and groups both large and small. Tours are $7 per person or $5 per person for groups of more than five. Lazy Acre Alpacas also has an annual open house during Columbus Day weekend where admission is free, though donations are appreciated. Expect spinning and weaving demonstrations, pumpkins, tours and lots of alpacas!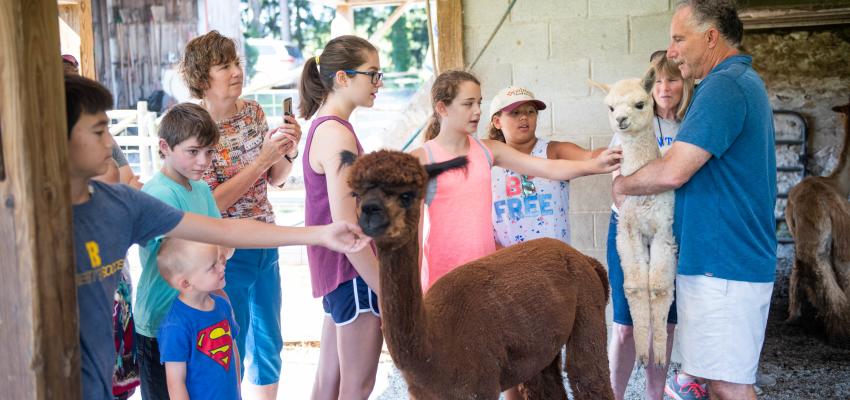 Falling for the great outdoors!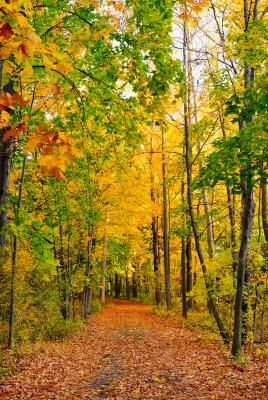 As the temperatures dip and long sleeves come out, some people may want to head inside. But I say it's a great time to get out and explore in more comfortable weather! In Ontario County and the Finger Lakes, we are so spoiled to have excellent hiking and biking. But in the fall, it's like you're living in an oil painting. What better way to discover new corners of the world than by foot or pedal? Ontario Pathways winds its way through Canandaigua, Stanley, Phelps, Clifton Springs and beyond. Looking for an easy hike? Try the main rail-bed trail—23.3 miles on an abandoned rail bed of cinder, stone and grass. Or take a walk in the moonlight on Saturday, October 20, from 6:30 to 9pm during the Great Pumpkin Walk starting at the Ontario County Fairgrounds. Round trip is only about one mile, with hundreds of hand-carved pumpkins twinkling along the entire path. This is perfect for all ages and is suitable for strollers and wheelchairs! $4 per person and free parking at the fairgrounds. 
For the biking enthusiast
Ontario County has a bike-friendly network of county roads and a variety of off-road trails for those with mountain bikes. Pedaling up challenging hills or through backroad farmlands, the fall scenery is more than worth the effort! Just don't forget to pack your camera along with your water bottle! Want a real challenge? Try the 80-mile bike loop around Seneca Lake and be rewarded with a job well done and some breathtaking hills … I mean vistas!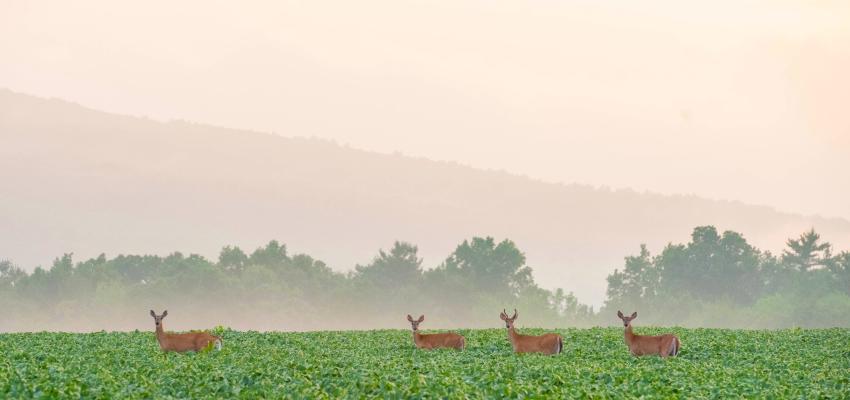 Pick a peck of harvest season!
Pumpkin spice lover? Apples all the way? Grape galore, please? Whatever your preference, there's no denying there's something comforting and cozy about the fall harvest season. Farm stands overflowing with gourds, apples, grapes and the abundance of the fall harvest season dot Ontario County's landscape. Unearthing your soft sweaters, pulling on a pair of jeans, and going pumpkin or apple picking is quintessential fall after all, isn't it? For the ultimate in farm freshness, get out and pick it yourself!


Wickham's Pick'n Patch 
Wickham's Pick'n Patch in Stanley has your standard pumpkin picking, but there's also barnyard animals, a barnyard bouncer, hayrides, an eight-acre corn maze and much more. Inside the barn, grab a hot or cold cider, some kettle corn and maple cotton candy! For a complete list of everything to see, do and taste at the Pick'n Patch, check them out online!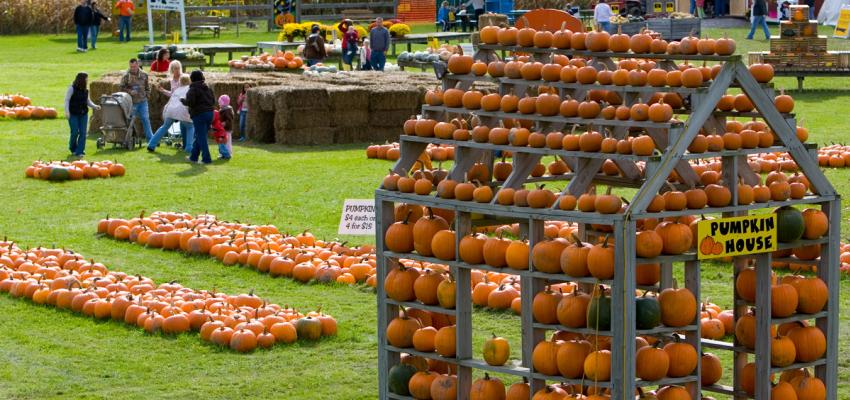 The Apple Farm 
About two miles south of the village of Victor, you'll find The Apple Farm and its 11 varieties of apples. Spend the day picking apples and reward your hard work with a cider slushie or doughnut in the cider house. Just remember to wear sensible shoes—this is a working farm, after all! For those who want convenient, fresh apples during their trip, you'll find bags of apples available in the store. They're ready and waiting for you to eat them or turn them into delicious baked goods when you get home to share Ontario County with loved ones who were or weren't with you!


Jerome's U-Pick 
At Jerome's U-Pick in Naples, your entire family can enjoy a day of beauty, fun and deliciousness for all your senses. The fall landscape from the farm is stunning, so take time to breathe in the smell of vine-ripened grapes as you and your family hand-pick some of the 20 varieties available. Keep in mind not all the varieties will be ripe at the same time, so you just may need to plan a couple of weekends to visit! But don't wait too long—the harvest usually goes into the late part of October. If you want to find out what's available for picking, call 1-800-UPICKIT.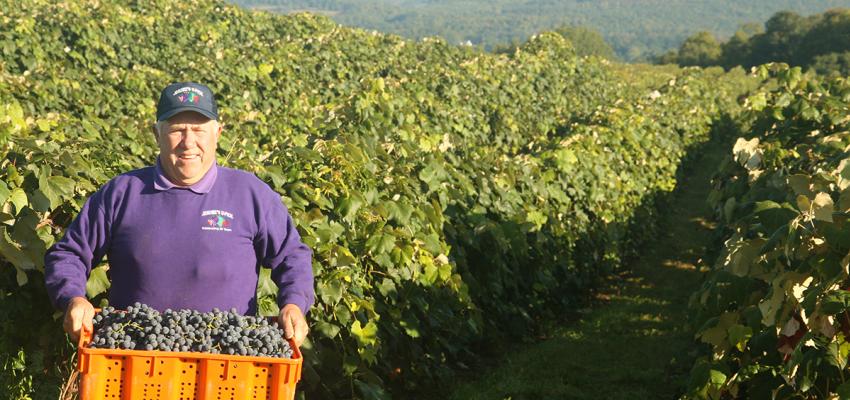 This is only a small sampling of all the amazing things to do this season, and why I know you'll fall in love with autumn in Ontario County! Now if you'll excuse me, I have some activities to go do!