As a newcomer to the tourism industry, my position at the Finger Lakes Visitors Connection makes me look at the community where I live through a different lens. As I do this, a new philosophy emerges. It essentially boils down to this:
A great place to visit must also be a great place to live. 
Residents will learn about and love their community even more when they explore their own back yard like a tourist. Meanwhile, visitors more and more want to experience the life of the locals when they travel.
It's a win-win all around. 
I live in Geneva, Ontario County, and this small yet diverse city of about 13,000, which also happens to be a great place to visit, has another win to add to the equation. 
This week Geneva was named an All-America City by the National Civic League, joining nine other municipalities across the country that were awarded the same honorable designation in Denver.*
The award celebrates communities that bring together a variety of stakeholders -- including residents, businesses and non-profits -- in creative and innovative ways so they can tackle community challenges and improve the qualify of life for everyone. 
Delegates from finalist cities, towns, villages and counties had to present their success stories to a jury made up of 13 civic leaders from the public, private and non-profit sectors. 
The story that Geneva's delegates enthusiastically put forward has three impressive chapters. (Watch the video here.)
Neighborhood revitalization. The Geneva Neighborhood Resource Center and Office of Neighborhood Initiatives recognized 11 distinct neighborhoods in this city of approximately 13,000, and worked with residents to help them start neighborhood associations to beautify their neighborhoods, make them more secure and find ways to bring neighbors together. (Pictured below is the annual Musical Porches event in the Founders Square neighborhood, where residents offer their porches or front yards to local musicians for an evening of free concerts.)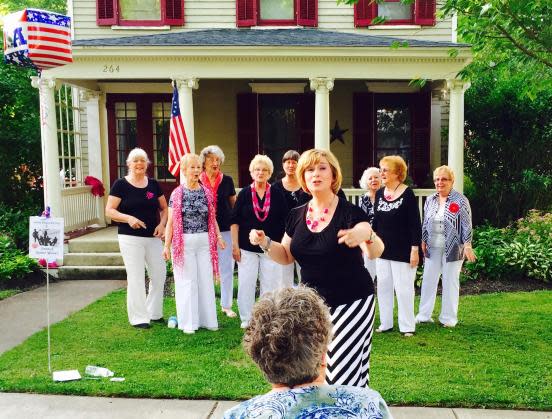 Downtown revitalization: An initiative to get residents to shop local, eat local and support local businesses has led to a 60 percent increase in occupied storefronts in the downtown business district. (Pictured below is Linden Street, where you'll find a wine bar, bakery, restaurant, furniture shop and cafe/gift shop).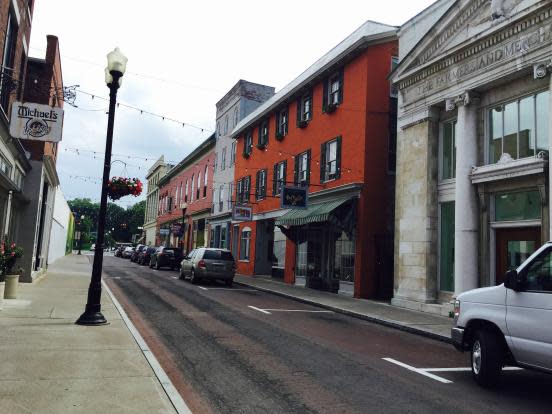 Graduation rate increase. The Geneva 2020 partnership between the city, the Geneva school district and Hobart and William Smith Colleges has boosted the graduation rate of Geneva high school students by more than 40 percent. 
Geneva city marketing director Julie Anderson Coleman told the Denver jury that when you walk down any street in town these days, you'll notice that a lot of cars have a "Love Geneva" bumper sticker on them.
Just about every time I go to the grocery store, I spy somebody wearing a "Love Geneva" T-shirt.
Yes, the civic pride really is that palpable.
I moved to Geneva six years ago, and can attest to the transformation that the city has made in recent years. There are more businesses downtown, there are more festivals and events that bring people together, and youth here have a far brighter future. 
Yup, all good for visitors and residents.
So many of the aspects of Geneva life that those of us who live here love most are ones that we joyfully share with out-of-towners.
Here is my top 12 list of Geneva hot spots I love to do on my own and with out-of-town friends and family.
Smith Opera House. Not only is this 1400-seat theater, built in 1894, an architectural gem, but it also has vibrant calendar of events that span many art forms, from classic or foreign movies, plays and ballet to opera, rock concerts and art shows.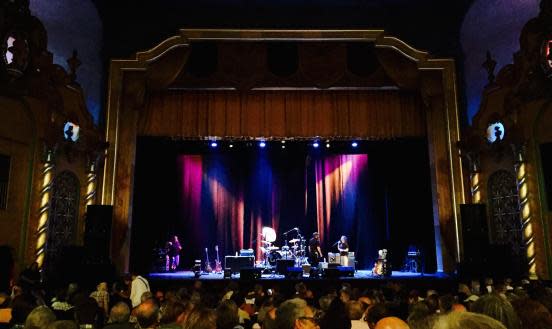 Geneva Bicycle Center. The staffers at this unique bike store and repair shop (they have been on the list of Top 100 Bike Shops in the USA several times) love bicycling as much as you do. In the warmer weather, Suzanne leads a women-only Saturday morning bike ride, and she adheres strictly to her "no woman left behind" policy.
Stomping Grounds. It's a print and frame shop. It's a book store. It's a gift shop.  It's an art gallery. And there is a coffee and tea bar as well. And everything sold is inspired by the Finger Lakes.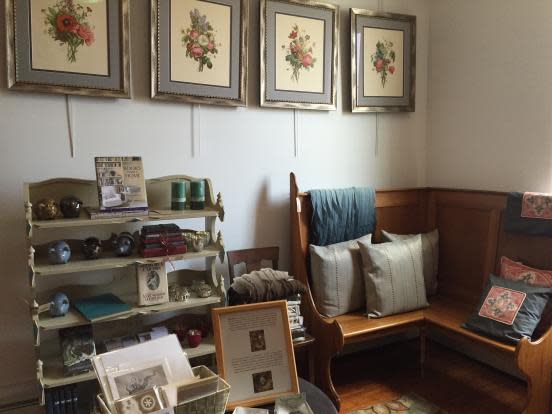 Seneca Lake State Park. Landlocked walkers and bikers who want a fresh lake breeze can stroll or pedal the 2.5-mile path along the water and enjoy the boats, the clouds, the greenery and supremely interesting people- and pet-watching. 
Microclimate Wine Bar. This Linden Street wine bar wants you to compare Finger Lakes wines to those from around the world. Share the love. 
Lake Drum Brewing. A local brew bar serves its own beers as well as those from regional and national craft breweries. Music is all vinyl, and customers can pick a record album from the Lake Drum collection for airtime, or bring their own. This summer it has debuted a parklet, a tiny streetside hangout right in front of the building. 
Area Records and Music. Speaking of vinyl, Area Records and Music is the place to supply your reincarnated turntable with great tunes of any genre. 
Geneva Historical Society. History is a happening thing in Geneva, and the Historical Society has a robust schedule of events that includes concerts, walking tours and happy hour.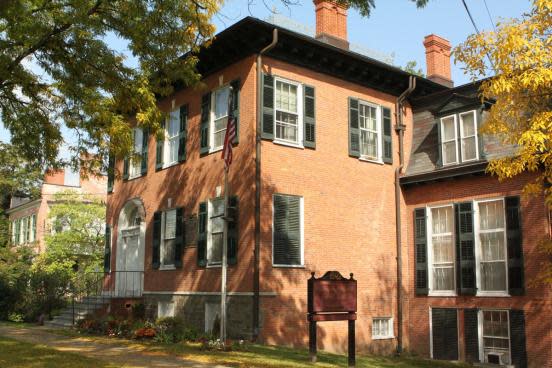 Opus Espresso and Food Bar. A great breakfast or lunch spot with creative sandwiches a fantastic breakfast burrito. 
Red Dove Tavern. This gastropub is an original, and deals one of our county's strongest suits for locavore cuisine.
Pizza on the Patio at Billsboro Winery. Technically in the town of Geneva, not the city, this community-focused winery always sells out when it stays open after dark for Pizza on the Patio. A local chef makes the pizza in an outdoor wood-fired oven and local musicians set the ambiance. Reservations required. Enjoyment guaranteed.
Finger Lakes Gifts and Lounge. Know by the locals as The FLounge, this gift store/cafe is a great place to relax, read a book, catch up with a friend or find a great gift for that special someone.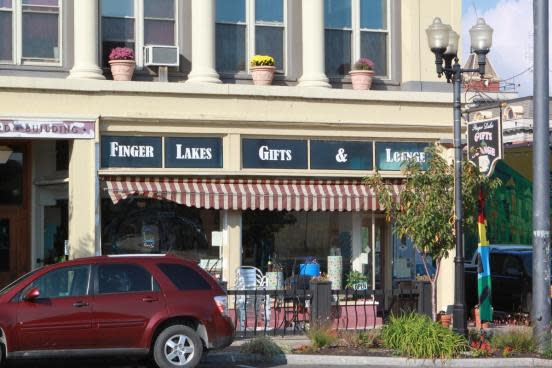 The All-America City award gives residents and visitors all the more reason to follow the directive on the bumper sticker. "Love Geneva.". And as the community continues to work together and make good things happen, it reinforces the second part of the city's motto. "It will love you back."
•The other winners are Carson, California; Salinas, California; Stockton, California; Tallahassee, Florida; Somerville, Massachusetts; Tupelo, Mississippi; Geneva, New York; Marshall, Texas; Spokane, Washington; and Yakima, Washington.