What better way to explore your surroundings than holding a scavenger hunt?  Whether you are a foodie, wellness seeker, outdoor adventurist, or cultural aficionado, you can have fun and discover things around you. 
Foodies can pair off with some friends and see how many items they can check off their list in an afternoon.  How about seeing who can take the most pictures of unique Finger Lakes products?  To give you some ideas of what you can include on your list, how about taking a selfie of you enjoying a Red Cat slushie?  You can also go on a quest to find various different grape pies.  Search for where you can find sherried wine barbecue sauce (hint, it is an ingredient in sausage enjoyed at a restaurant north of Naples where you can also enjoy a glass of beer or wine).  See who can be the first to find and take pictures of ten diff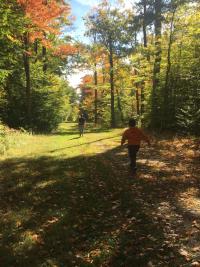 erent unique Finger Lakes foods (or drinks).  Don't forget to hash tag us in your pictures using #FLXperience.
Wellness seekers can hold their scavenger hunt at Kershaw Park in Canandaigua.  Find a quiet spot to practice some yoga and meditation.  Walk to the city pier from the park to see if you can spot Squaw Island.  Even better, rent a kayak from Canandaigua Sailboarding and visit Squaw Island.  Find "water biscuits" on the shore, a rock the shape of a heart, a bird finding its dinner, and a leaf that can fit in your palm.
If you are an outdoor adventurist, Bristol Mountain is a great place to find things for your scavenger hunt.  Take the zipline canopy tour and see what you can spot.  Can you find four bridges?  Will you find a birch tree?  How about taking on the Aerial Adventure Park to see what you can find.  Through October 30 go on the fall sky rides at Bristol Mountain.  Find a red tree, a yellow tree, and a tree that has no leaves.  Perhaps you will come across a stick in the shape of a "Y" on the ground.  The possibilities are endless.  Families and children are sure to have a blast finding items on a scavenger hunt here.
Cultural aficionados will love taking a walk down North Main Street in Canandaigua.  Spot Lady Justice sitting atop of the Ontario County Courthouse -- she will be sure to put you in awe.  Be sure to add a clock tower to your list of things to find.  Find railroad tracks, a fountain, a building with a seasonal window display, and more.  Your scavenger hunt can also bring you to Sonnenberg Gardens.  Find ten different kinds of flowers, a piano, the Japanese Garden, two different color roses, and so much more.
The Finger Lakes is a great destination to discover many unique things and to have a great time enjoying a scavenger hunt.  The possibilities are endless!