It's ice cream season in the Finger Lakes. One of my favorite things about the summer is indulging in ice cream! At home, we go through a carton (or sometimes two) a week, but now that the summer is here it's time to head to our favorite ice cream stands. You can't beat fresh ice cream from one of our beloved stands. I'll admit, my order is quite boring and always the same: small vanilla in a cone. I've been to a handful of the ice cream stands in Ontario County (and I've got many more that I must visit); each one brings back a different memory.
---
The closest ice cream shop to where I grew up was Papa Jack's in Victor. When I was younger, it was a much smaller place than it is now. Its expansion goes to show how popular of a location it is. I never minded waiting in line as a kid because I didn't have to! One of my parents would stand in line while I got to run off and come back when they had my ice cream ready.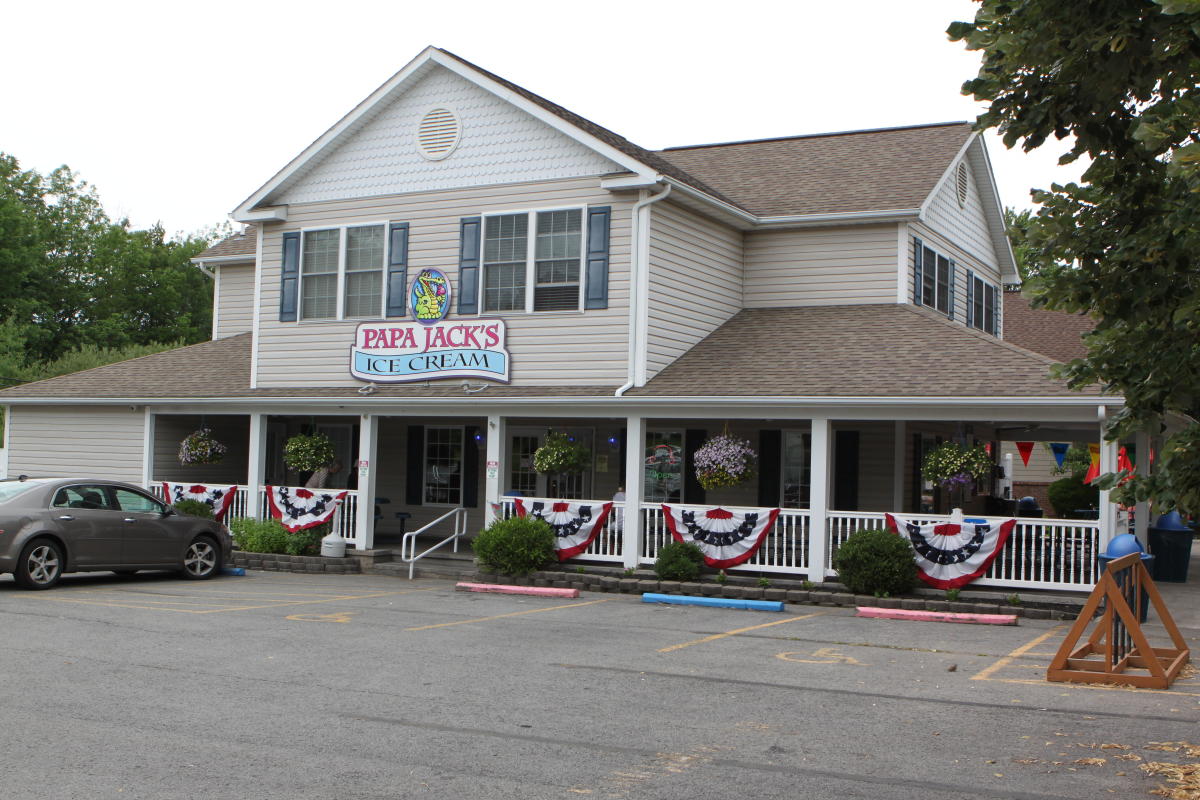 ---
Now called Scoopy Lou's, this ice cream stand on Route 444 in Bloomfield next to Cheap Charlie's was a favorite place to stop on our way back home after spending a day in the Bristol Hills. In the wintertime, my family and I spent a lot of time at Bristol Mountain skiing and in the summer, we'd head back down there for a picnic or grab dinner at Lock Stock Bar and Grill. On the way back home, we had to stop at Scoopy Lou's for ice cream. If you're heading into Bloomfield on Route 444, you can't miss it! Look for the large vanilla cone street sign all lit up.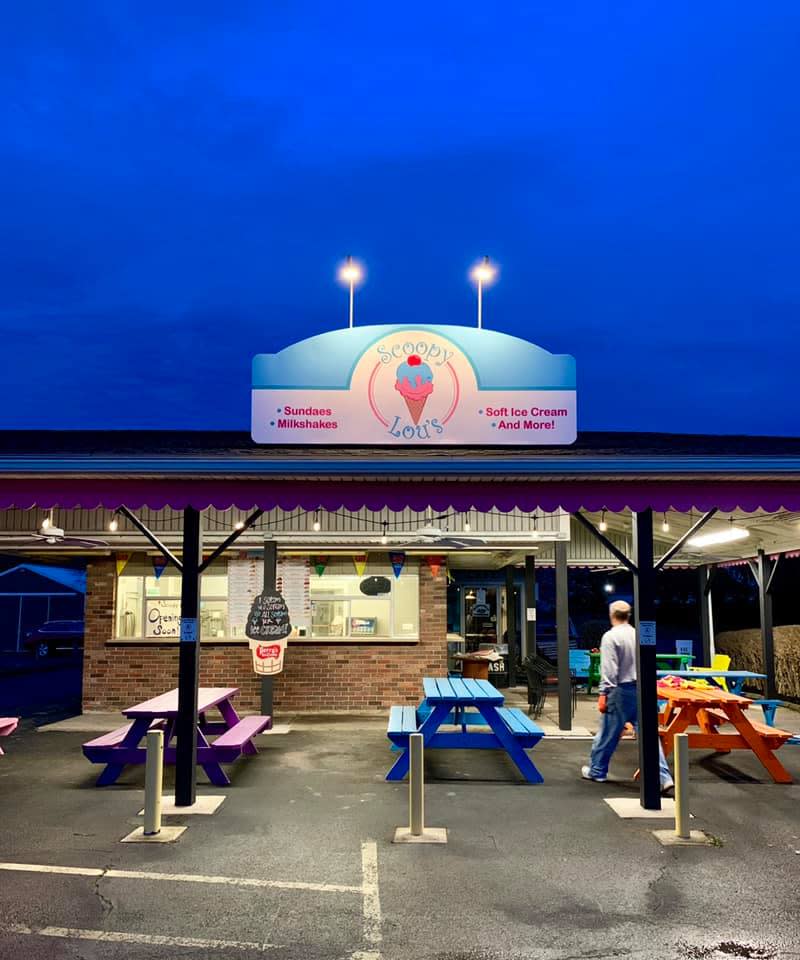 ---
The ice cream window at Bob and Ruth's in Naples was another place I remember stopping at when we had the chance. My grandfather lived about ten miles south of Naples, and in the summer my cousins and I would spend a few days with him. My grandpa was an avid fisherman in his younger years and loved taking us to the different little fishing spots he found in the area. There were always lots of laughs to be had on those fishing trips. The fishermen's tales included our thinking we caught a monster fish, only to reel in a massive pile of weeds to mistakenly throwing our poles in the water while trying to cast-off. No matter what we really caught, our fishing excursions always ended with an ice cream cone at Bob and Ruth's. We'd grab a cone and head over to a picnic table nearby and continued to tease each other about the "monster fish" we thought we'd caught.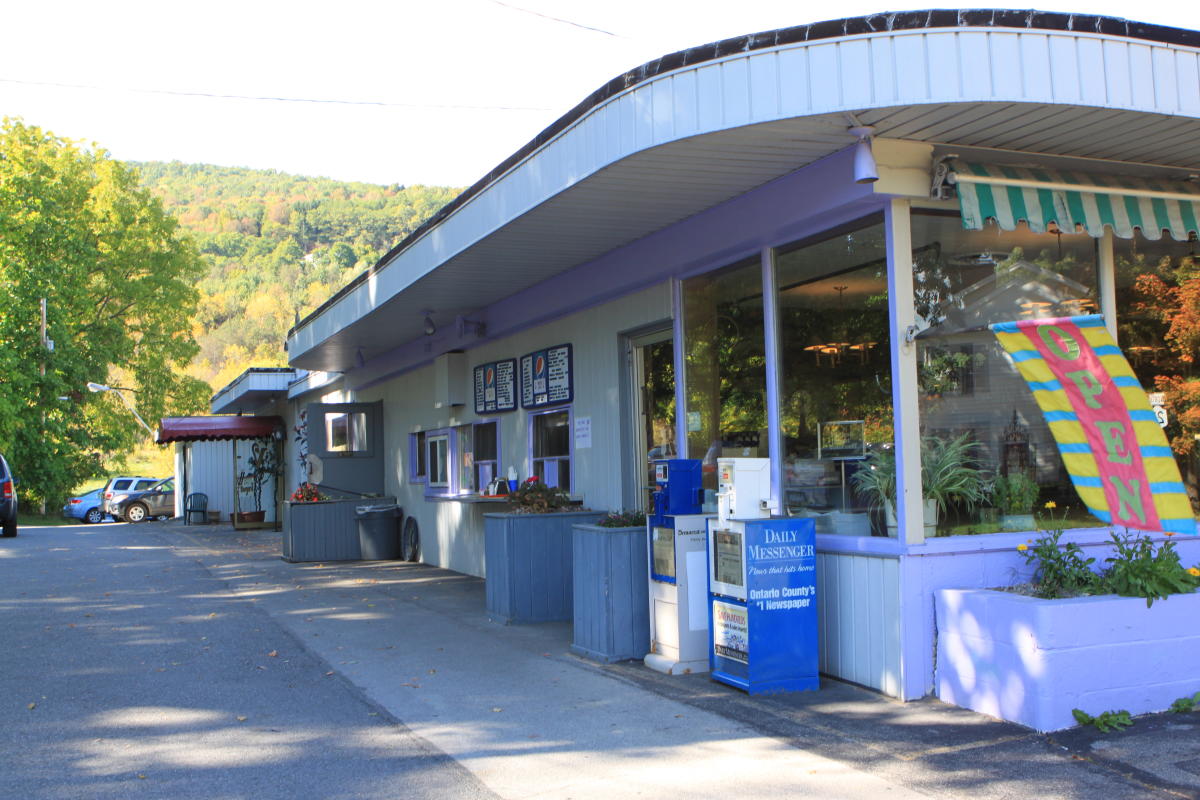 ---
Now, I'm a dad with a one-and-a-half-year-old son, and another on the way. Scoops Ice Cream on Lakeshore Drive in Canandaigua has quickly become a new favorite spot for my family. It's a spot my wife visited frequently when she was growing up in Canandaigua. Scoops is right down the street from Kershaw Park, which is a great place to take our son to play on the playground. Then we make our way over for an ice cream. As soon as we get our cones, our son starts pointing and shouting, ready for his bite. With another son on the way, I can't wait to see the boys playing with each other at our local parks, then to surprise them for a visit to Scoops for an ice cream.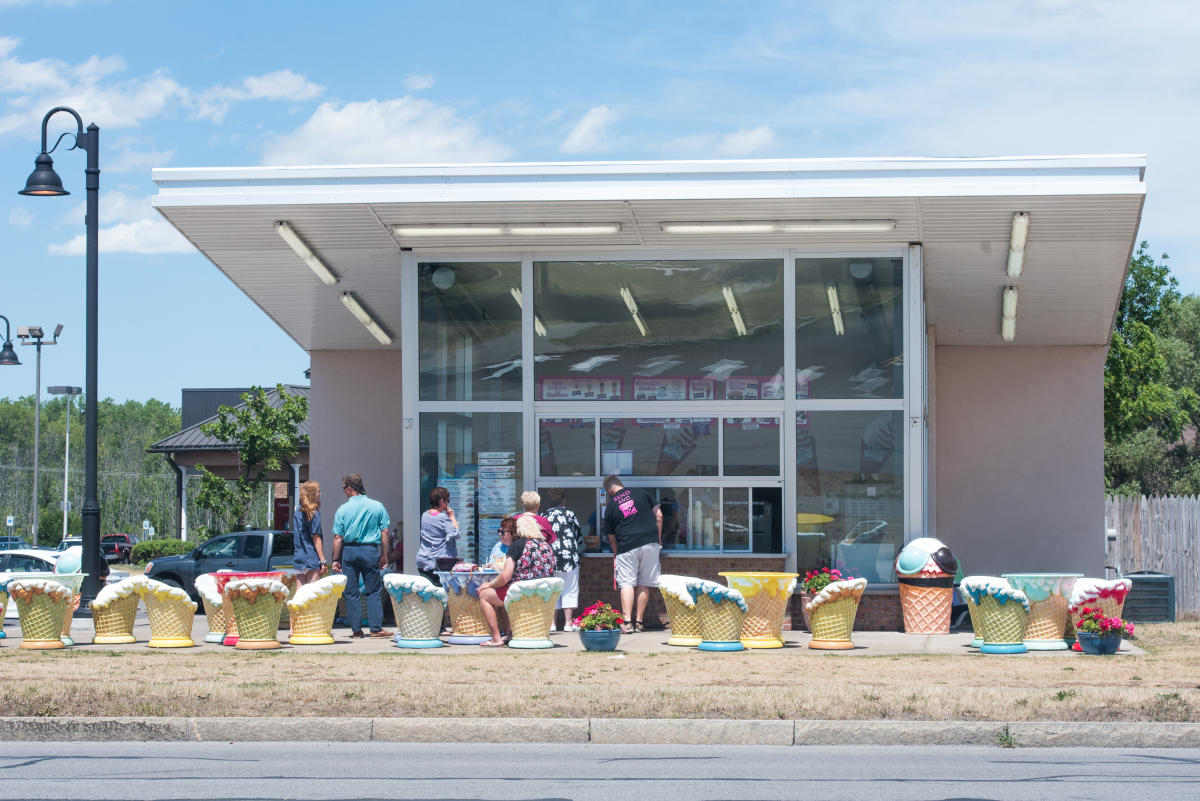 ---
What do our staff members recommend for their favorite ice cream stands?
Cheshire Creamery is a favorite among a few of our staff members because of the different homemade flavors they make, and other homemade desserts they have.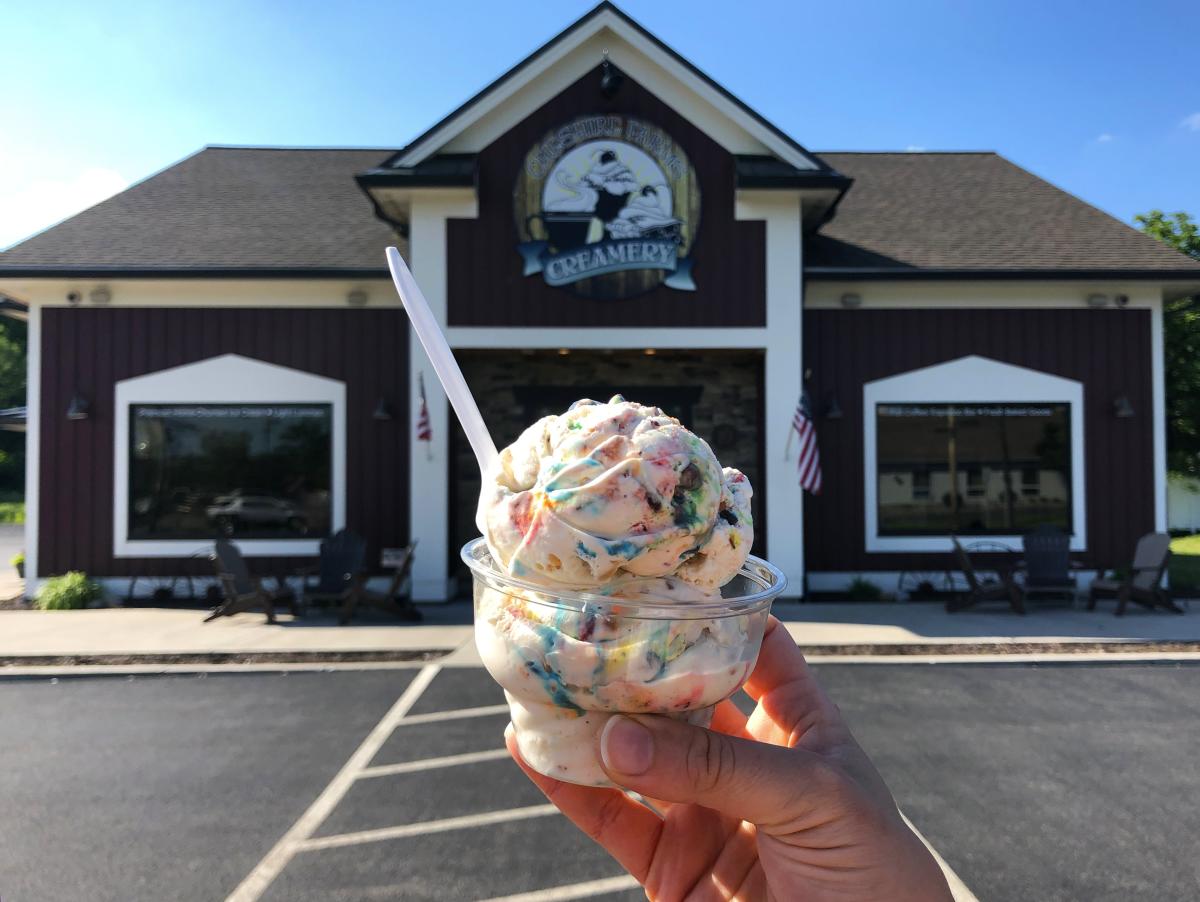 Another favorite here at Finger Lakes Visitors Connection is Shark's in Bloomfield.  Our Jessica VanDeMar shared that she always enjoyed stopping there with her volleyball teammates whenever they were playing in Bloomfield.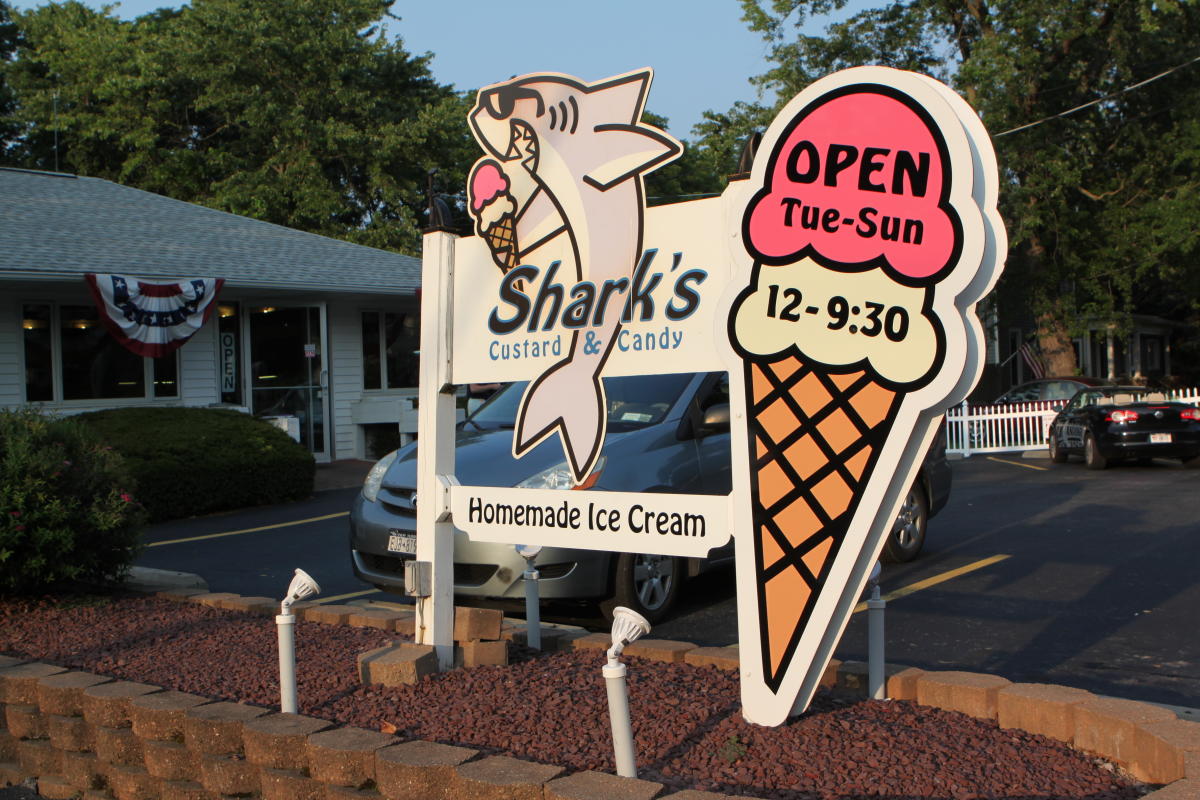 Sweet Treats is a favorite by our president, Valerie Knoblauch. She enjoys the Gifford's Ice Cream it sells, and how close it is to her.
---
Any occasion is a good occasion to treat yourself to an ice cream! Did you spend the day hiking or mountain biking around Ontario County Park or Harriett Hollister Spencer Park? For sure an ice cream would be the perfect treat to reward yourself for all that exercise! Or maybe you just want to go out for a nice drive along one of our lakes or in the hills, then include a stop at a local ice cream shop along your route. No matter the occasion, Ontario County has ice cream stands all over the country. Like me, make some memories by stopping by for a cone. If you do, share it with us, by tagging us at @VisitFLX and #FLXperience. 
Discover more Finger Lakes dining options.