Recently, I had the luxury of hosting some very close friends for a girlfriends' getaway in the Finger Lakes.  From the minute I checked in to The Inn on the Lake early Friday evening, I immediately transitioned from being a Finger Lakes Visitors Connection employee to a full-blown Finger Lakes tourist, and I brought my girlfriends (and yes, our moms) along for the ride!
Despite growing up together and traveling often as a group of five, this was the first time we could indulge in certain luxuries – Finger Lakes wine being one of them!  Now, I'll be frank with you – without meaning to, we made our girlfriends getaway a foodie's heaven.  After all, with such a strong local food movement in the Finger Lakes, and five people who love to eat, how could we not indulge?
Want to follow along?  Prep yourself for what's sure to be a few days of delicious dining!
What you need:
Yourself, your girlfriends, and insatiable appetites.
Breakfast:
Have a prior prejudice against crepes?  Well, Simply Crepes is sure to eliminate that.  The menu goes on for days, and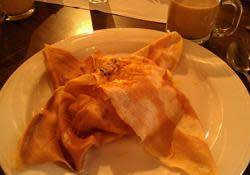 it's always hard for me to choose, so my decisions are usually game time selections (yes, I'm a regular).  Looking for a traditional breakfast?  Try the Simply Breakfast Crepe - eggs, cheese, your choice of meat.  But, if you're looking for something different, might I suggest the Ham & Asparagus Crepes Alfredo or, as a true Buffalo native, the Buffalo Chicken Crepe?  (I wasn't kidding when I mentioned the extensive menu.)
And, since this was a girlfriends getaway, of course we all admired the charming bathroom!
Lunch:
Roots Café – my first piece of advice: always listen carefully to the specials!  Roots' specials menu is nearly as diverse as their regular menu, and their specials are largely based on what's in season and the freshest that day.  I'm on my way to foodie heaven just thinking about it…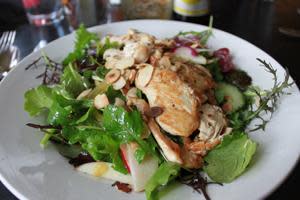 We all enjoyed some savory lentil soup before diving in to our meals – the seasonal salad for some, a burger with delicious thin cut fries for others.  My guests were enthralled with Roots – from the food to the service, to the atmosphere.  It's a great place to spend the afternoon with your girlfriends!
Snacks:
There's always time (and room) for snacks!  Snack #1 for us: In between lunch and dinner, we visited nearly all of the wineries along the Canandaigua Wine Trail, tasting wines and gourmet foods along the way.  Don't forget your passport!  Your Canandaigua Wine Trail passport, that is. It's like your backstage pass into the wineries with deals that you'll definitely want to take advantage of.
Snack #2:  On Sunday afternoon, we signed up to do a wine & cheese pairing class at the New York Wine & Culinary Center.  Your girlfriends will love the classes at the facility – not only do you get to continue tasting amazing local products, but you have the luxury of learning about them while you do it.  And classes in the Hands on Kitchen?  Well, they can make even those of us who can't cook feel like pros.
Snack #3: Just prior to dinner, we visited Sweet Expressions in downtown Canandaigua.  Let's just say the sea salt bark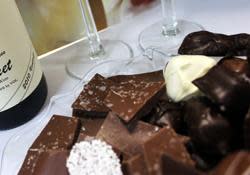 and the peanut butter fudge are delicious enough to spoil your dinner!  However, we would never let that happen, which brings us to the final meal of the day on our Finger Lakes girlfriends (foodie) getaway –
Dinner:
Dinner was not an easy choice for us, but coming from Sweet Expressions, we decided to head right over to Rio Tomatlan, where we were quite happy sipping our margaritas while waiting for what would be a fantastic Mexican dinner. 
So, set aside all diet concerns and indulge! And while we made our girlfriends getaway into an unintended foodie trip, don't feel like YOU have to limit yourself to one activity – mix it up!  Shop, dine, relax at a spa, go for a hike, taste some wine… the list goes on!
I hope this inspires you to gather up your girlfriends and plan a getaway in the Finger Lakes.  No matter if it's for two days or ten, I guarantee you can enjoy an itinerary that's relaxing and exciting at the same time. 
Finally, one more piece of "wisdom" from this tourist: the beauty of the Finger Lakes is that even for those of us who live nearby, it's a fantastic getaway for a few days and nights.  So what are you waiting for?  Fill up the tank, grab your girlfriends, and hit the road!