The inspiration for this post came from an email we received from a potential visitor to the Finger Lakes. It was one of the more unique emails we have seen in our inbox and it ended up sending a few of us here in the office on a mission to find the answers.
The sender began by disclosing how much of a fan he is of the actor Humphrey Bogart and that he was having trouble finding some information on his past. Just a quick refresher, Humphrey Bogart became famous for his roles in The Maltese Falcon and Casablanca. He would later go on to win an Academy Award for Best Actor for his role in the 1951 film The African Queen. Bogart passed away in 1957 at the age of 57 after leaving his mark on the film industry and, believe it or not, the Finger Lakes. Bogart's parents were both born in Upstate New York and although their permanent address was in New York City, they owned a 55-acre estate near Seneca Point on Canandaigua Lake.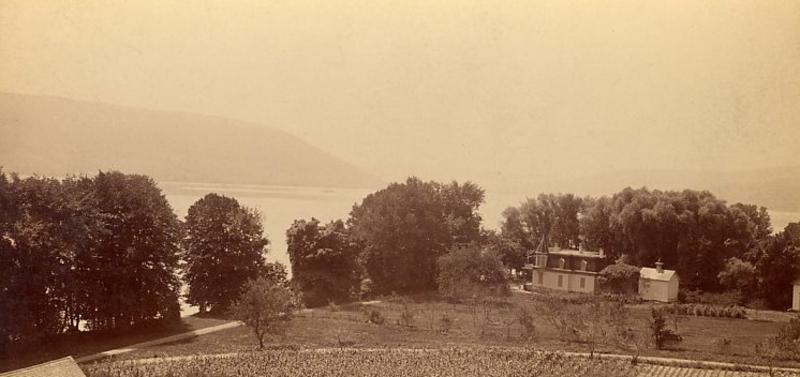 Above is an aerial view of the Bogart summer home, and below, a view of the house from the lake. Bogart would spend many summers as a child on Canandaigua Lake playing with friends and learning to sail from his father, a hobby he continued throughout the rest of his life. The Bogart family sold the estate around 1916 and the house was eventually demolished around 1973 without leaving a trace of the legendary actor who once called it home.
Now back to that email we received. The sender wanted to know if we had any pictures of the estate before it was demolished because they were having trouble finding some online. The FLVC team did our own research and was also unable to locate any pictures, but the Ontario County Historical Society was able to share some that they had in their archives.
Apart from Bogart, other celebrities do frequent the region or own property here, though it's easy for a rumor to spread that a certain celebrity is buying property on one of the Finger Lakes and often they end up just being rumors. One of the more amusing rumors was that Justin Bieber purchased a property on Keuka Lake. A man named Justin Bieber did in fact purchase a house on Keuka Lake, but he is not the famous pop star and simply shares his name.
Celebrities have been escaping the big cities and finding peace and quiet in the Finger Lakes for decades. Meryl Streep shared that her favorite place in New York State was the Finger Lakes during an unpaid appearance in the Empire State 2014 tourism advertising campaign. Anne Hathaway was spotted at a local winery in 2012 and Glen Beck's daughter was married here that same year.
Come and experience for yourself why celebrities love and keep coming back to the Finger Lakes!