There's nothing better than waking up to a beautiful morning in the Finger Lakes with your 10am tee time just a few hours away. Golfing in the Finger Lakes is by far one of my favorite summer activities – the more golf - the better my summer!
There are 10 public courses within a half hour drive of my house - an added advantage and one of the greatest perks of living in the Finger Lakes. Since I like golf so much, I thought I'd share some tips on my most recent outing - Centerpointe Golf Course.
Centerpointe Golf Course, located just outside the city of Canandaigua, serves up an excellent golf outing with a true local vibe in the club house. It sure lives up to its nickname "The Pointe".  It is a beautiful course and has a challenging 18 holes - packed with natural hazards, scenic views and well-groomed fairways.
On the back 9 at Centerpointe you are faced with some real challenges right off the turn. Hole 11 is a hit or miss 160 yard Par 3 – a challenge in itself.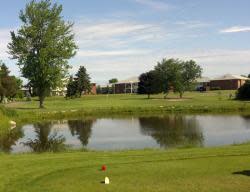 With an action-packed 18 holes, Centerpointe also now has a starter on the tee managing tee times to keep the pace of the course right on track. This is a great feature of the course and really helps the game. Plus before you head-out hone in your skills at the driving range or sink a few putts on the practive green!
After conquering the course you don't need to look further than the 19th Hole – the club house for a cold crisp Naked Dove Beer. Naked Dove is a micro-brewery just up the road on Routes 5 and 20. It's great that the local club house carries it, too.  It hits the spot after a good game!
Another favorite of mine after a long day on the course is to head down to the The Inn the Lake in Canandaigua for some lakeside dining and entertainment. "The Inn", as everyone in Canandaigua calls it, serves up excellent garlic wings and it also offers both local wines and beer! Sometimes they have music at the Inn, and it's a great spot to watch the lake activity since it sits right at the north end of Canandaigua Lake and looks out toward the City Pier, the boathouses, Squaw Island, and well, just some great scenery.
It was a great day for me in the Finger Lakes, and I hope you'll take my word for it and come on "in" and check out Centerpointe Golf Course; it's a fantastic place to hit up the links for both a destination stay or if you're wishing, like me - even on a daily basis, for golf!
Feel free to email me with any questions on the course. The staff is also extremely helpful and keep the course in A+ condition!