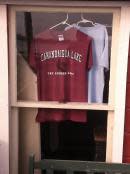 In the middle of January it seems silly to have my eye on a T-shirt that I spotted hanging in the window of a closed-for-the-season gift shop - but I do. I don't know if it's because of the way my first stroll along City Pier in Canandaigua made me feel or because I don't own a Canandaigua t-shirt yet, but I saw it and started my countdown until Captain Gray's Bait and Lake Shop on the pier is open again so I can go in and buy it.
Since moving back to the Finger Lakes last June, it seems conversations regarding City Pier have surfaced regularly. I knew where it was, and I'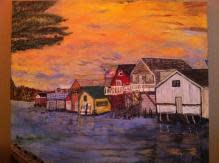 ve driven past the entrance to the little peninsula many times, but with a quick glance down the roadway I honestly couldn't see anything that would have people talking about it. Recently, my sister, a budding painter, chose City Pier as the subject of a gift for a family friend. When I saw the finished product (at right), my curiosity got the best of me. I had to see what the draw (no pun intended) was to City Pier.
Now I know.
My first visit was on an unseasonably warm Saturday morning for January. I had taken my dog, Mollie, along for a ride when I went to work out at Curves. As a treat for her patience, I promised her a walk in Kershaw Park along the lake. When we started out, I spotted the sign for City Pier and decided it was time to take the mystery out of the location.
I'll admit, as we walked along the sidewalk to go to the end of the pier, I wasn't impressed. First we passed the New York Wine and Culinary Center (that IS an impressive and beautiful building). Beyond that, on the west side of the driveway, there were a bunch of empty boat slips (of course, because it was January), boats that had been "shrink-wrapped" for the winter and dry docked, and a line of old buildings. Mollie and I walked along the lake side of the driveway, first, to enjoy the water on that side because it seemed the most appealing. When we crossed the driveway to avoid a couple of other walkers with dogs, it put us right next to those old buildings, and I was pleasantly surprised. Suddenly the words quaint, charming and rustic popped into my mind.
Up cl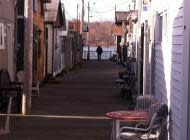 ose, these old buildings had a whole different feel. Suddenly I felt as if I'd been sent back in time. The City Pier has a section of charming, historic boathouses that have been on the water since the early 1900's. Although all of the boathouses in each section are connected like rowhouses, the owners have made each of them unique. They look like tiny getaways where the owners can escape from

the hectic outside world. (Although according to the pier rules, they can not treat them as cottages.) The boats are cradled inside these structures, but I could only see the bellies of a few suspended above the water. It was like a glimpse of what could be, or would be, in warmer weather. My mind immediately wandered to the pleasure the boats and these boathouses bring during a summer in the Finger Lakes.
I decided to wander down the wooden dock alleys between the boathouses. Here I discovered the boathouse alleys reflect their own communities or cultures. Personalities are displayed with the choices of decorations. Just as nautical people name their boats, some of the boathouses had names, too. My favorite name was "P

ier Pleasure". I also had two favorite boathouses.

One was a shingled, weathered gray one with four big, decorative wooden pier posts out front; big boat ropes were looped between the posts. (pictured at left)The other was bright and inviting, and as strange as it sounds, it looked "loved". (pictured at right) A life preserver hanging on the front read Welcome to the Lake. Something about how this walk on the pier affected me made me feel welcomed, and I found it difficult to pull myself away from these alleys.  
For people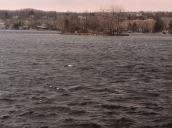 , like me, who like history, at the cul-de-sac end of the pier there are metal placards with snippets of information. For example, one gave the history of City Pier and the boathouses. From another one I learned that several hundred feet off the pier in Canandaigua Lake is Squaw Island, the smallest state park in New York State. According to legend it used to be much bigger before the elements wore it down, but it was once a refuge for the wives and children of the Seneca Nation Indian tribe members who were trying to protect themselves from the invasion of their home land by General Sullivan in 1779.
Even though I had a long to-do list for the day, I didn't want to leave the pier. The views of the lake and the surrounding hills were spectacular, even on a mostly cloudy day. The temperature, in the mid-40's, certainly wasn't a draw, but still, something about being there warmed me to my core. I was tempted to plant myself on one of the benches and allow myself several hours of just drinking in the natural beauty. I felt rejuvenated because I had experienced one of the secret gems of Canandaigua.
We have many friends and family members in Connecticut who are eager to experience the Finger Lakes, so I added a visit to City Pier as one of the must-do activities when out-of-town guests come to visit. I feel fortunate that I live just ten minutes away so my husband and I can go there whenever we want.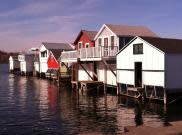 According to the sign along the docks, City Pier is an attraction for photographers, tourists and painters. Now I know why. And trust me, I'll be keeping my eye on that t-shirt in the window at Captain Gray's. As the slogan boasts, Native Americans called Canandaigua "The Chosen Spot". Thanks to my sister's painting raising my curiosity, City Pier has become my mini "chosen spot", a hidden gem that has captivated me. I can't imagine anyone walking away and feeling like they'd just wasted their precious time – even with a long to-do list awaiting them.