Where to See Finger Lakes Fall Foliage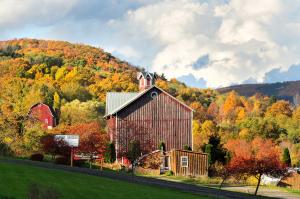 So many square miles of Finger Lakes land to cover, so little time! We love welcoming visitors during fall who come from all over the world to take in the changing colors of the leaves. Celebrate fall properly by getting outside in so many different ways!
Carolabarb Park: Want to see a view just like the photo above? As you drive down to Naples, stop at the overlook for a breathtaking view of the fall foliage and Canandaigua Lake. For an even closer look, there are two viewfinders there for public use. How many colors can you spot?
Bristol Mountain: Who says ski mountains are only for winter? Take advantage of the leisurely 15-20 chairlift ride to the top of Bristol Mountain in September and October for its Fall Sky Ride weekends! Feeling ambitious? You can choose to hike down! Looking to up the ante event more? Thrill seekers can opt to fly through the trees at the Bristol Mountain Aerial Adventures at the summit!
Kettle Ridge Farm: This Victor farm produces maple products, mead, honey, and mushrooms, and hosts various fall celebrations like Sappy Hour, Dinner Under the Moon and Farm Drive-Thrus.
U-Pick Farms: Immerse yourself in the Finger Lakes goods by bringing some souvenirs home with you! Spots like Jerome's U-Pick and The Apple Farm let you spot foliage and bring treats back to remember your fun day in the Finger Lakes.
Wineries: Looking for a leisurely way to enjoy the changing colors? Visit a winery or craft brewery to sit outdoors and take in the natural beauty of the region. Don't forget the Canandaigua Lake Wine Trail & ROC/FLX Craft Beverage Trail!
Trails: Hit the road - by foot! Locals and visitors alike love walking the trails around the Finger Lakes to take in the foliage. Try Harriet Hollister Spencer State Recreation Area, High Tor Wildlife Management Area, Ontario Pathways, Seneca Lake State Park, Dryer Road Park and Gannett Hill Park.
With the animals: With an alpaca farm, reindeer farm and cow cuddling experience within county boarders, you will want to enjoy fall with some special guests!
For the New York Fall Foliage Report click here.