Aerial Adventures & Zip Line Tours
Traversing from tree to tree via swinging bridges, tight rope walks, suspended platforms, ladders, and ziplines, Bristol Mountain Aerial Adventures and Zip Line Canopy Tours let you experience the great Finger Lakes outdoors with elevated gusto.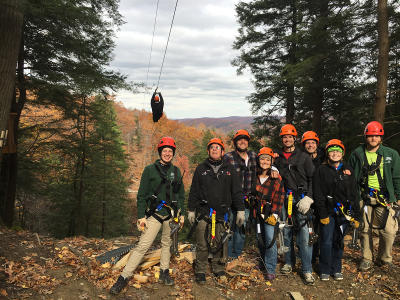 Banish your inner wimp with Aerial Adventures' seven courses (plus two just for kids) that give you and your family the chance to master more than 125 different elements and 5,000 feet of zip-lining. Build balance, strength, and confidence as you progress through varying levels of aerial difficulty. 
This eco-friendly, seasonal outdoor adventure park also offers a Zipline Canopy Tour and Off Road Adventure in case you prefer to let gravity (and Bristol Mountain's all-terrain vehicles) do the hard work for you. Fly like an eagle through seven exhilarating ziplines. It's an experience you'll never forget.