Hiking Trails in the Finger Lakes
We encourage you to get out and explore the hiking trails of the Finger Lakes, but please practice social distancing and use common sense to protect yourself.
Ontario County is a year round hiker's paradise with trails suited for all levels, plus we know getting outdoors to walk, jog, hike or ride a bike is a healthy way to stay active and reduce stress! 
We know our loyal visitors and friends are missing the Finger Lakes, and we miss you!  Stay safe, be well and we'll see you soon!
Walk the creek bed to the cascading waterfalls in Grimes Glen in Naples. Check out the four seasons of wonder at this park.
Visitors can learn about the natural beauty and history of the Seneca and Haudenosaunee while on the trails at Ganondagan State Historic Site. The Victor Hiking Trails connects with the trails at Ganondagan, which in turn connect to the trails at Dryer Road Park in Victor.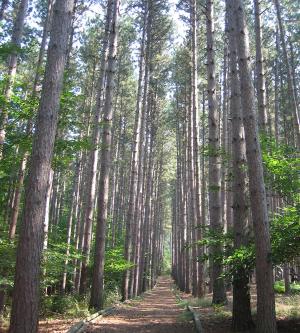 Cumming Nature Center is a 900-acre nature center with 6 miles of walking trails - in the winter you have the option of hiking, snowshoeing or cross-country skiing on the trails.  Insider's tip: Bring your camera and shoot a picture of the iconic "tall pines."
Wesley Hill Nature Preserve in Honeoye covers close to 400 acres, with almost 10 acres of old growth forest and 5.6 miles of hiking trails. Hike down into Briggs Gully and climb up to find a 1920s secluded cabin in the woods with a path leading to spectacular views of the Bristol Hills. The Bristol Hills branch of the Finger Lakes Trail runs through Ontario County Park . There, you can see the Bristol Hills from another amazing perspective at the Jump-off overlook.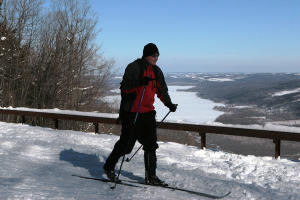 Harriet Hollister Spencer State Recreation Area presents an expansive view of Honeoye Lake and the Rochester city skyline to the north. This park is a favorite for winter lovers, where you'll see snowshoers, cross-country skiers, and winter nature lovers 
Kashong Conservation Area in Geneva is part of the Finger Lakes Land Trust. Kashong, meaning "creek of two branches," is an ideal area to take the kids for a day hike and a picnic.
Find your trail. Discover your path. Just relax in the great outdoors of the Finger Lakes.