Finger Lakes Wineries & Wine Tours
Wine, wineries, wine trails, wine tastings - these words are what comes to mind for many visitors to the Finger Lakes. When you get to the heart of New York's original wine country you'll know why we have this reputation. So much wine to taste and so little time.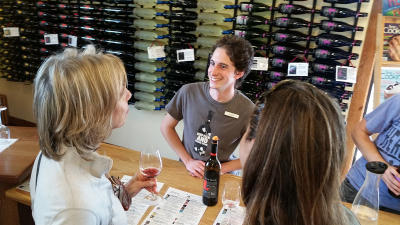 What we imagine you want to do is to start the best Finger Lakes touring and tasting experience ever - your experience. The Finger Lakes Visitors Connection has additional links to help you plan your own wine-itinerary: Check out  "How to Wine Trail" or the Top Ten Places to Enjoy Wine .
Please share your experiences along the way via social media by posting photos and telling us about your favorite wine or winery along the way. Be sure to use the hashtag #FLXperience on Instagram, Twitter and Facebook.
If you want to learn about the state's wine industry and want links to all the wineries and wine trails, there is  no better expert organization than the New York Wine & Grape Foundation.