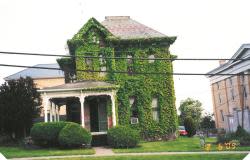 Finger Lakes Visitors Connection is pleased to be a part of the 2014 Sonnenberg Tour of Homes. We hope that you'll all get out to take advantage of this fundraiser and glimpse of Canandaigua – and its lifestyle.
The tourism bureau moved into 25 Gorham Street in August of 2003. See the picture at right.  We actually had one member of the team call it the "Chia Pet" house. 
Just 11 years later with the support of the Board of Directors, Ontario County officials and New York State officials through grants and in-kind donations, we have made a number of improvements to the already well maintained building. In fact, we unabashedly proclaim this office as the best tourism office in New York State and with good reason.  This is an 1884 Queen Anne Victorian building located right next to the awesome Ontario County Courthouse with Lady Justice looking over us every day!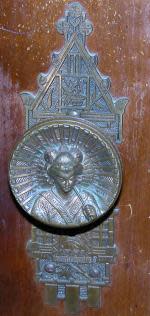 Part of what we promote is the history of Ontario County. It was the "mother of counties", founded in 1789. 200 plus years of history took place right outside our door.  Susan B. Anthony, Frederick Douglas, and many others have brought special attention to our city.
Inside 25 Gorham Street is also a special place. Details from the original light fixtures to the engraved hardware to a fireplace with intricate mosaic tile.  Take a close look when you're here and you'll be intrigued. 
While Finger Lakes Visitors Connection is just one of the places highlighted on the tour – we are unique in that our building, which also serves as a visitors center is open throughout the year. We love company and welcome people to use this "office" as starting point for their tour of the  Finger Lakes.  Can we tease you anymore? 
Let me conclude with a special shout out to the team at Finger Lakes Visitors Connection who has taken on the task of caring for and loving this building. We are very proud when someone comes in and marvels at the woodwork or is intrigued by the recently uncovered ceiling "fresco". 
Some of these photos show the work that we have put in to the building. This is a work of love.  I  could write the entire history or I can just pick a few pictures and let the glory of this house speak for itself.  I've decided on pictures. Enjoy!