March means maple here in the Finger Lakes and boy do we have some greats ways to experience all that syrup! New York State Maple weekends are a great way to get into the action and get those taste buds stimulated!

Fun Fact: Did you know that New York State is the second largest maple syrup producer in the United States?


Here's three ways to get your March maple experience started!
 
#1. Start early and have a pancake breakfast at Cummings Nature Center
Pancakes, Pancakes! With live demonstrations throughout the nature center, more pancakes and of course 100% pure maple syrup. Learn how a tree makes sap and discover the different processing techniques of Native Americans, early pioneers, and today's modern sugar bush managers. 
March 11–12 and March 18–19
Trail demonstrations: 10am-2pm
Pancake meals: 9am-1pm. All meals include pure maple syrup and a choice of beverage.
Adult meal (5 pancakes + 2 sausages): $10; Adult RMSC members $9
Child meal (3 pancakes + 1 sausage): $8; Child RMSC members $7
For more information, visit Cumming Nature Center or call (585) 374-6160. 6472 Gulick Road, Naples.
#2. Tour a maple farm during New York State Maple Weekends.

Kettle Ridge Farms – Victor, NY
Tour Kettle Ridge Farm, a unique maple farm in Victor, and home of "Adopt-a-Maple" program. With father and son duo Joe and Chris Hurley at the maple-making helm, you'll learn how maple syrup evolves from the tree to the table. The bonus of course is that you get to sample different grades of syrup on buttered pancakes!

Wohlschlegel's Maple Farm – Naples, NY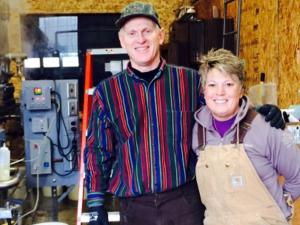 Experience an authentic Upstate New York maple farm at Wohlschlegel's Naples Maple Farm Watch the process of making maple syrup, then sample the product drizzled over a warm, fluffy pancake breakfast.
Can't make it out to a maple farm or want to know what to expect before you get there? Jump in to the action below with our behind scenes video!
 


#3.  Book a "Meet the FLX Taste Makers Getaway Package"


Do you enjoy watching how things are made? And, who made them for you? Well the Finger Lakes has lots of culinary artists, otherwise known as FLX Taste Makers. You can meet them directly on this exclusive, behind the scenes package of tasting experiences. You'll be an expert in no time at all – and given the feedback we've had, when you leave the Finger Lakes, you'll know why we are known for our culinary bounty.



Stay tuned for more as we are cooking up so more tasty ways to enjoy Maple syrup in the Finger Lakes!