It's an amazing experience to see the hard work of many reach a common goal to benefit a community. This doesn't always happen, but I was fortunate enough to witness the culmination of such hard work in the Finger Lakes at
Bristol Valley Theater
in Naples on Tuesday, Aug. 27. I joined the Naples community in a celebration of a $225,000 grant awarded to the theater. Bristol Valley is a live professional, award-winning theater bringing world-class talent to the Finger Lakes each summer.
Five years ago, the dedicated Bristol Valley Theater staff and board of directors led by Artistic Director Karin Bowersock and Board President Jack Gallagher began the long process of attempting to acquire a New York State Development Grant. To track down this funding, they worked with state government officials such as Senator Dale Volker, Senator Patrick Gallivan, Assembly Minority Leader Brian Kolb and Lauren Kolb, Vice President and Business Development Officer of Genesee Valley Trust Company, a subsidiary of Canandaigua National Bank and former Bristol Valley Theater board member.
Each and every person involved in securing the grant is passionate about theater. At the celebration, Lauren Kolb spoke of her passion for performing and her former career in the theater. Brian Kolb relayed his brother's love for theater and the importance of theater in communities. Annie Chwiecko, Community Representative for Senator Gallivan, discussed the role Bristol Valley Theater has in Ontario County and how the community is so very fortunate to have such a source of artistic talent. 
The money will go a long way to ensure that live theater stays in the Finger Lakes! The funds are to be used for repairs and restoration to the theater's exterior, roof and bell tower, for sealing the building against weather damage, for a back up electrical generator and for the installation of a new more efficient heating and air conditioning system.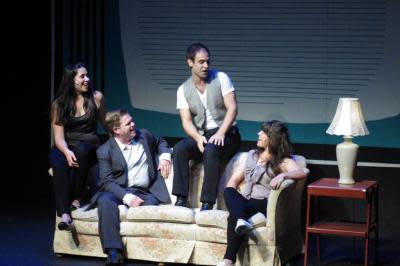 At the celebration, we were fortunate to see a glimpse of this incredible live theater. The cast from
Pass the Remote
serenaded us with some of the greatest hits from TV including the theme song from Friends! Being in Naples, the night wouldn't be complete without some Finger Lakes wine, of which there was plenty from
Inspire Moore Winery
, as well as delectable appetizers from
The Naples Hotel
. We drank, we ate, and we laughed as we celebrated the hard work of the leaders who made this grant possible. It was an incredible night at the theater!
There are still a couple chances for you to have your own special night at Bristol Valley Theater.
Pass the Remote
is an evening of music, laughs and even commercials as the talented group of performers salutes the history of television. The show runs Aug. 29-31 at 8 pm and Sunday Sept. 1 at 2 pm. More information and tickets are available at
bvtnaples.org
.