After a long, hot summer that saw very little rain, I assumed that the late September afternoon I would be hosting a travel writer from Nashville, Tennessee, would follow suit, and I would be able to show her the splendor of Indian summer in the Finger Lakes.
I had plans to take Alex, an editor at an online women's lifestyle publication in the Southeast, kayaking on Canadice Lake, and John Kenney, owner of Canadice Lake Outfitters, was going to be our guide.
John and I had been on the phone several times during the day to exchange weather notes, and his sources indicated that the rain predicted for that day would not start until the evening, so we kept our 4 p.m. launch time.
There were sprinkles here and there during the day, but by the time Alex and I arrived at the quiet boat launch, the weather had settled into a calm, quiet, dry gray. John already had the kayaks waiting for us on the shore. There was a giant foggy cloud overhead, nearly as large as the 3-mile-long lake, that seemed to have parked itself permanently on top of the westward hill, keeping the summit a complete mystery. It was almost close enough to touch. Is that what they call heaven on Earth?
"This is beautiful," Alex commented as we started to head north against that wind. She captured that beauty perfectly in the above photo, which she took before we set out to paddle.
Canadice, and its sister lake to the west, Hemlock, are a special subset in the Finger Lakes. They have remained largely undeveloped because they provide the city of Rochester, about 20 miles to the north, with drinking water. Much of the land surrounding the lake is now part of the Hemlock-Canadice State Forest. Bald eagles make their home here. So do bears. If you need a place to feel away from it all, this is it. We did not see any other people on the water, though we did spot a couple men loading up their fishing gear when we first arrived. 
Cloudy and foggy days have a different kind of loveliness here in the Finger Lakes, especially in early fall as the leaves are just starting to burst into color and the air has a chilling nip. The three of us made our way north, paddling in a rhythm that kept us ahead of the light wind but allowed us to chat in a relaxed, lazy manner. We made it a couple miles up the lake and then just stopped. Birds darted across the water. The few houses nearby are hidden by thick forest, and you could go half an hour or more before a car passed down the road. But mostly we noticed the gentle lapping of waves against the watercraft and the surprise when our hands, resting from their grip on the paddles, dipped into the lake, which was still clinging to summer warmth. 
We drifted back to shore in that state of grace, the easy conversation resuming.
Indian summer returned the next day, but I kept that calm and soothing late afternoon palette of green hills, somber water and slate-gray clouds in my head for a long while after.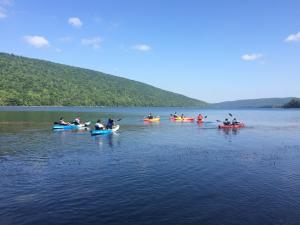 P.S. Canadice Lake Outfitters is ready to have kayakers experience the area in a variety of ways. A couple times each season, John leads a full moon kayaking expedition. Coming up on October 15, 2016, Canadice Lake Outfitters invites water enthusiasts on a late afternoon Fall Foliage Tour.