Happy Mother's Day - Barbara J. Gifford, Sandra Banas, Jackie Miltner, Janice Hicks, Cindy Blair, Gayle Cappelluti and Taylor's Mom - this call out is for you ... the "mother's of our Finger Lakes tourism team!" I posed the question late on Thursday to everyone - if you could take your mother to just one local place on Mother's Day, where would that be? Drum roll - here are your tourism bureau's answers!
But, before I really get into the Mother's Day treat ideas, I want to make a special call-out to my assistant, Carol Hicks - who along with me - is a "Sandwich Mother." I actually don't know if that term exists or not, but if not, I'll define it as "the extra special woman on Mother's Day who balances being celebrated as a mother, as well as celebrating her own mother." (as opposed to a mother who only makes PBJ sandwiches for the kids). I know that Carol shares my sentiments about motherhood, and to use one of her favorite phrases, "it's awesome."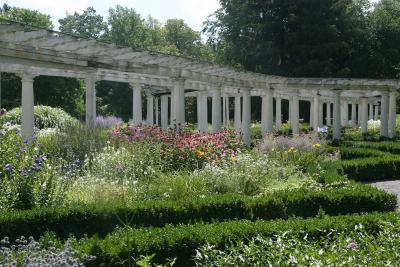 In answer to the question of top spots? On this bright sunny day, Sonnenberg Gardens and Mansion was a top choice. Flowers, elegant living and architectural detail, a comfortable cart to take you and your mom from garden to garden, winetasting at the Finger Lakes Wine Center on site, and a gift shop all add up to ensure a great experience at this New York State historic park. This video will not substitute for an actual visit, but should be enough of a teaser to make sure Sonnenberg is on your "Mom and me" bucket list. 

Carol and I are going to make sure our Mother's get to go to church before our Ontario County Mother's Day adventure. After church we might run into each other at Sonnenberg, but I know I need to veer off and head down to the lake. Any lakeside location will do as long as there is ice cream close by! Maybe we'll have two ice cream treats today, one for my mother and one for me being a mother! Seneca Lake at Long Pier Ice Cream here we come or Canandaigua's Kershaw Park with Scoops. And ...because we get two cones at A's Sweets & Treats in Cheshire - they serve Gifford's Ice Cream - no relation, unfortunately.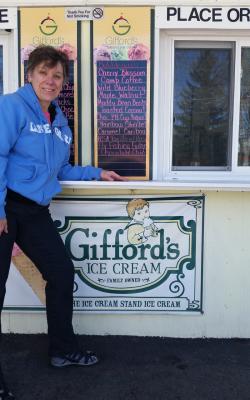 Another popular choice was the New York Wine and Culinary Center. David thought his mother would really enjoy going there and given his recent experience with desserts at the culinary center, I know what his motivation may have been! Many of us felt that our mothers would enjoy an event or a cooking class at the NYWCC. Which, in retrospect is interesting since we also talked about what good cooks our mothers are. Why would we also think they needed a cooking class? (insert for the Millenials here - HAHAHAHA).
Karen and her mother, Jackie, share a love of antiques, so they may take a leisurely drive along Routes 5 & 20 to stop at the many antique shops along the way. If there is a garage sale or two going on, even better, as Karen has accessorized much of her home with these kinds of treasures. Jackie, meanwhile, also simply enjoys the drive in the country, so even if she doesn't find anything to take home, she'll enjoy the "window shopping."
After their hunt for all things old, Karen and Jackie may shift their focus to fashion, as Jackie is a woman who has always appreciated nice clothes, both for herself and her three daughters. They may well spend a couple of ours at Eastview Mall trying on new things. 
There's a new place in Ontario County that Melissa certainly felt her mother would like. The Seneca Art and Culture Center at Ganondagan is an amazing building with Native American art, jewelry, and books all available in the shop. According to Melissa, she'd head to downtown Canandaigua with Gayle and have the shopping begin!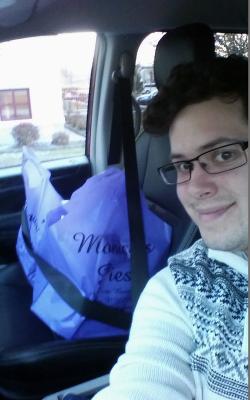 And, finally, a call out to our youngest mom of the office team. Sandra Banas, here's Jake's direct contribution! Happy Mother's Day and make Jake keep this promise, especially the "clean-up part", o.k.? From Jake: What would my mother and I do for Mother's Day in the Finger Lakes? Well, my mother has always been the active, outdoorsy type and while the typical brunch plans are great for some mothers, my mother, Sandra Banas, would much rather be out and about, especially if the weather is nice! I suppose raising four boys can contribute to a more rough and tumble lifestyle (well, five really, since most husbands just big kids anyway, right?) That said, one thing my mother does NOT like to do is cook, so our plans for the day would be sure to include some great stops along the way. We'd start the morning off grabbing a bite to eat at Simply Crepes in Canandaigua. Their simply breakfast crepe along with a glass of orange juice or some freshly made coffee makes for a great way to start any day. After our breakfast we'd walk along Main Street Canandaigua to browse some of the fine shops like F. Olivers for their gourmet oils and vinegars, or Sweet Expressions for a sweet treat for the road. Next we'd make our way toward Bristol Mountain, stopping at Café Sol to grab some lunch. A Grilled garden burger or a Sol Burger would give us all the energy we need for our next stop, Bristol Mountain Aerial Adventures. My mom is no stranger to high ropes courses, having taught them for over twenty year as part of our hometowns middle school physical education curriculum, needless to say a fear of heights doesn't run in this family! With over 100 different elements and obstacles to navigate our way through high in the tree tops of Bristol Mountain, we'd laugh the afternoon away as we tried our hardest not to fall, climbing our way back onto the course when we inevitably did.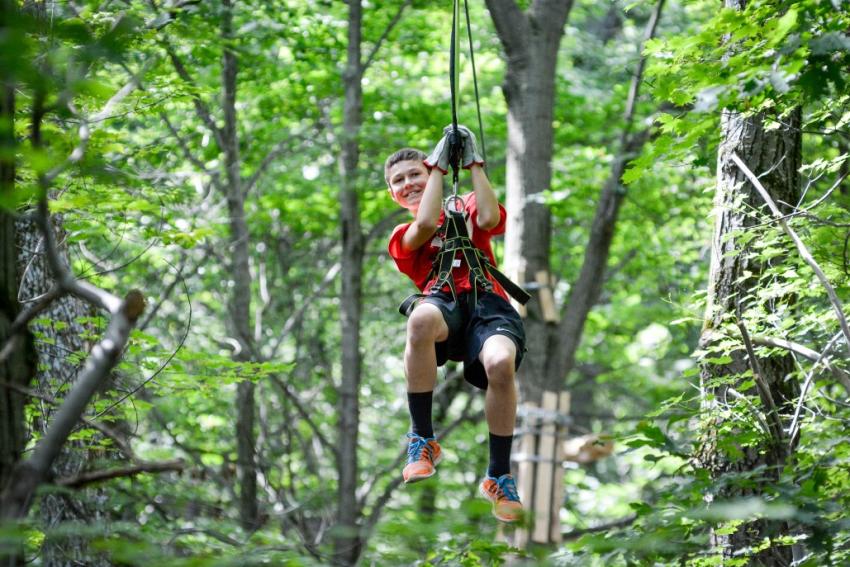 Any mother's day with my mom includes dinner, a special dinner just for her. If I'm not the one making it, you can bet we'd go out for a bite. Our family has a tradition of having pasta on Sundays. It may have started with my great grandmother, or great grandfather, but you can bet on pasta for dinner on Sundays at our house. Casa de Pasta in Canandaigua would be our last stop of the evening for this very reason, though they have plenty more to offer than the traditional spaghetti and meatballs like their Penne mi Amore with grilled chicken, artichokes, olives, and roasted red peppers, or maybe Linguini with clam sauce. Whatever meal we decide upon, I know my mother would be happy simply not to have to cook it (or clean up afterward!)
Well no doubt there's more we could all do with our Mom's to celebrate all their years, but alas, I'm sure after reading this, they are all ready for a nap. So, next time, we'll make sure that I ask the question: Where would you take your mother for a great overnight in Ontario County? Hmmm. I feel another very important blog coming on! Enjoy your mother's day - in the Finger Lakes or where ever you are!