After the extreme winter we've just had, I shudder to think about the Ice Age.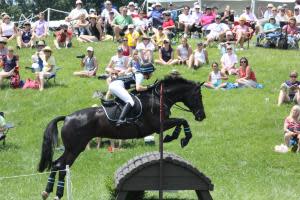 However, it's the glacial landforms—the drumlins of Victor, NY responsible for the exquisite, rolling hills—that help to bring hundreds of athletic competitors (two- and four-legged) to compete in the Cosequin Stuart Horse Trials. 
This free, three-day "triathlon of equestrian sports" (parking fee only) is unique in the Finger Lakes, and draws about 10,000 spectators annually.
Stuart celebrates its 25th anniversary year from July 11-13. Originally a purely local event with about 70 riders, it now also attracts riders from throughout the country and the world, including former Olympians and World Equestrian Games competitors. ("Eventing" is the only Olympic event in which men and women compete equally.)
Let's be clear. This is definitely a sport. It is NOT a hobby. 
Eventing is a grueling test of athleticism and partnership of horse and rider in three diverse and demanding disciplines: dressage, cross country and show jumping. Think Ironman Triathlon with a sometimes-unpredictable animal beneath you!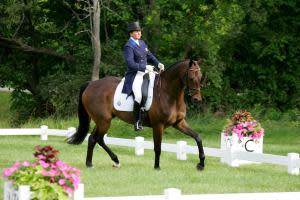 Dressage—akin to figure skating "compulsories"—demonstrates the grace, harmony, and elegance of horse and rider. The pair is judged on their performance of a prescribed test for specific movements at various points in an arena. 
Cross country is at the heart of the sport. I love eventingnation.com's slogan, "red on right, white on left, insanity in the middle" to describe it. (The red and white flags on each jump refer to the correct direction to take the jump.) Rider and horse gallop over a set course—and, depending on division—jump solid fences, stone walls, logs, and steps at what personally looks to be scary levels of elevation and width, built to blend in as natural obstacles. The kicker? Riders can walk the course in advance, but the horse isn't allowed a test run! 
You can watch the action up close, so when horse and rider come thundering past, you literally feel the ground shake and see the sweat glisten on the horse's flank.
Following the grueling cross-country day, show jumping is the final hurdle of endurance, soundness, and agility. The horse's obedience and athleticism are tested over a timed jumps course in an enclosed arena.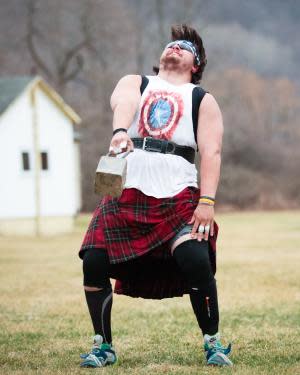 Many things make Stuart unique even among horse trials, including the fact that the 100+ acre venue is private and the five contiguous landowners graciously "lend" their properties for the event. There's food, boutiques, the Buffalo Heavies Highland Games competition (kilted men and women throwing really heavy stuff), a fun Kids Activity Day, and more. 
At Stuart, one thing is certain. Whether you're a spectator or a competitor, adrenalin is the name of the game. Chances are you'll see a rider or two who will be on the world equestrian stage in the not-too-distant future, if they haven't been there already.
www.stuarthorsetrials.org
.