Finger Lakes motorcyclists, bicyclists, runners, families, first-time visitors, repeat visitors, locals, Canadians. These are the diverse folks who have one thing in common: an appreciation for
"the view"
. 
Each year, three friends and I get together to celebrate the birthdate of one of our late friends. The Carolyn Eckert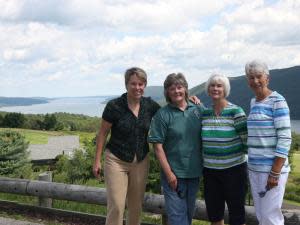 picnic is our time to go to a favorite place:
the County Road 12 Scenic Overlook
. We reconnect, reminisce and reward ourselves with this great view! 
Since we all worked in tourism together, we tend not to be a shy group. So, we are quick to meet and greet everyone who stops by during our "Carolyn picnic". And, without a single exception – every person is stopping by to look and to take a picture or two. This year, there was another picnic all set up when we arrived. This cute couple asked my friend to take their picture. They were from Canada and Buffalo and had found this site online. They were so excited to learn that we were tourism professionals and immediately wanted all the tips on the best things to do. These first timers were already set for an ideal Finger Lakes vacation: wineries, a
bed and breakfast
, lakefront biking, a brewery – and art shops!  And, they proudly announced to us that they had included a Finger Lakes wine in their picnic – and wanted to make sure that we were being faithful to the Finger Lakes and inquired what we were drinking. Do not fear – we said – we had the newest winner of the Governor's wine awards in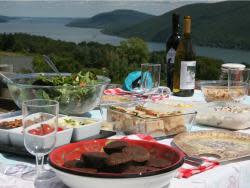 red:
Hazlitt's 1852 Vineyard
Cabernet Franc, and "summer in a glass" (a delicious, crisp Chardonnay) from
Arbor Hill Grapery
– just up the road, we told them. 
Next, it was the motorcyclists – there were three different sets of bikers going through. Pennsylvania plates, New York plates and Ohio! They all found the view too! Helmets off; deep breaths; pictures taken – experience complete. Last year, we quipped, it was a whole "gang" of bikers who ended up being Detroit police officers on vacation. We were hoping they'd reappear this year!  
Speaking of pictures, the next duo got out three cameras and a tripod and covered "the view" from north to east to south. They indicated that they were a little jealous of our wines – but understood exactly why we'd picked this spot for our picnic.  
More visitors came: a runner, a bicyclist, and a family of five piled out of the car. The kids ran for the bench and sat quietly. The view even has that calming effect on teenagers and tweens!
Other than the great conversation and memories from Carolyn's friends, there was a unique highlight this year. A North Carolina plate pulled up in front of us – a clean-cut young man jumped out of the car and walked toward "the view" with his cell phone camera.  I offered to take a picture of him with the lake view in the background.  He said, "Oh, no that's okay. I'm from here and just wanted to take a quick picture!" I then teased him by saying, "How could you be from here – your license plate is North Carolina?" He paused, looked at me intently, and responded, "Mrs. Knoblauch… is that you?" "Yes," I said, trying to figure out who was in front of me, and he said, "It's me, Trevor Money!"  
I jumped up and ran to give this man a hug! You see, the last time I had seen Trevor was about 11 years ago when he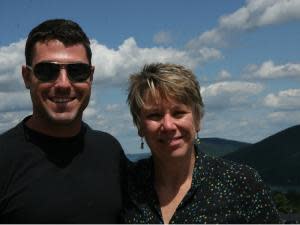 graduated from high school with my son, Ryan. Trevor had entered the service, was now Captain Money, and I knew that he'd been in Iraq several times serving our country. I was so happy to see him, safe and sound in front of me! We quickly shared "news": he was a newlywed, would soon be moving to an unknown destination to work with the National Guard and a special ops unit. His family is great – and he came up over the hill on his way "home" and had to stop because there's no better view anywhere. Now, there's a man who has seen a lot of "views" and I will honor his opinion that there's no better than this! Unfortunately our meeting was brief – but the memory will be long! 
Another reunion at "the view" – and another person who recognizes the special feeling of tranquility, beauty, and happiness you get at "the view". Safe travels, Captain Money – and thank you for your service. 
The Carolyn Eckert picnic is a new experience every year. The view? It's always a 10. The unplanned guests to our reunion are the surprises that our friend would love! Every year you never know what to expect and that's the fun of it all! Come on up to the Finger Lakes next August and see what I'm talking about – or better yet, stop by anytime you need a breath or two of fresh air!