In my job, promoting the Finger Lakes, I get to do a lot of interesting things. A few weekends ago I was asked to attend the Canandaigua LakeMusic Festival in the Finger Lakes. I wasn't sure it was for me; I surely wasn't a classical music fan, but I figured it couldn't hurt to have a new experience. Soon after I stepped into the Zion Fellowship in Canandaigua I knew I was experiencing something special.  Someone may think they don't like sushi, but then a friend finally convinces them to go to the new sushi restaurant in town and they are immediately hooked, a whole new international cuisine is brought into perspective. Someone may think that baseball isn't for them, but they experience Yankee Stadium first hand - the smells, the tastes, the sounds and sights of the game and they become a lifelong baseball fan. That's how I felt when my night of Finger Lakes music began - but afterwards - it was a different story!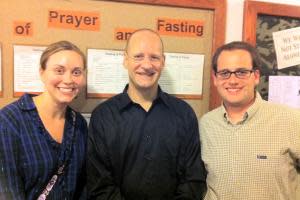 Before the music started, I asked the question in the lobby, "What kind of talent is here? I am not really familiar with classical music and I'd love to know the caliber of artists that are performing." I was given a lesson as to just how huge the talent was. Everyone I spoke with was so proud of the talent that comes to the Canandaigua LakeMusic Festival. I was told about David Rakoff, a regular contributor to NPR's This American Life and the New York Times Magazine. I heard about Elisa Barston, the Principal Second Violinist of the Seattle Symphony Orchestra. I spoke with Edward Klorman, a violist and native of Rochester who serves on the faculty at the Juilliard School. Violinist Kevin Kumar has appeared with the Los Angeles Philharmonic. I could go on and on, and before I sat down I met a handful of world-renown musicians, something that would prove difficult to do at their usual performances in places like New York, Los Angeles, Boston and Sydney.
On this night however, I was at the festival to see Lowell Liebermann. Lowell (pictured above with my girlfriend and me) is one of America's most frequently performed and recorded composers and orchestras worldwide have played Liebermann's works.  To go over his plethora of accomplishments would take pages and pages, but rest assured, he is considered one of the best.
As I sat and listened to Mr. Liebermann and the musicians accompanying him, it became clear to me, quite quickly, just how lucky the Finger Lakes is to have a music festival such as this. Even with my limited knowledge of classical music, I knew what I was seeing and hearing was exceptional. Everyone on the stage was a master of his or her craft and among the best in the world. Right here in the Finger Lakes, we were experiencing the best of the best in classical music. The performance, although well over an hour seemed to fly by in minutes as we all sat in blissful silence listening to the sounds from the stage.
After the concert, the musicians visited with the audience during a reception and I was able to meet Mr. Liebermann. I told him it was my first classical experience ever and I made sure he knew how much I enjoyed his performance. He couldn't have been more humble and full of gratitude. I felt as if I was just accepted into this wonderful world of classical music by one of the greatest on the planet. Try to do that in a bigger city!
The Canandaigua LakeMusic Festival gave me something special that night. It opened me up to a wonderful world I never knew existed! Right in the Finger Lakes, I was able to hear and meet some of the best musicians in the world. People don't have this luxury everywhere, but they certainly do at the Canandaigua LakeMusic Festival.
I walked in that night not thinking much of classical music, just as people may not think much of baseball or sushi, until they experience it in a proper setting. Let me tell you, the Canandaigua LakeMusic Festival is indeed a proper setting, and I can't wait to experience it again next year!