I had my list. Ten must-visit attractions. And six hours to see them.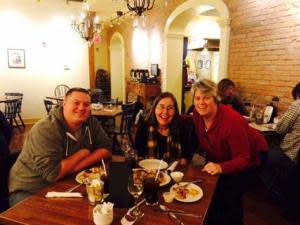 Piece of cake, right?
It sure helps to know a local. My friend NYLaurie, who calls me AZLaurie, plotted an impressive route. Starting at
Simply Crepes
in Canandaigua, where three of us ordered three crepes and divided each into thirds, was a smart move!
Although I discovered during my second dinner there -- because, yes, this restaurant IS worth visiting repeatedly -- a solo crepe is equally good.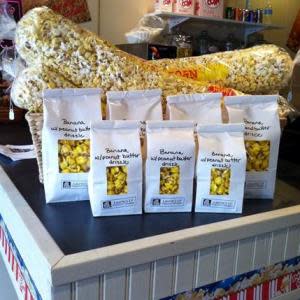 Two more food highlights: the next morning in Seneca Falls (more on that later), we spotted
Laurie's Lil' Popcorn Shoppe
. Not so lil', in fact -- there are more flavors of popcorn than I could've imagined, like Bacon Cheddar and Peanut Butter Cup, and Laurie is generous with the samples.
She even stepped outside for a Three Lauries photo by her store logo, and a friendly passer-by took our picture. It turns out the rumor that western New Yorkers are much friendlier is true. Who knew?
The last food highlight was grape pie.
Even though the September harvest was long over, that dessert sounded so intriguing I put it on my wish-list…and was thrilled to learn you can buy it year-round at
Monica's Pies
in Naples.
As a lifelong Arizonan who'd never heard of grape pie, I pictured something like apple pie with chunks of fruit. But upon hearing the texture is "more like jelly" I decided maybe this was a treat I could skip.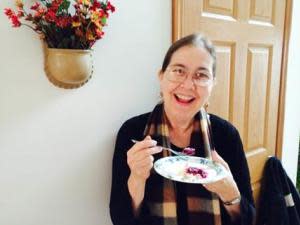 Until I tasted it.
Ahhh. The flavor was a mix of sweet purple grapes, with the kind of tartness you'd get from boysenberries and raspberries. Apparently there are different varieties all over town, so as a new grape-pie convert I'm determined to try each of 'em again and again and again.
Just one more reason to return to Finger Lakes...soon.