Delectable wine, savory food, and rich history – three of the many highlights of the Finger Lakes region.  What's even
better? All three in one place.  That's what we found when we arrived at Sonnenberg Gardens & Mansion's Roses and Rosés on Monday evening.  And the icing on the cake?  We were able to enjoy all three while knowing we were raising money for the revitalization of a Finger Lakes treasure.  
As the official kickoff to Rose Week at Sonnenberg, the fifth annual Roses and Rosés introduced guests to over 20 Finger Lakes wineries featuring the best of their collections, including some pleasantly floral rosés, of course.  And as if that's not enough, 14 local restaurants and businesses were present to offer guests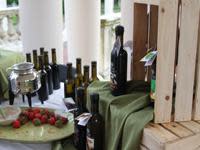 food samples, ranging from olive oil and balsamic vinegar tastings from F. Oliver's to mashed potatoes served in martini glasses from All Occasions Catering.  But it didn't stop there.  To top it all off, guests could grab a serving of Bananas Foster from Nolan's on Canandaigua Lake and several delectable sweet treats from Sweet Expressions, with lots of other tastes in between. 
Spread throughout the first floor of the mansion, the porch, and the veranda overlooking the rose gardens, the event had no shortage of things to try.  Despite an interesting reminder from a chef that "even just a moment on the lips could mean a lifetime on the hips", my friend Deanna and I didn't neglect to taste everything possible, perhaps even more vigorously after said reminder.
While there wasn't too much time to explore the mansion itself in between all of the tastings, we did admire some classic wedding dresses from the early 1900s on display just inside.  These are just a few years older than the Rose Garden itself that the event celebrates.  Born on the then-Thompson estate in 1905-1906, Mrs. Thompson's historic rose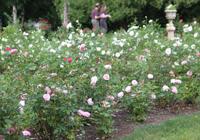 gardens are in full bloom.  As an added feature to this year's event, and one I hope they will continue as a benefit to future event participants, guests were invited to walk through the historic rose gardens just beyond the veranda, with the option of a free cell phone tour as you stroll. 
It could not have been a more perfect night or a serene setting for the event meant to celebrate the history and beauty of Sonnenberg.  But it does so much more.  The gathering of so many people, whether food vendors, vintners, tasters, or Sonnenberg employees/volunteers, brings together many minds for one cause: the revitalization of the historic state park, one we may all easily take for granted each and every day in Ontario County.  And the event, despite being completely satisfying, was a mere tease into what Sonnenberg truly has to offer.  I highly doubt I'm only speaking for myself when I say I can't wait to get back to discover even more.