It shouldn't take an award to make us appreciate what we have here in the Finger Lakes, but sometimes, it does take acknowledgement to remind us of how important it is to share our passion for all that our region has to offer with others.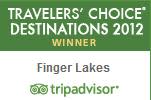 What am I rambling about?  Well, the Finger Lakes recently ranked #4 on travel guru TripAdvisor's Wine Destination Awards.  What does this mean?  Enough people made it known that our region is one of the top notch wine regions to visit in the country, based on reviews and opinions of the wineries, restaurants, and other attractions in the Finger Lakes. 
Now, I know that even in the short time I've been with the Visitors Connection, it's been made clear that I'm a wino who loves Finger Lakes wines.  (I'm Italian – it's in the blood!)  And heck, we have so many great wines and winemakers, it's hard NOT to indulge often.  But this is no longer just my biased opinion – this is the opinion of millions of travelers who have taken the time to write reviews.
Are we surprised?  Not really.  When we have incredibly passionate vintners, chefs, food purveyors, and local business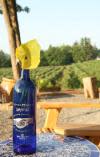 owners, how could we be?  Their passion shows in their products – and we are the benefactors!  And we're no stranger to the gems that line the wine trails in the Finger Lakes, like Ontario County's Canandaigua and Seneca Lake Wine Trails.  Sure, a crisp white wine goes great with your Thanksgiving turkey, but if you're looking to make a trip of it, wine tasting also pairs great with local culinary, history, artisans, and so much more, and the Wine Trail offers a good dose of each.
And if all of that isn't enough, the top-five rated wine region in the US is also a slice of something much bigger – an exciting, palate-pleasing initiative called the Finger Lakes Food Revolution.  We are so fortunate in the Finger Lakes to have the land, the people, and the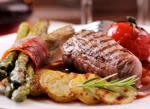 microclimate suitable for farm-to-table dining - the Food Revolution recognizes and unites the producers, promoters, and lovers of locally-produced foods and wines in the entire Finger Lakes Region.  So who knows?   Right now it's the wine – but perhaps we'll take the whole cake next time around!
For now, let's celebrate.  Grab a glass and your favorite bottle of Finger Lakes wine, and toast to being part of an important region and an equally important movement.  We've all heard all of the clichés when it comes to wine, but I'm going to put it out there anyway.  "Wine a little – you'll feel better."  What better place to do that than in the Finger Lakes?