The green drumlins along the northern border of Ontario County are pretty and quiet.
But for seven nights each summer, one hill in particular becomes the epicenter of a 77-year-old theater tradition that draws hundreds to a multi-level complex of 10 stages and thousands to the seats below.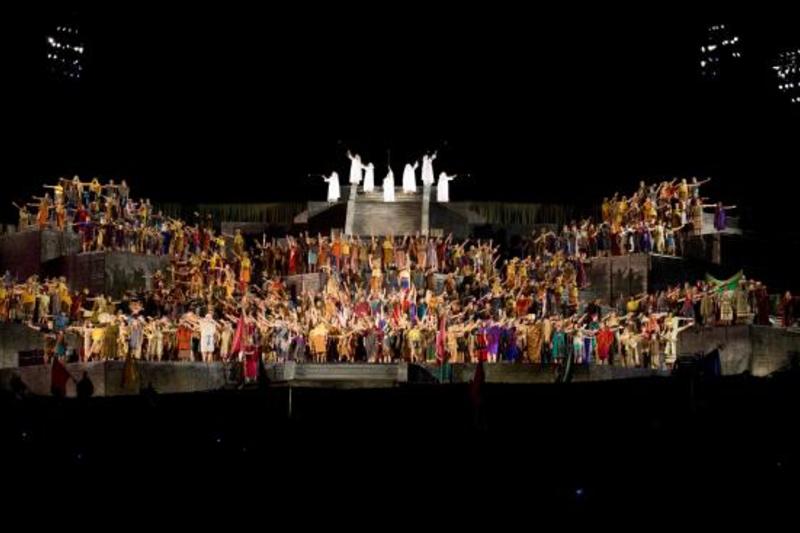 Featuring elaborate period costumes, lighting, booming soundtrack and choreography, the Hill Cumorah Pageant is the theatrical representation of how Joseph Smith received the golden tablets from an angel named Moroni on this very hill in the 1820s. Those tablets were later transcribed into the Book Mormon, which led to the formation of the Church of Jesus Christ of Latter-day Saints. Mormons believe those tablets were delivered to Smith on this very hill. 
I have no spoiler alerts here, as it's been more than a dozen years since I saw the pageant, and my memory of the story's specifics are covered with cobwebs.
But I can share with you, Finger Lakes traveler, some of the interesting words and sites from behind the scenes, as the production of this free event, which draws more than 800 LDS Church members from across the region, country and globe.
For more than two weeks, these dedicated cast members, crew members and other volunteers create a busy little hillside city where they rehearse, sew costumes, build props, style wigs, stitch beards, play Frisbee, share meals and pray.  Golf carts dart around carrying water and supplies while actors, still in T-shirts and sneakers, carry swords and spears, walk the paved paths.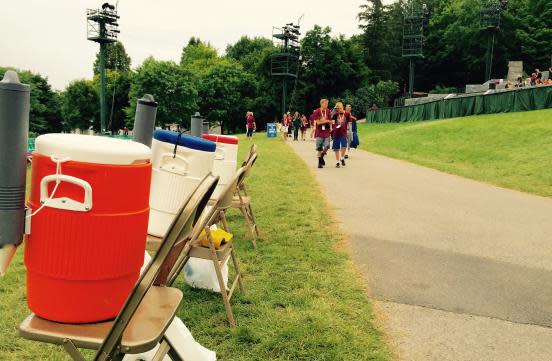 One of these passers-by happens to be Cleve Panike, a 17-year-old from nearby Canandaigua who has been part of the pageant for several years.
While it's a powerful experience that gives him a deep sense of accomplishment, Cleve tells me the pageant also comes with its fair share of stage fright. Waving swords on a platform stage when it's dark and the surface is slick from special effects smoke and mist and the robes and gowns you're wearing weighs nearly as much as a second-grader can make you wonder if you might fall off the stage, despite the safety lighting. This year, Cleve (pictured below) upped the ante as he has been cast in a leading role, playing the wicked priest Alma.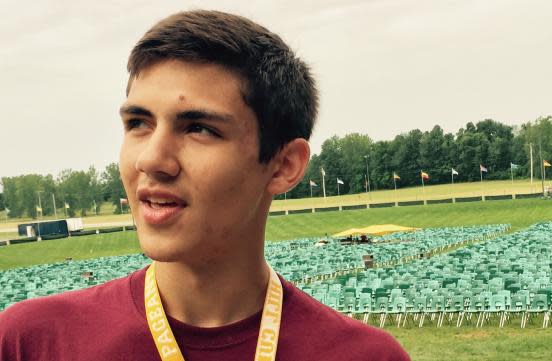 And even though the script and soundtrack are pre-recorded, Cleve still has to memorize his character's lines so he can effectively lip-synch and gesture.
Artistic director Brent Hanson, a theater professor from Utah, calls the Hill Cumorah Pageant "such a strange theater animal there is nothing like it. You're outdoors, there's fire, it's night. It's really exciting in terms of production."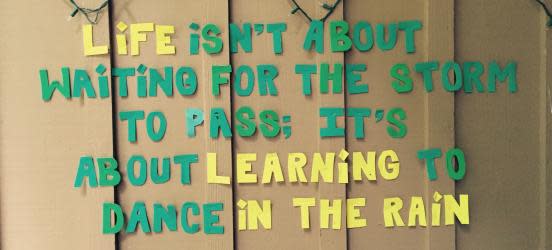 Those same elements also make rehearsal demanding. Not only are cast members facing long days in weather that can be hot and humid or cool and rainy, but there are also mosquitoes, wind, and other variables that make the production extra challenging. Keeping the cast members in the "right place" for mood, tone and emotion of the play is vital, he adds.
Aubrey Hannig (pictured in the center of photo below) feels she is in "the right place" in the air-conditioned hair salon, where she and a few other stylists curl wigs made of synthetic hair and hand-sew beards and moustaches made of human hair.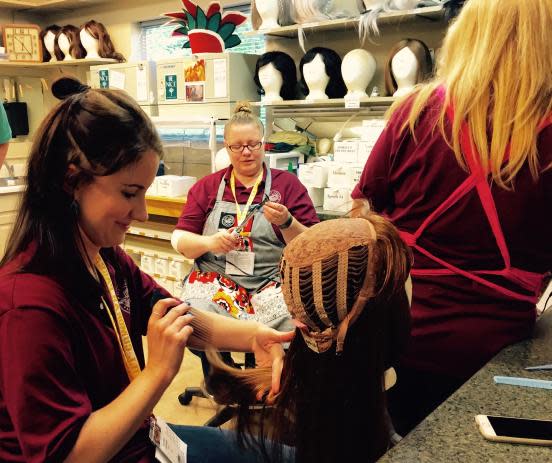 Mormon men typically don't wear facial hair, she says, but many grow beards in preparation of the Pageant, "hoping they will get picked for a beard role," she laughs. 
Darren Matthews did not get picked for a beard role (and he's okay with that, really!). But the information technology specialist was called upon to head up the prop shop where he builds and repairs thrones, weapons, banners, statues and other stage accessories.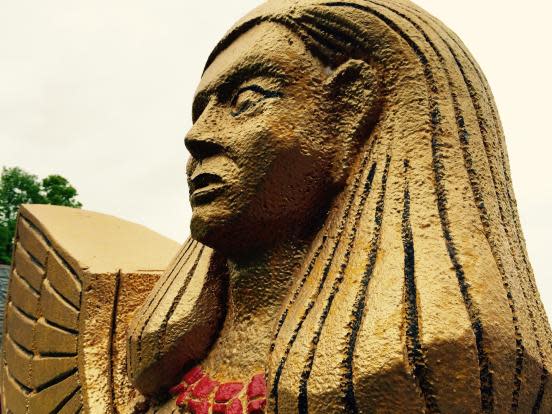 "This is so different than what I do most of the time. I'm an IT guy," Daren (pictured below) says.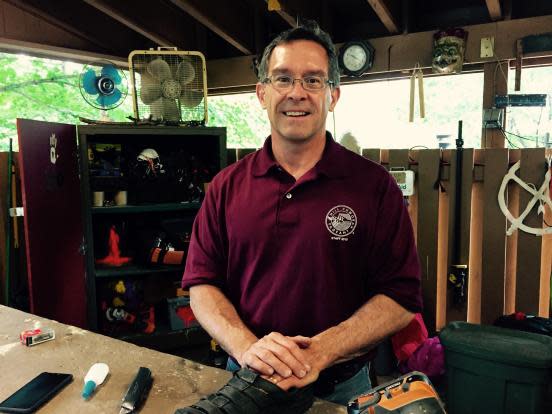 The LDS Church members put on other pageants in Utah, Arizona and Illinois, but Hill Cumorah is "the granddaddy of them all," adds Darren.
Cast and crew members spend their down time during rehearsal week in day tents set up next to the stage. You can see the teenagers ---and they appear to be the largest demographic --- playing catch and Frisbee and looking at their cell phones. Three times a day, everybody takes time out for devotionals. 
At night, families might be camping on site, or staying with friends and relatives in the area, or at nearby hotels, motels and inns.
Next week, once the pageant is under way, many cast and crew members will devote part of their day to community work in nearby communities. 
It's an exhausting 17 days, admits Cleve.
"But every night you go home and smile."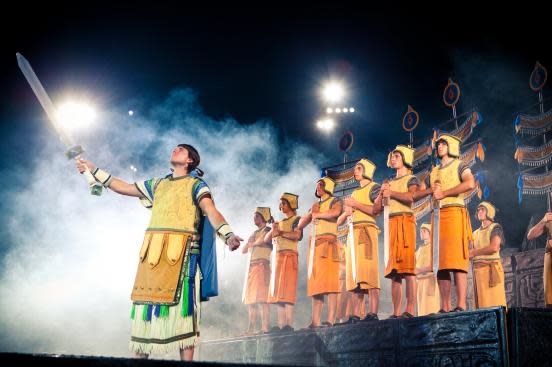 The Annual Hill Cumorah Pageant
When: 9 p.m.  on July 10, 11 and 14, 15, 16, 17 and 18. 
Where: Next to the Hill Cumorah Visitor Center at 653 NY Route 21, Palmyra, 14522.
Good to know: Admission is free. There is outdoor seating for about 7,000, with additional lawn seating. Audience members are invited to bring their own picnic or purchase food provided by on-site vendors.
For more information: Go to www.hillcumorah.org or call 315-597-5851.
The Hill Cumorah Pageant by the numbers
725: Volunteer cast members of all ages. More than half are repeat cast members. Most are from out of town.
17: The number of days the cast members are committed to being here for the pageant.
130: Crew/staff members. Many are local, but it is estimated that half are from out of town.
4: The number of weeks that some of the crew members stay in town to work on sets and costumes.
7: The number of stage levels where the pageant takes place.
14,000: The square footage of the entire performance space.
14: Number of crew members who operate spot lights during the show, which runs at night.
77: The number of years that the pageant has taken place. The first year the pageant took place, 1937, the script was titled "America's Witness for Christ."
1,200: Number of costumes, as some cast members have multiple roles.
7,000-plus: Seating space for audience members for each night's performance.
60: The number of beards used for costumes. The beards are made by hand via an art called ventilating. Strands of hair are woven into a mesh backing one at a time. The beards go on last because they are so fragile. There are also several hundred wigs.
3: The number of daily devotionals held during rehearsal and performance days. All cast, crew and staff are LDS church members.
30,000: The approximate number of attendees each year to the pageant. Spokesman Steve Vaisey estimates 60 to 75 percent come from out of town. There are tour buses from Syracuse, Rochester, Auburn, Buffalo, Ohio, Canada.