"Bacon makes everything better," was the statement that our waitress, Liz, made as our dinner guests were pondering our appetizer selection at Ports Café in Geneva. The clams looked appealing but when we learned they were dressed with bits of bacon, fresh corn, and tomatoes, the decision was easy.  We ordered, we conquered, and we loved them! I say, "thanks for the bacon."  Bacon deliciousness may have exploded in that dish at Ports, but I got to thinking about Liz's statement and thought it is my duty as tourism director in Ontario County to share a few more ideas of how bacon can make any vacation better! The creative and hungry folks at FLVC have had the brainstorm that, given the popularity of bacon, we need to create a bacon trail. Melding the flavorful comment of Liz with that idea. We'll call it the Bacon Makes Everything Better Trail.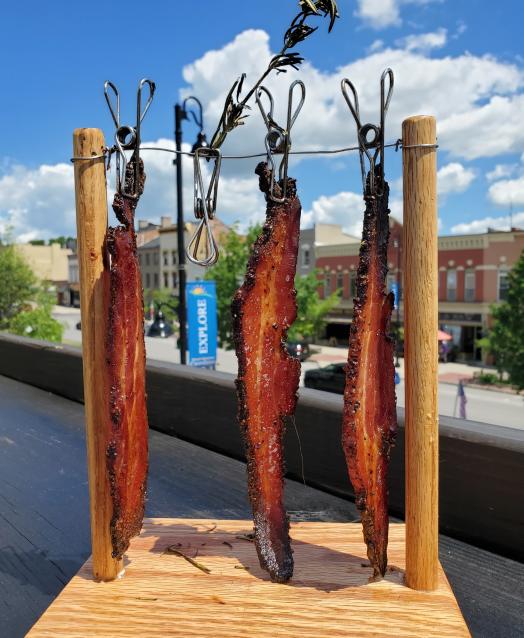 Here we go with our list of must stop, must see – must try bacon-based treats in the Finger Lakes. Placing first in visual appeal we have, bacon on a clothesline.  You haven't lived until you have ordered this at KiX on Main, Canandaigua. This little picture doesn't even do justice to the presentation of the thick cut bacon, served with an on-fire sprig of rosemary. This is bacon that delights your sense of sight, smell, taste, and wonder. Yep, you wonder what chef thought of this and you want to think what else could be hung from this clothesline and have a sweet, yet slightly peppery, pure bacon taste!
---
The Rusty Pig on Linden in Geneva has a starter that is a unique mouthwatering melting pot of cultures and includes bacon! The humble pierogi has never been so proud than to be featured on this menu and to be the "host" for some crispy bacon. Taking it right from the menu: Loaded Buffalo Pierogies – often referred to as Polish wings. These are one-of-a-kind pierogies smoked in our house blend of hickory and cherry wood, then lightly fried to a crisp before being loaded up with a sweet and spicy Buffalo wing sauce, melted sharp cheddar and crispy bacon! It is masterpiece, topped off with a drizzle of ranch dressing and a chive garnish. Add this stop to our bacon tasting trail!
---
We're in the Finger Lakes, so you have to make sure that any trail touches at least one component of our "sizzling" (pun intended) craft beverage industry. I'm going to highlight as a starter on our bacon trail Iron Smoke Distillery – a member of the Roc/FLX Craft Beverage Trail. Watch this video about the Rattlesnake Rosie's Maple Bacon Whiskey by Iron Smoke. Of course, it comes from New York State maple syrup and bacon flavor – for which they admit – no animals have been harmed! Be brave and start the bacon trail with the bold taste from Rosie at Iron Smoke!
---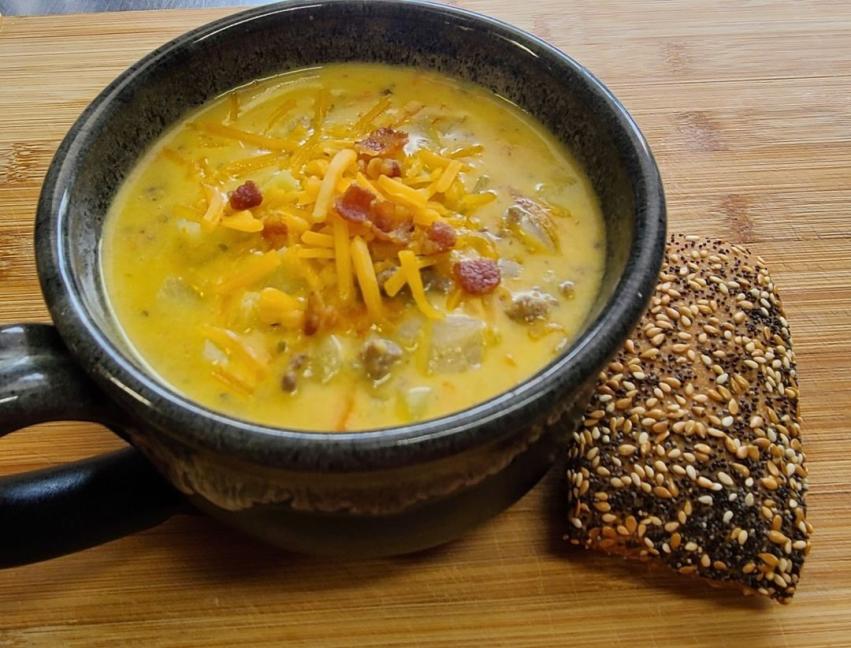 Soup. No bacon trail would be complete without some sort of soup! Again, so many choices, like Pepper's Deli and Pasta in Canandaigua's almost-always-on-the-menu, Loaded potato and bacon soup. Plus – you have to check out the Olde Country Store and more – 1849 in North Cohocton. This fun store that features the famed #greenheartFLX also has Soup Saturdays. And, while not every soup will have bacon in it – it's worth the trip on the chance you might find this Bacon Cheeseburger Soup made with Sweet Acres Creamery A2 milk!
---
You can't have a bacon trail without including a fantastic diner or two or three or more. I was temporarily stumped on which one to choose. So that's when I came up with the idea to challenge you readers of this blog to send me your reviews of your favorite diner bacon. To get you started though – I'm going to send you to a little-known place – the New Hall Diner.  It has a 1950's flair, amazing food, amazing service – and therefore, a great place to eat bacon! (p.s. while you're sinning in the food categories – get one of their amazing cinnamon buns too!)
---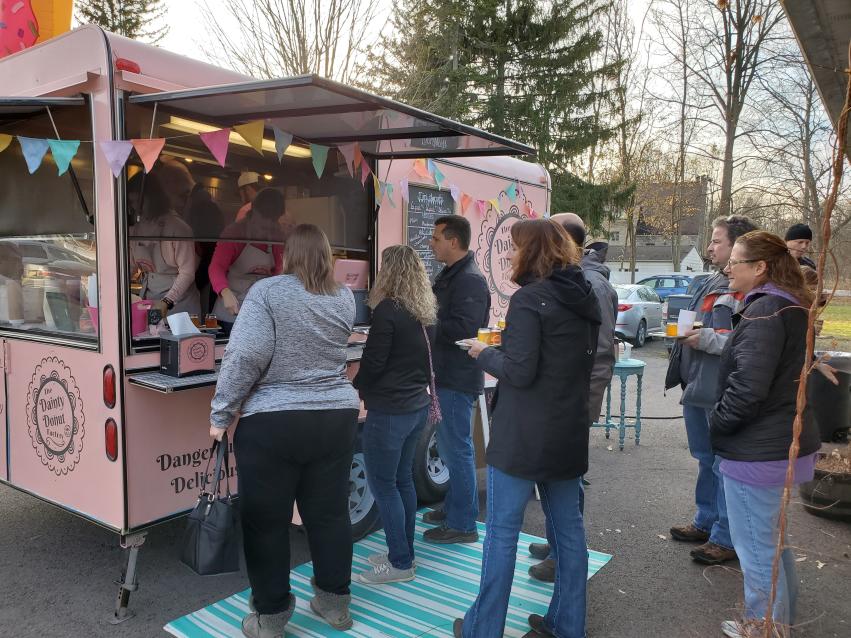 And, then there's dessert! Find the food truck, find the food truck!  Voted the best food truck in the Finger Lakes in 2021 – and boasting the phrase, "hand-crafted mini-donuts that are Dangerously Delicious", Dainty Donuts Food Truck can pop up just about anywhere in the area. Featured in the 7 best things to do in Canandaigua on a weekend, you'll often find the cute pink truck parked at the New York Kitchen or a local brewery or at a local farm or event. My first taste which included the maple, bacon donut was at a donut and beer tasting at Reinvention Brewing in Manchester. It was memorable, tasty experience and that's why I'm recommending my ad hoc bacon trail needs to have a donut feature for dessert.
---
I hope your mouth is now watering and that you read this and have sweet bacon dreams that cause you to take to the trail – but mostly cause you to write to us at info@VisitFingerLakes.com and let us know what you think we should add to our bacon trail.