With purple fire hydrants dotting the downtown streets and vineyards defining its hills and valley, the village of Naples takes its grapes, and grape pies, very seriously. These inky purple pies are the unofficial mascot of the community, sold at roadside stands and at farm markets during harvest season and at small retail shops throughout the year. There's even a local pizzeria that has a grape pie pizza on its dessert menu.
A lot of people who aren't yet familiar with the Naples Grape Festival expect to find grape stomping as the heart and soul of this popular fall festival. But Naples is the kind of place where the heart and soul ends up in the stomach (not the feet), which is why the Grape Pie Contest could arguably be the most exciting part of this community celebration.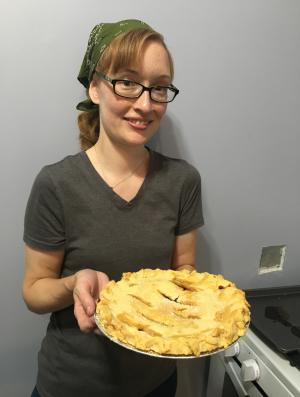 Just ask Meghanne Freivald, a Naples native who now lives in nearby Canadice, and won this year's Grape Pie Contest. Meghanne has been eating grape pie since she was a kid, as it was the kind of thing that family dinner guests would bring to the table. Meghanne did not start making the pies herself until she was well into adulthood.
The first year Meghanne entered the Grape Pie Contest she did not place. But she slowly climbed the rungs of "grapeness" at the competition, and this year, she is the first place grape pie queen of Naples, beating out 22 other entrees.
Will she fight to hold her title next year?
"I don't think so," she told me, explaining that she is happy to quit while she's ahead and let another king or queen take over the title when the time comes.
Lucky for us, she is also happy to share her grape pie recipe, a simple yet elegant masterpiece that avoids two common pitfalls with grape pies: It's neither overly sweet nor is it too runny.
I can vouch for those comments from the judges, as Meghanne was generous enough to share one of her pies with me. I ate two pieces after dinner, and then another for breakfast the next morning.
Meghanne Freivald's Grape Pie
Crust:
2 3/4 cups flour
1 1/4 teaspoons salt
1 cup butter-flavored shortening (you can use regular shortening if that is your preference)
1 egg
a few tablespoons ice water
Add flour and salt to a stand mixer or food processor, and mix until combined.  Add shortening in small pieces and mix until incorporated.  Beat the egg, and add it with the mixer or processor running.  Slowly add water a little at a time, waiting between additions.  When the dough comes together into a ball, it is done.  The texture should resemble a fresh can of Play-Doh.  Divide into two balls, flatten into discs, wrap in plastic wrap, and chill while you make the filling.
Filling:
4 cups concord grapes
3/4 cups sugar, plus extra for topping
2 teaspoons quick-cooking tapioca
1/4 teaspoon freshly grated nutmeg
pinch of salt
Preheat the oven to 400 and put a cookie sheet in the oven. Remove skins and set aside. Cook grapes until the seeds come out.  Use a potato masher or whisk to help them along.  When you can no longer see individual grapes, put the resulting goo through a strainer or food mill. Add the goo to the skins, and mix in the remaining ingredients.
Roll out the crust, place into a pie pan. Add the filling and top crust. Remove the excess crust, tuck the edges in, and crimp them. Egg wash the top crust, cut some vents, and top it with sparkly sugar.  Place it in the oven (on the hot cookie sheet) and bake for 20 minutes. Turn the oven down to 350 and bake another 40 to 45 minutes. Enjoy!