Earth Day (April 22) came with two bits of great news this week, both of which center around Hemlock-Canadice State Forest, one of the most pristine and "forever wild" places in the Finger Lakes. No development is allowed here.
First, a longtime resident of the town of Canadice in Ontario County sold 165 acres to the state Department of Environmental Conservation, so now the forest encompasses almost 6,900 acres.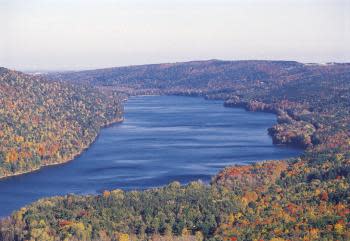 Second, a new management plan clears up any doubt that the forest is protected from any threat of oil and gas drilling. The plan also calls for stocking pheasants and fish for hunters and anglers, improvements to the parking lots and opening other roads for visitors with disabilities.
The two lakes that border this forest, Hemlock and Canadice, are renowned for their water purity, and provide Rochester residents with their drinking water. They also offer visitors with an absolutely gorgeous place to fish and boats. (To keep these waters pure, the state has issued these boating guidelines.)
Visitors don't need fishing gear or watercraft to enjoy the park. Hemlock-Canadice State Forest is also a welcoming place for hiking, hunting, nature study and geocaching.