The Geneva Music Festival is a chamber music festival based in Geneva. But its lineup of world-renowned artists will also bring jazz, contemporary compositions and bluegrass to diverse venues in Canandaigua, Skaneateles and Auburn as well as Geneva. 
The festival kicks off its fifth season this weekend with three artists performing three piano trios at three different locations three nights in a row. 
Cellist Clive Greensmith of the former Tokyo String Quartet joins Geneva Music Festival founder and violinist Geoffrey Herd and pianist Christopher Janwong McKiggan (pictured here) to perform piano trios by Ravel, Turina and Brahms.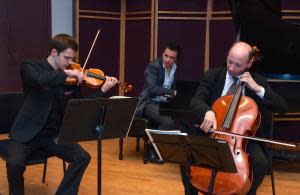 This special concert takes place at the following dates and venues. Tickets are $20.
Friday, June 5, 7:30 PM, at St. Michaels Orthodox Church, 98 Genesee St. Geneva.
Saturday, June 6, 7:30 PM, Canandaigua Academy, 435 East Street, Canandaigua.
Sunday June 7, 3:00 PM, First Presbyterian Church, 97 East Genesee Street, Skaneateles.
On Thursday, June 11 at 4:30 pm, New Morse Code offers new music via cello and percussion at Geneva Community Center, 160 Carter Road, Geneva. This show is free.

New Morse Code will perform again Billsboro Winery, 4760 West Lake Road, Geneva, Sunday, June 14 at 7 pm. The show is $20 and a wine and cheese reception starts at 6 p.m.
Zahari Metchkov performs an organ recital that highlights the works of Tunder, Buxtehude, Liszt and Messiaen three different nights playing three different church organs. Each show starts at 7:30 pm and costs $20.
Tuesday, June 16, Presbyterian Church, 24 Park Place, Geneva.
Wednesday, June 17, United Church of Canandaigua, 11 E. Gibson St. in Canandaigua.
Thursday, June 18, St. Mary's Roman Catholic Church, 15 Clark St., Auburn.
Violinist Ani Kavafian is joined by cellist Clive Greensmith and other Geneva Music Festival musicians for an evening of Dvorak, Kodaly and Schubert. There are two performances. Both shows start at 7:30 pm and tickets are $20.
Friday, June 12, Geneva Room of Hobart and William Smith Colleges, 334 Pulteney St., Geneva.
Saturday, June 13, Willard Memorial Chapel, 17 Nelson St., Auburn.
Violinists Geoffrey Herd and Eliot Heaton and cellist Hannah Collins play Mozart, Mendelssohn and Brahms with other festival musicians.
Friday, June 19 at 7:30 pm, The Geneva Room of Hobart and William Smith Colleges, 334 Pulteney St., Geneva. Tickets are $20.
Thomas Bergeron Jazz Ensemble, who have played in well-known jazz clubs and concerts halls around the world, take the stage at the Smith Opera House, 82 Seneca St., Geneva on Saturday, June 20 at 7:30 pm. Tickets are $20.

Lastly, Violinists Eliot Heaton and Shawn Moore and with bassist Gregory Robbins play bluegrass at Ravines Winery, 400 Barracks Road, Geneva, at1 pm Sunday, June 21. Ravines will host a pig roast feast before the show from 11 am to 1 pm. Tickets are $20, the food is extra.
Tickets can be purchased in advance at the web site. Festival organizers suggest purchasing tickets in advance as some venues have limited seating.