64, 32, 16, 8, 4, 1. You hoops fans out there know what I'm talking about. It's March and that means one of my favorite sport experiences. The NCAA men's basketball tournament. So many games that my husband and I set up two TVs and our Macs to stream them. To make sure you're getting the most out of your tourney-watching experience, I've done the work for you. You're welcome, by the way. Here are my Final Four of Ontario County establishments so you don't have to miss a single free throw, buzzer-beater or bracket-buster and can ultimately fulfill all your beverage, bar snack and basketball needs.
The East Bracket—
With plenty of TVs to post up in front of, take your pick on which games you watch. This is your classic sports bar, with some less-than-classic appetizer options. Sure, they have baskets of fries and onion rings, but do yourself a favor and order the fried avocado bites. Could it be possible for avocados to be prepared in a way millennials would choose over on toast? This could be it: Creamy avocado wrapped in a hot, crispy, crunchy exterior and just the right amount of heat from the siracha aioli. We also ordered the Carolina sweet potato fries on the suggestion of our server, Nick. A huge bowl of crispy sweet potato fries topped with melted cheddar, hot and tender pulled pork, citrus chipotle BBQ sauce, tangy and refreshing coleslaw, and fresh jalapeños to add some heat to the bowl o' sweet. Be prepared: These portions are large and could easily serve four or five people.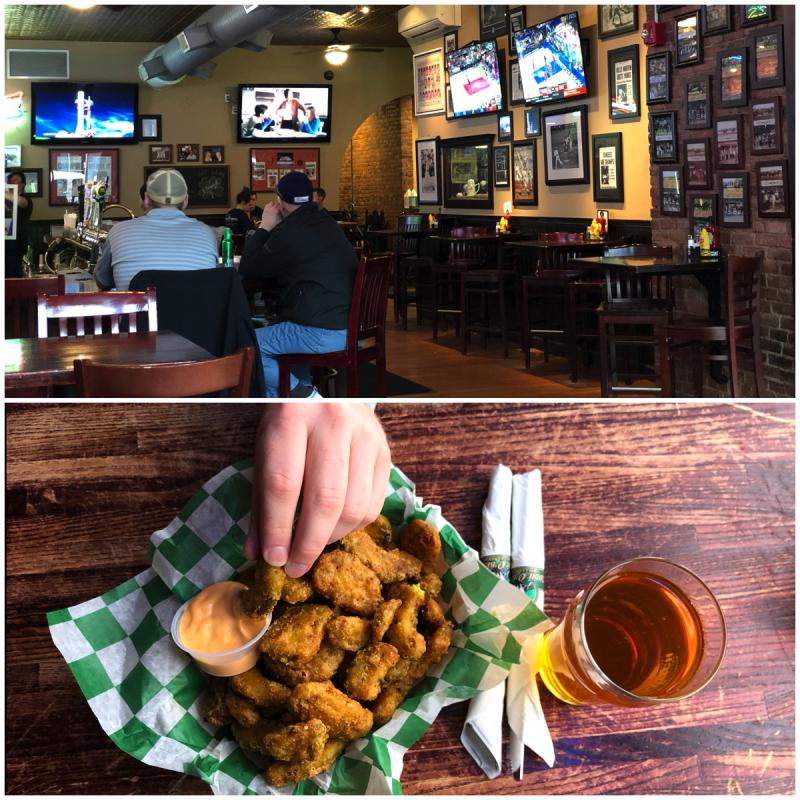 My 1 seed of drinks: ROC/FLX Craft Beverage Trail member OSB Ciderworks Gangstas Pearadise.
My overtime menu choice: The veggie wrap—roasted red peppers, sautéed spinach, artichokes, cheese and basil pesto.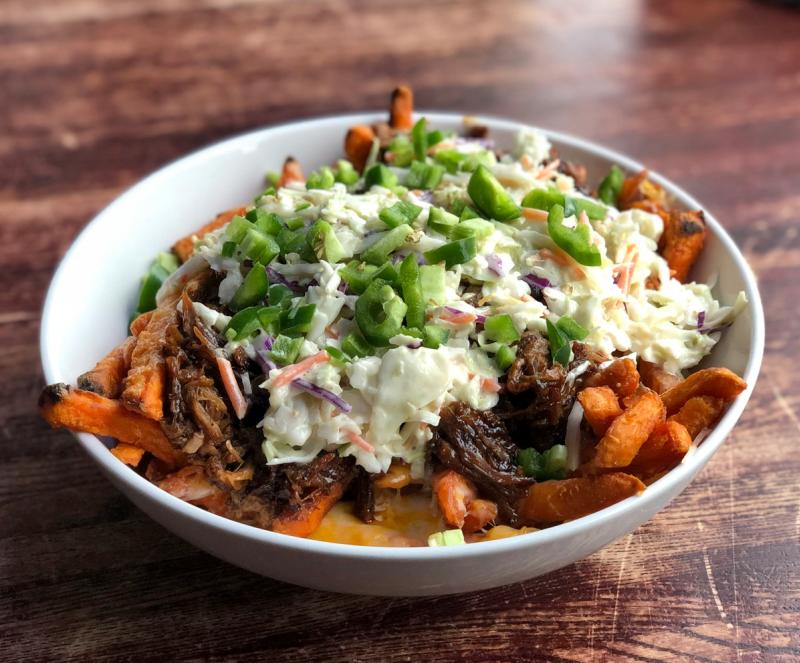 The West Bracket—
Big screens galore makes catching all the games as smooth as the beverage selection here. And since Irish Mafia is part bar, part restaurant, you can expect a fun atmosphere with excellent friendly service. People, I cannot stress this enough: When you go here, you have to order the pretzel bites. Exceptional is the word that comes to mind. Crispy and hot exterior, fluffy and chewy interior, served with Swiss and Gruyere cheese sauce and a spicy grain mustard. It wouldn't hurt to also get the Irish Mafia poutine, corned beef, sauerkraut, beef gravy and melty Gruyere cheese all on top of a pile of crispy, perfectly seasoned fries. Blasta! I mean if that doesn't make your mouth water, just check out the photo my girl @sirachasays snapped while she was there.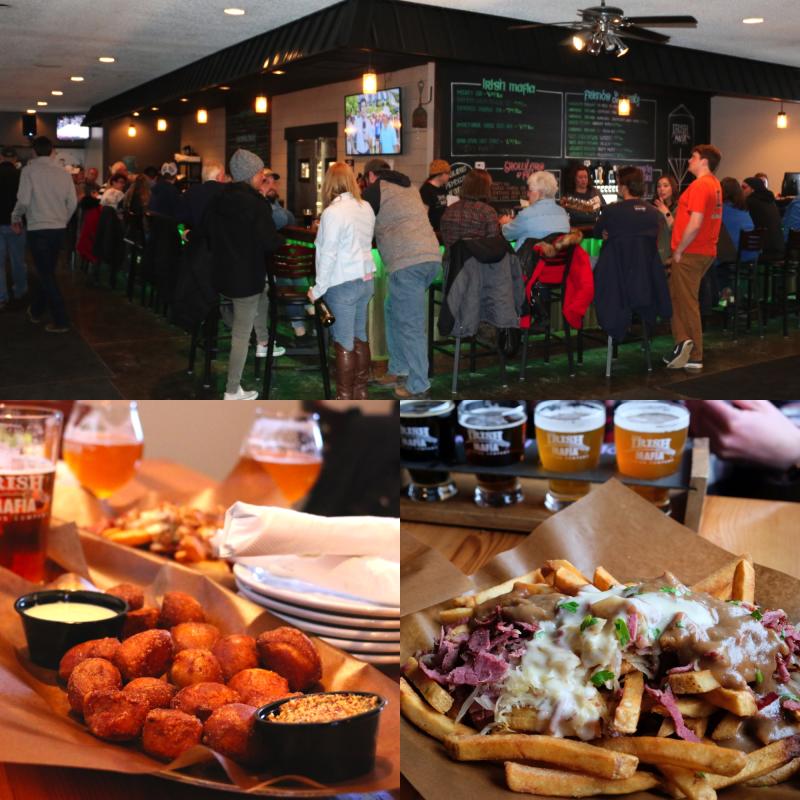 My 1 seed of drinks: The brewery has four brews—Mighty Ego IPA, Irish Loyal Stout, Devoted Double IPA and Impetuous Red Ale—and you can't go wrong with any of them, but I really enjoyed the Impetuous Red Ale. If you can't choose just one, try the flight!
My overtime menu choice: Buffalo Mac—Mary's Mac plus five boneless wings—with your choice of sauce.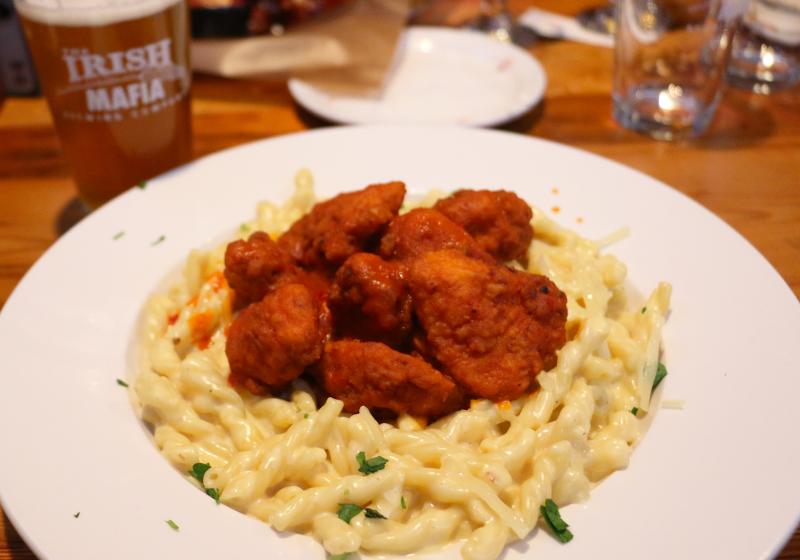 The Central Bracket—
This is a local's favorite. If you're looking for a down-home vibe where you'll see regulars who are expecting great food, attentive service and a no-frills familial feel to watch the games, this is your spot. Expect to see neighbors sharing a beer and conversation. And if your snack of choice is Buffalo-style chicken wings, The Green Front is serving up some serious competition to our neighbors in the west. My suggestion: the medium and country sweet, extra crispy. Though you can't go wrong with any of their flavors. There are also several TVs and the staff are both understanding and willing to change the channel to get all the games.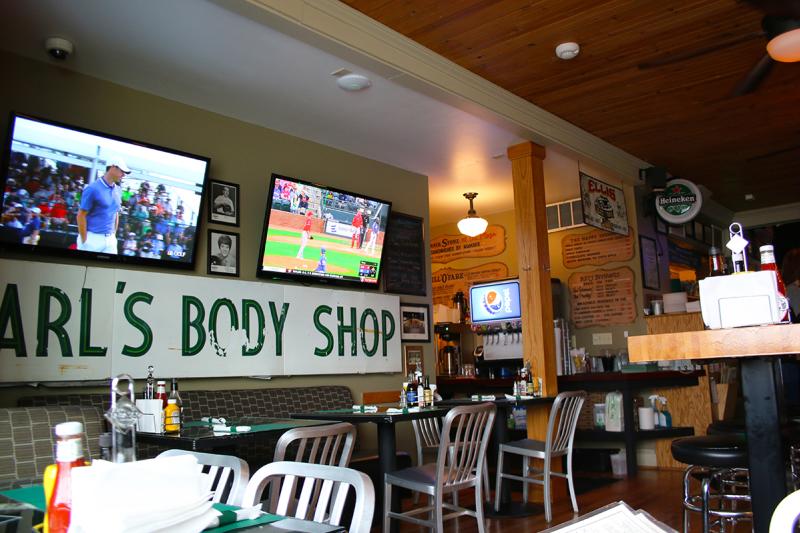 My 1 seed of drinks: There's an extensive local draft list, but I always look forward to a cold pint of Naked Dove while I'm here. My ol' trusty? Berry Naked. But I also tried Peacemaker's Peach SMASH, which tasted like summertime.
My overtime menu choice: The jalapeño stuffed pretzel. A soft pretzel stuffed with cheese and jalapeño peppers, served with ranch dressing. Or the white garlic pizza … Double overtime?

The North Bracket—
The area's newest and hottest spot. More than a beer hall, I think NYBP explains it best on its website: The space was designed to be a "community gathering spot where men and women of all ages could relax and enjoy each other's company while savoring the newest beer styles," and it does that and more. This place is an experience. They don't accept reservations, but let me tell you, it's well worth the wait. If you don't want a table in the Beer Garden or New York Loft, head to the Taproom, where it's self-seating, there are plenty of screens for the game(s) and they serve the entire menu. So speaking of food, attention to all my vegetarian, vegan and gluten-free people: The menu here is crazy accommodating! The East Village Nachos did not disappoint, but there was a clear winner here: the NYC Gourmet Mashed Potato Bites. Wow. And shouts to our wonderful and lovely server, Jess, for the alley-oop suggestion. Breaded, fried and topped with house queso, peppadews and scallions. It was like the ultimate knish.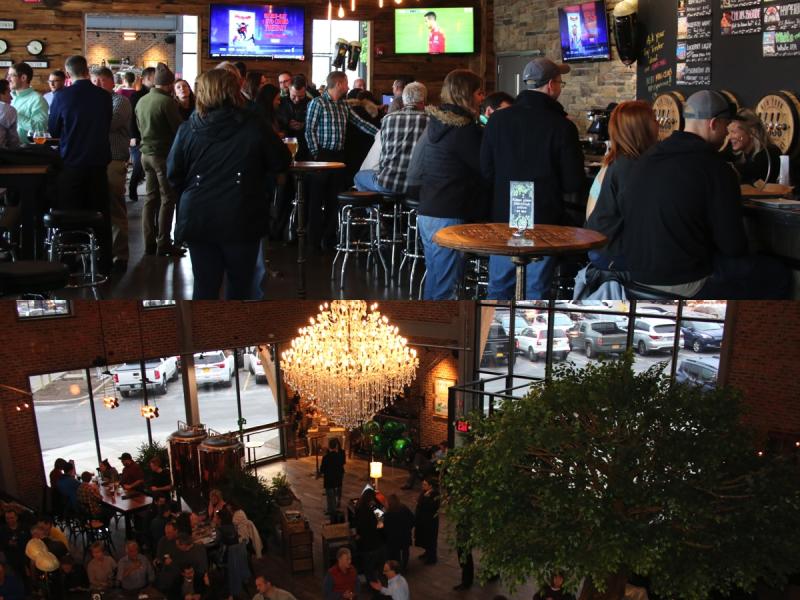 My 1 seed of drinks: With such a large offering of new (to me) beers, I couldn't decide on one, so I did the flight! Buckleberry Wheat (my favorite in the flight), NY Amber, Bananas Foster and the Dublin the Funn.
My overtime menu choice: The NYBP Cookie Skillet. A warm chocolate chip cookie, a healthy scoop of vanilla ice cream, fudge drizzle and house candied pecans. And if you're exploring the craft cocktails, the Raspberry NYBP mule is as refreshing as it sounds.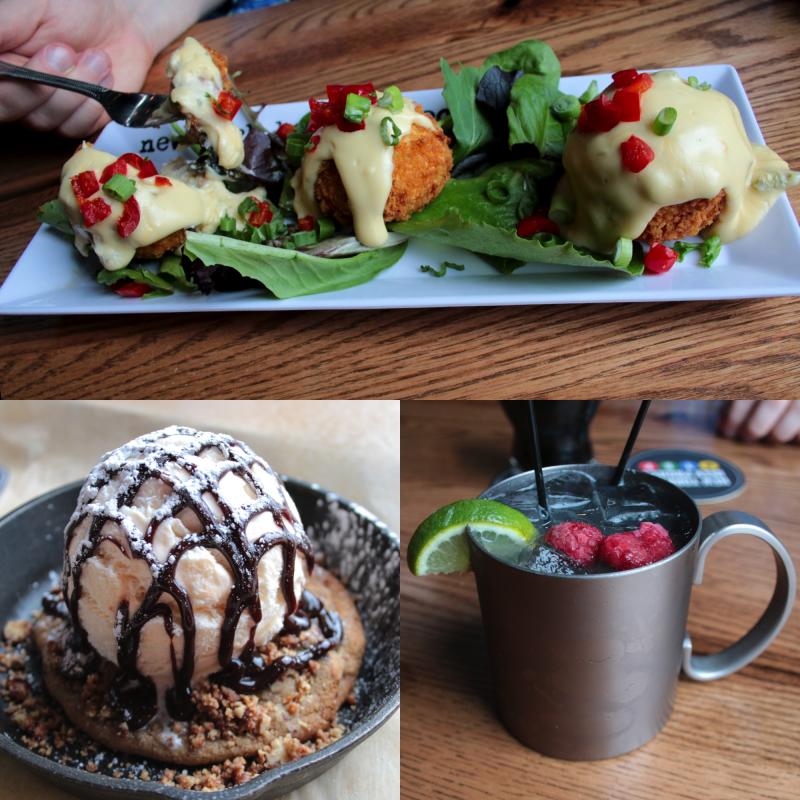 There you have it, my final four for Ontario County. Who will take home the championship title? Who do you have in your final four?
We're all about giving you fun and useful content about Ontario County. If you enjoyed this, make sure you sign up for our newsletter to get fresh content like this delivered right to your inbox with love from us!